Tyler Kaden Croke, a 23-year-old Army combat veteran, begged for his life before his throat was slashed during an apparent robbery in his apartment in El Paso, Texas, according to news reports that cited court documents. 

Five suspects have been arrested by local police on capital murder charges in the May 7 incident.

One of the five suspects is a soldier at Fort Bliss, 27-year-old Brandon Olsen, El Paso Times reported. Two others are former soldiers who were assigned to Fort Bliss several weeks ago, Zachary Johnston, 20, and Adam Acosta, 19. 

The two other suspects are Tristan Chilton, 21 and Stephanie Fernandez, 28.

Four of them are alleged to have entered the victim's apartment, and Acosta had a shotgun with him, according to a report from KFox14. 


Brandon Olsen Photo courtesy of El Paso Police Department
Stephanie Fernandez Photo courtesy of El Paso Police Department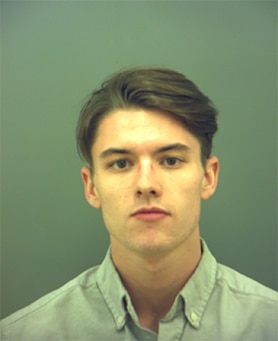 Tristan Chilton Photo courtesy of El Paso Police Department


Chilton allegedly told investigators he held Croke's legs as Olsen and Johnston wrestled him to the floor, court documents said. Johnston allegedly stabbed Croke in the neck and slashed his throat, according to Chilton's account, and Olsen reportedly continued to stab Croke as he attempted to crawl away. 

Police arrived at the apartment after speaking to a neighbor who reported hearing a man pleading for his life, according to documents. 

The suspects allegedly took drugs from the apartment and left in a black Nissan Xterra. Witnesses saw four people enter the vehicle, with an individual already in the driver's seat, the El Paso Times report said.

According to El Paso Times, Fort Bliss officials confirmed Olsen is stationed at Fort Bliss, and Johnston and Acosta were separated from the Army approximately one month prior to the attack. Details of their discharge have not been released.

Fernandez was charged with possession of methamphetamine and cocaine. 

Share: