STORRS, Conn. — Navy quarterback Keenan Reynolds ran 28 times for 142 yards and three touchdowns and threw for another score as Navy beat UConn 28-18 on Saturday
The win is the seventh in a row for the Midshipmen, who are 3-0 for the first time since 2006.
Reynolds had touchdown runs of 10, 4 and 10 yards to give him 73 for his career, second in NCAA history behind former Wisconsin star Monte Ball, who ran for 77.
The senior threw the ball just four times, but completed three of those, including a 19-yard touchdown to Jamir Tillman.
Navy had 343 yards of offense, 303 of them on the ground. Fullback Chris Swain ran 10 times for 58 yards.
Bryant Shirreffs threw for 219 yards and two scores for UConn, which falls to 2-2 after a 2-0 start this season. Freshman receiver Tyraiq Beals caught six passes for 63 yards and a score for the Huskies.
Shirreffs hit tight end Tommy Myers with a 6-yard touchdown pass that made it a 10-point game after a 2-point conversion with just over seven minutes left. The Huskies recovered the onside kick, but turned the ball over on downs, ending the comeback threat.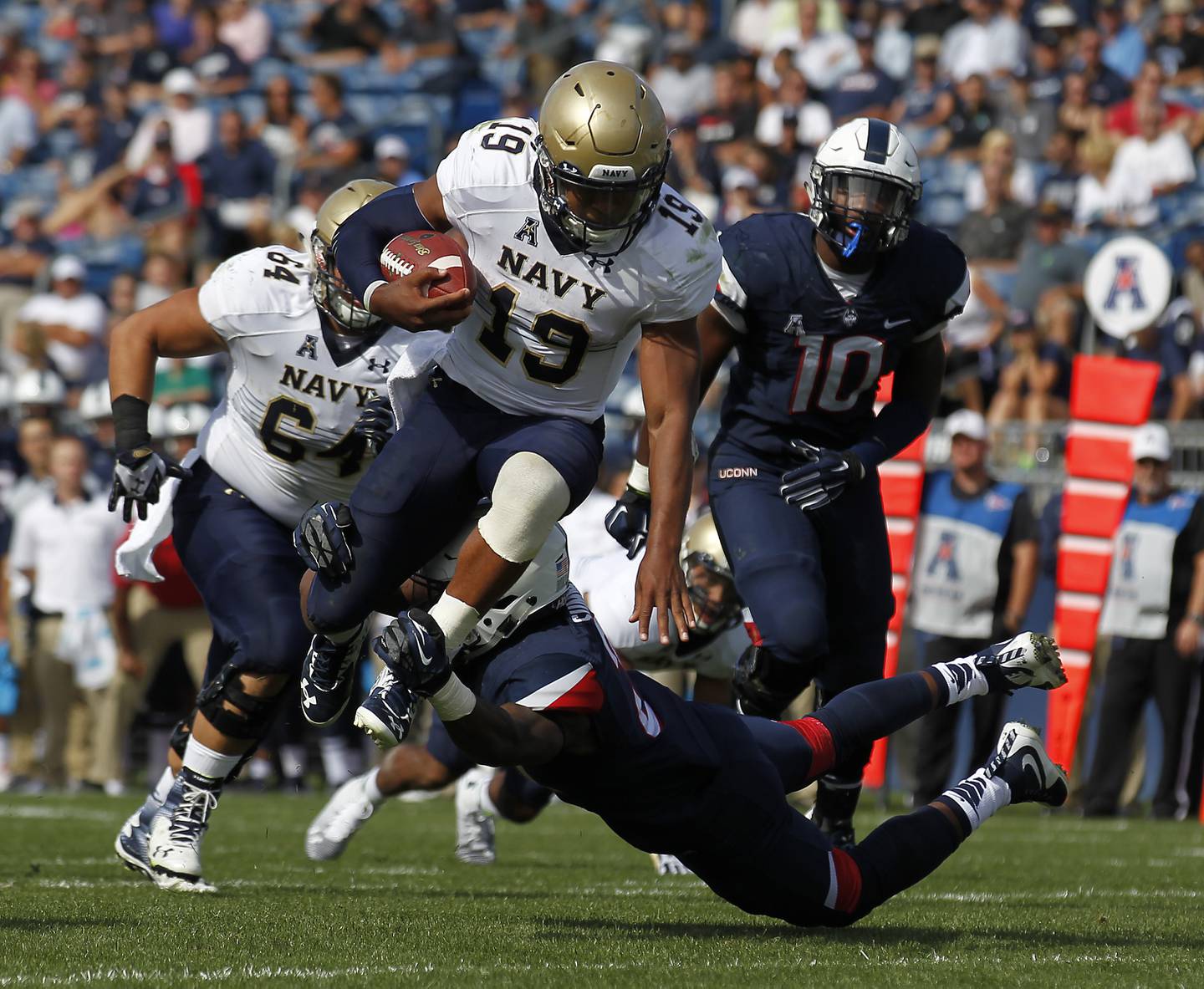 Navy quarterback Keenan Reynolds (19) scores a touchdown as Connecticut center Jamar Summers, right, fails to tackle him during the fourth quarter of an NCAA college football game, Sept. 26, 2015, in East Hartford, Conn.
Photo Credit: Stew Milne/AP
Navy's senior quarterback has rushed for 3,491 yards and is now second on Navy's all-time rushing list behind former running back Napoleon McCallum, who ran for 4,179 yards from 1981-85.
Reynolds had 93 yards rushing by halftime after leading Navy to touchdowns on each of its three first-half possessions.
His 10-yard touchdown run capped their opening 62-yard drive. They went 85 yards on their second, and led 14-3 when Jamir Tillman out-jumped UConn's Jamar Summers in the end zone to pull down a 19-yard touchdown pass. That was the 24th touchdown pass of Reynolds' career and came on just his second pass attempt of the game.
Reynolds also scored on a 4-yard run with 2 seconds remaining in the half, capping a 14-play drive.
His 10-yard touchdown run in the third quarter made it 28-10 and moved him past Texas running back Ricky Williams on the all-time list.
UConn moved the ball, putting up 325 yards of offense, including 186 in the first half.
But, the Huskies had to settle for a 38-yard field goal on their opening drive. They decided to pass up a 31-yard attempt on their second possession and were left with no points after Shirreffs missed a wide-open Max DeLorenzo on fourth down.
Beals later got behind the Navy defense and caught a 39-yard touchdown pass from Shirreffs to cut the Navy lead to 14-10.
UConn's defense came into the game ranked 18th in the nation and had been giving up 126 yards a game on the ground. Navy had 190 yards rushing by halftime.
Navy converted its first seven third-down attempts. The team's first punt, midway through the third quarter, pinned the Huskies inside the 1-yard line
Share: