WASHINGTON — In heated exchanges with his national security team in recent weeks, President Donald Trump repeatedly made clear he saw little incentive for the United States to be involved in Syria's intractable civil war.
Then he pushed the U.S. military back into the quagmire.
RELATED
In doing so, Trump is trying to confront a dilemma that haunted his predecessor, Barack Obama. Syria's seven-year civil war presents few fast or easy solutions for the U.S., yet the geopolitical rivalries at play, the presence of the Islamic State group and other extremists, and the atrocities perpetrated by the Assad government make the situation impossible to ignore.
Thus far, Trump and his top advisers have sent mixed messages about what Friday's U.S., British and French strikes may mean for his administration's future commitment in Syria.
The strikes themselves were limited — 105 weapons launched against three targets. Defense Secretary Jim Mattis described the action as a "one-time shot" in retaliation for the Syrian government's apparent use of chemical weapons in an April 7 attack that killed more than 40 people.
RELATED
Trump, however, cast the strikes in more sweeping terms, promising he was ready to keep the U.S. military engaged if Syrian President Bashar Assad were to use deadly gases again.
"We are prepared to sustain this response until the Syrian regime stops its use of prohibited chemical agents," Trump said in a televised address to the nation from the White House on Friday night.
His comments were echoed Saturday by Nikki Haley, the U.S. ambassador to the United Nations, who said the president told her the military was "locked and loaded" if Syria launched another chemical weapons attack.
The president's statement was a marked shift from his recent posture on Syria.
RELATED
Earlier this month, he privately told advisers that the U.S. was getting "nothing" out of being involved in Syria and he made clear he wanted the 2,000 American troops currently there fighting ISIS militants out by the fall.
That order left many of Trump's national security advisers on edge, concerned that pulling out even that small U.S. force would result in a power vacuum that Iran could fill.
It did win him praise from political supporters who perceive Syria as a costly wasteland and see Trump as a president who promised an "America First" agenda that did not include sustained American military commitments overseas.
RELATED
The importance of that pledge to some Trump backers quickly became apparent, with even the relatively limited American intervention in Syria leaving them deeply frustrated.
"This is not why Donald Trump got elected," said Laura Ingraham, the Fox News host who has been supportive of the president.
Ann Coulter, another conservative commentator, spent the weekend highlighting angry messages on Twitter from apparent Trump supporters, including one who wrote that while the "the direct damage was some buildings in Damascus; the collateral damage was Trump's political support base."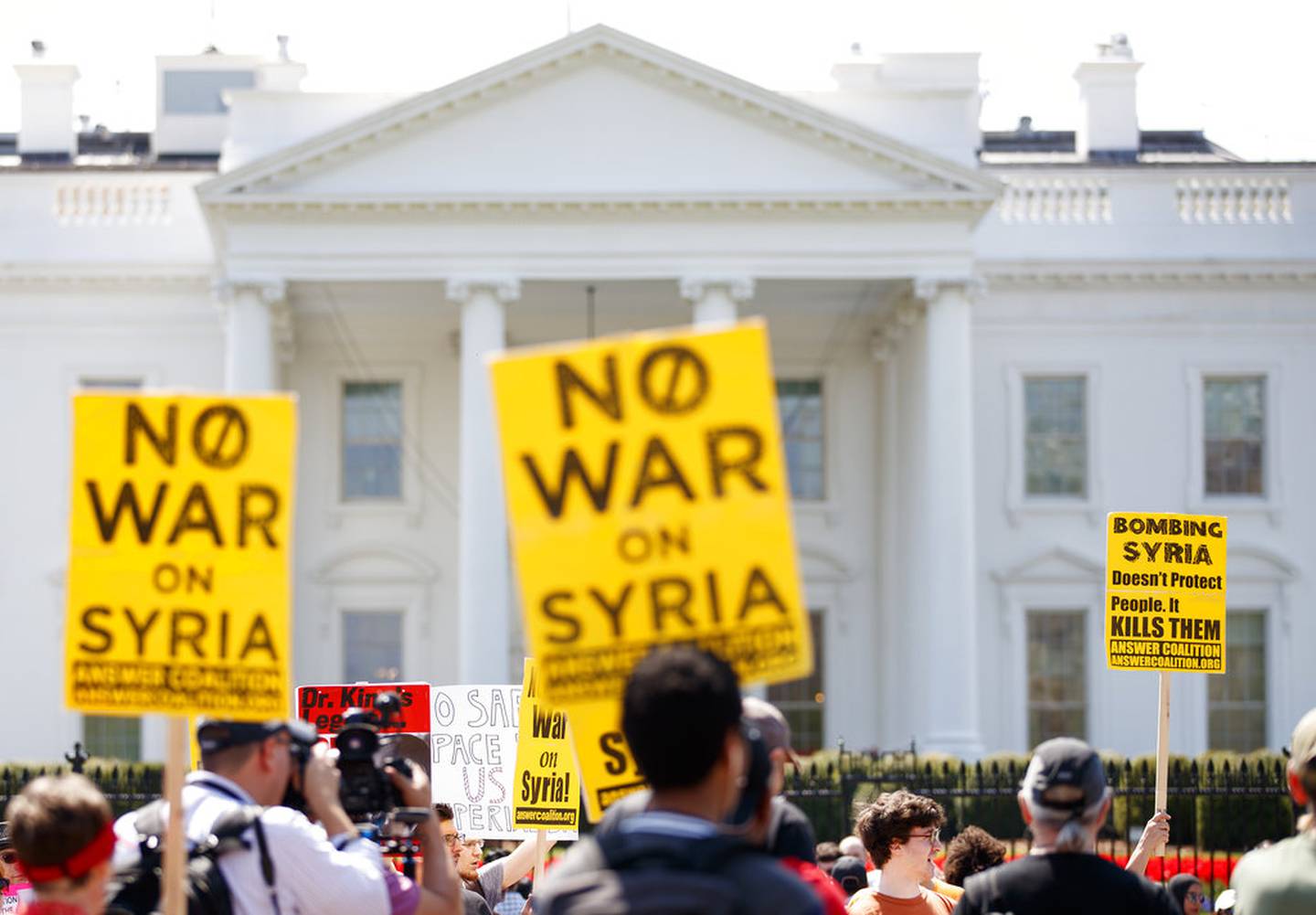 If Trump was bothered by the growing criticism, he didn't show it.
He took to Twitter on Saturday morning and wrote "Mission Accomplished" — adopting a phrase that haunted President George W. Bush during the Iraq war. For some, those two words represent the short-sightedness about how quickly the U.S. can become entangled in a protracted Middle East conflict.
Trump's view of the situation on Syria has shifted repeatedly in recent years. As a private citizen in 2013, he said Obama should "stay the hell out of Syria." Trump condemned Obama for declaring that Syria's use of chemical weapons would cross a "red line" for the United States and he said it made Obama look weak when he didn't follow through with a military strike after Assad used deadly gases against civilians.
Less than three months after Trump took office, the U.S. assessed that Assad had again used chemical weapons to kill Syrians.
RELATED
Moved by the images of dead children, Trump stunned many of his own supporters by saying that the action had crossed "many, many lines" for him. He ordered a U.S. airstrike on a Syrian air base.
Since then, Trump's views on the situation in Syria have evolved. Earlier this year, he began telling advisers that as soon as the U.S. could declare victory against IS, which has taken hold in Syria amid the chaos of the civil war, he wanted American troops out.
At a recent event in Ohio, Trump said of Syria: "Let other people take care of it now."
Just one week later came the attack that drew Trump back in.
EDITOR'S NOTE: AP Washington Bureau Chief Julie Pace has covered the White House and politics since 2007.
Share: