WASHINGTON — Rep. Duncan Hunter, one of the most prominent combat veterans in Congress, was indicted along with his wife on corruption charges related to the misuse of campaign funds on Tuesday, U.S. prosecutors said.
Hunter, 41, has repeatedly denied the charges. The Republican lawmaker has served in the House since 2009, when his father opted to retire from the congressional seat.
The indictment charges that Hunter and his wife, Margaret, who served as a campaign consultant, stole more than $250,000 in campaign funds to pay for overseas vacations, bar tabs, dental work and other personal purchases, despite objections from staff.
RELATED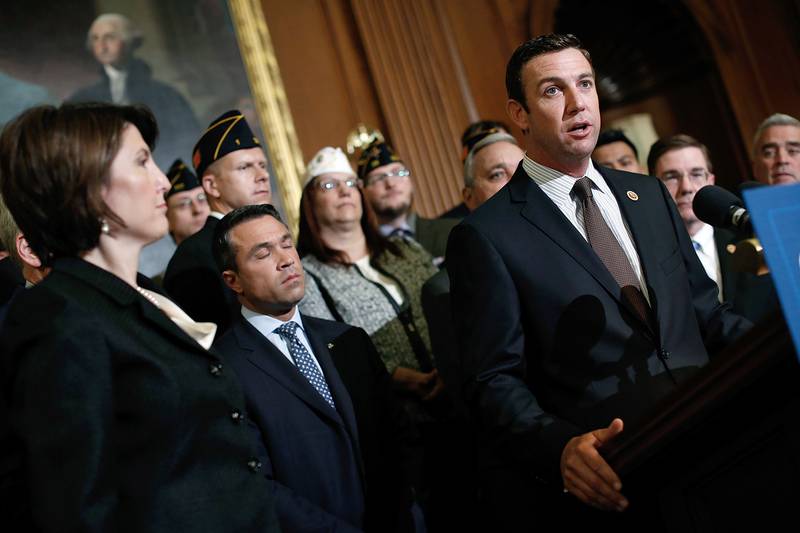 Included in those charges is a March 2015 purchase of Hawaiian shorts at a golf club that the pair joked would later be listed as "(golf) balls for wounded warriors" in official campaign records.
Prosecutors have also charged the Hunters with spending more than $14,000 in political funds on a Thanksgiving trip to Italy, $6,500 for family vacation in Hawaii, and $6,100 on a pair of couples' trips to Las Vegas. Hunter claimed the Italy trip was "mostly military/defense meet related," even though Navy officials could not accommodate his requests for a tour of local facilities. The lack of a tour prompted Hunter to say to his then-chief of staff: "tell the Navy to go f*** themselves."
Hunter in the past has acknowledged problems with accounting of his campaign funds, including thousands of dollars spent on online games he blamed on children playing with work-related computers.
But he has maintained that those mistakes do not amount to criminal activity. In response to an AP request about the charges, Hunter's attorney provided an Aug. 6 letter calling the process "politically motivated."
Hunter is a key member of the House Armed Services Committee and frequently cites his military service during policy debates. Following his indictment, House Speaker Paul Ryan announced that Hunter's committee assignments would be revoked while the criminal case is pending.
"The charges against Rep. Hunter are deeply serious," he said in a statement. "Now that he has been indicted, Rep. Hunter will be removed from his committee assignments pending the resolution of this matter."
Hunter joined the Marine Corps following the Sept. 11, 2001, attacks and served as an artillery officer in Iraq and Afghanistan. He served in both Congress and the Marine Corps Reserves until last year.
Hunter was also one of the first sitting lawmakers to endorse Donald Trump for president, and has remained a staunch defender of his policies over the last 18 months.
In July, he took to the House floor to speak against the Department of Justice as a "corrupt" agency that "uses law to extort the American people and effect political change." He predicted that when House members left Washington for their summer recess, "Congress will not be around to watch the president's back and hold those subversive, partisan officials accountable."
Hunter faces Democrat Ammar Campa-Najjar in California's 50th Congressional District race this November.
Leo covers Congress, Veterans Affairs and the White House for Military Times. He has covered Washington, D.C. since 2004, focusing on military personnel and veterans policies. His work has earned numerous honors, including a 2009 Polk award, a 2010 National Headliner Award, the IAVA Leadership in Journalism award and the VFW News Media award.
Share: