BUDVA, Montenegro — Once the Balkan stronghold of pro-Russian sentiments, tiny Montenegro is on Monday silently celebrating its entry into NATO in a historic turn toward the West that has made the Kremlin furious.

Despite the Russian anger and a deep split within the nation of some 620,000 people over the issue, Montenegro formally become the 29th member of the Western military alliance at a ceremony in Washington on Monday.
To get there, Montenegro has stood up against its former ally Russia, which has sought to maintain strong historic, political and cultural influence in the Slavic country it considers a special zone of interest.
Russia's Foreign Ministry said on Monday "Russia reserves the right to take counter-measures on the basis of reciprocity amid the Montenegrin authorities' hostile stance," according to the Russian state TASS news agency.
It did not elaborate, but Russia has threatened economic and political retaliation, including a campaign to undermine the Montenegrin tourism industry, which relies heavily on Russian visitors. An estimated 200,000 Russians visit Montenegro every year and 80,000 Russians own property here.


In this photo taken March 15, 2017, a light frigate "Kotor" is anchored in the harbor of Bar, Montenegro.
Photo Credit: Darko Vojinovic/AP
Montenegro Prime Minister Dusko Markovic said during the ceremony in Washington that the NATO accession "is a historic event for a country and a nation which endured enormous sacrifices in the 19th and 20th centuries in order to defend their right to a free life; the right to decide on our own future; the right to be recognized by the world under our own name and with our national symbols."
Bringing Montenegro into NATO further diminishes Russia's influence in southeast Europe, and blocks it from the so-called "warm seas" in Europe that could be used as staging grounds for military interventions in the Middle East.
The U.S. State Department said Montenegro's membership "will support greater integration, democratic reform, trade, security, and stability with all of its neighbors."


Russia has also banned imports of Montenegrin wine and recently deported a ranking official from a Moscow airport.
Russian foreign ministry spokeswoman Maria Zakharova recently warned potential Russian tourists that "there is an anti-Russian hysteria in Montenegro."
"We do not rule out the possibility of provocations, arrests for suspicious reasons or extradition to third countries" of Russians, Zakharova said.
Her claim was dismissed by the president of the Russian-speaking diaspora in Montenegro, Alexander Khrgian, who runs his law office in the coastal resort of Budva.
He said that about 15,000 Russian-speaking people who permanently live in Montenegro feel safe.
"I have been living in Russia for 25 years and now I am here for more than 10 years, and we love Montenegro. It is a wonderful country with wonderful climate," he said.
"People know that Russia and Montenegro have very close cultural links. That is why we are here like at home."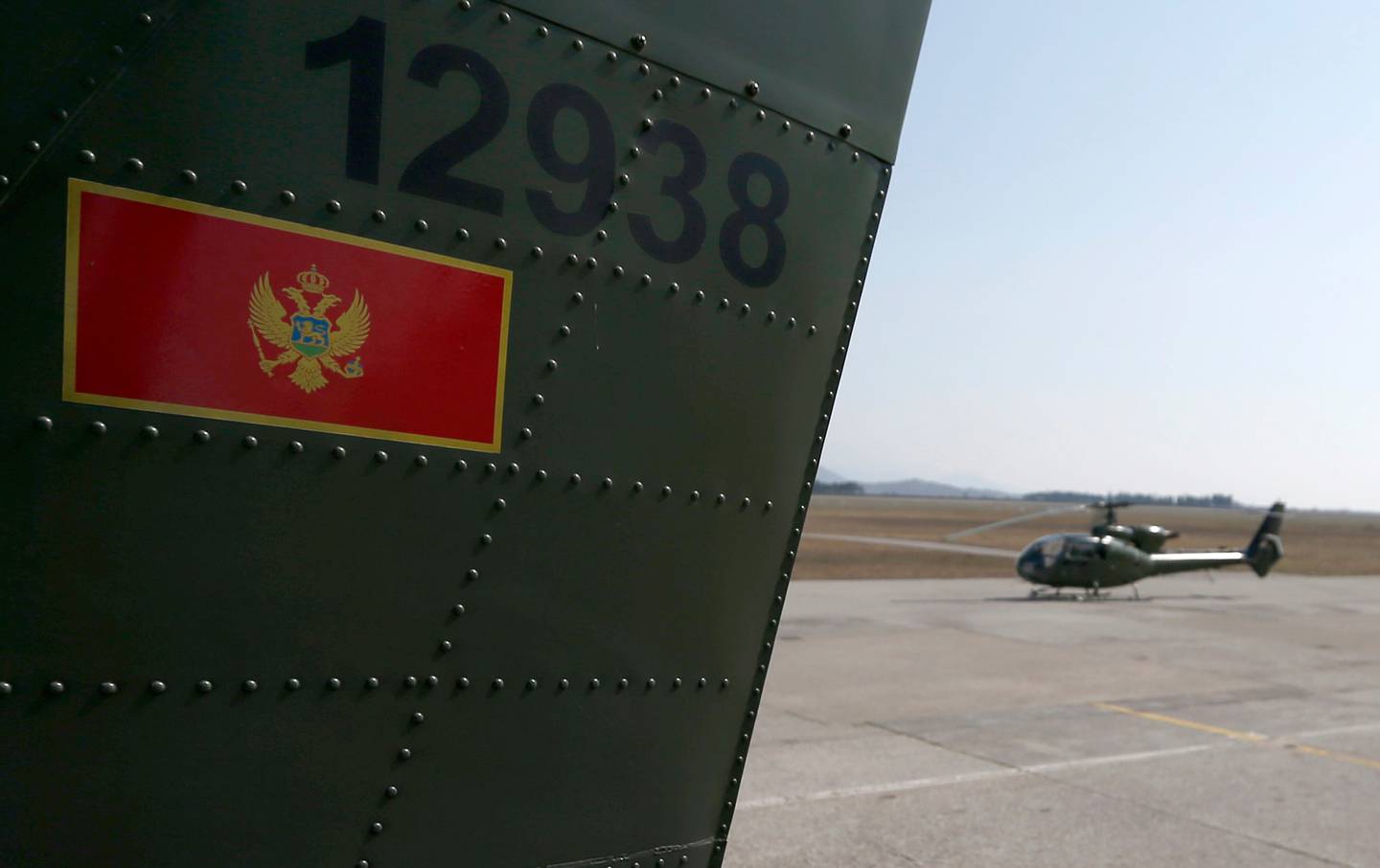 In this photo taken March 15, 2017, Montenegrin army helicopters stand on the tarmac at Golubovci airport, near Podgorica, Montenegro.
Photo Credit: Darko Vojinovic/AP
Montenegro says Moscow was behind a foiled coup attempt in October that allegedly targeted former Prime Minister Milo Djukanovic, who was the driving force behind the country's NATO bid. Russia denies involvement.
"One of the reasons we are joining NATO is to create greater stability, not only for Montenegrin citizens, but also for foreign investors and tourists," Djukanovic said. "Therefore, our goal is to bring even more Russian tourists."
As a Serbian ally, Montenegro was bombed in 1999 by NATO, which launched airstrikes to stop a crackdown against Kosovo Albanian separatists. After deciding to split with Serbia in 2006 in a referendum, Montenegro took a strong turn toward Euro-Atlantic integration.
On the eve of the NATO accession, Montenegrins don't seem interested in their country's historic move and many of them want good relations with both Russia and the West.
"If we were neutral all the time, why shouldn't we continue with it so that we keep good relations with America, Russia and all the other countries?" said Mirko Bozovic from Podgorica.
The pro-Russian opposition Democratic Front, whose top two leaders were indicted over allegedly planning the Russia-orchestrated coup, said the day when Montenegro joins NATO is one of the saddest days in its history.
"Today, Montenegro is being annexed like never before in its history," official Strahinja Bulajic said. "Today is one of the most shameful days in Montenegrin history."
AP Writer Dusan Stojanovic contributed from Belgrade, Serbia.
Share: