Precision medicine has the potential to cure cancers, wipe out rare diseases and improve overall health, and the Veterans Affairs Department will play a major role in its future research, President Obama said Thursday at a White House summit on genetic medicine.
With the Million Veteran Program, VA will provide an invaluable tool for scientists to use to advance research, Obama said.
"The VA has been gathering genomic data on a large number of men and women who have served their country, in order to serve them better in the VA system. But this can be connected with researchers in a university setting who are focused on a specific disease, and they can use this big data to accelerate the research," Obama said
The Million Veteran Program, launched in 2012, is the department's effort to build the largest blood repository in the world for research purposes. The vast database contains information from the blood samples and medical histories of 455,000 veterans, with more being added each day, said Million Veterans Program principal investigator Dr. J. Michael Gaziano.
The project is at the heart of the White House Precision Medicine Initiative, launched last year to accelerate the science of tailoring disease prevention and treatment to individual patients and illnesses.
"Research on this scale promises to lead to new prevention strategies, novel therapeutics, new medical devices and improvements for how drugs are prescribed on an individualized, personalized basis," said John Holdren, White House Office of Science and Technology Policy director.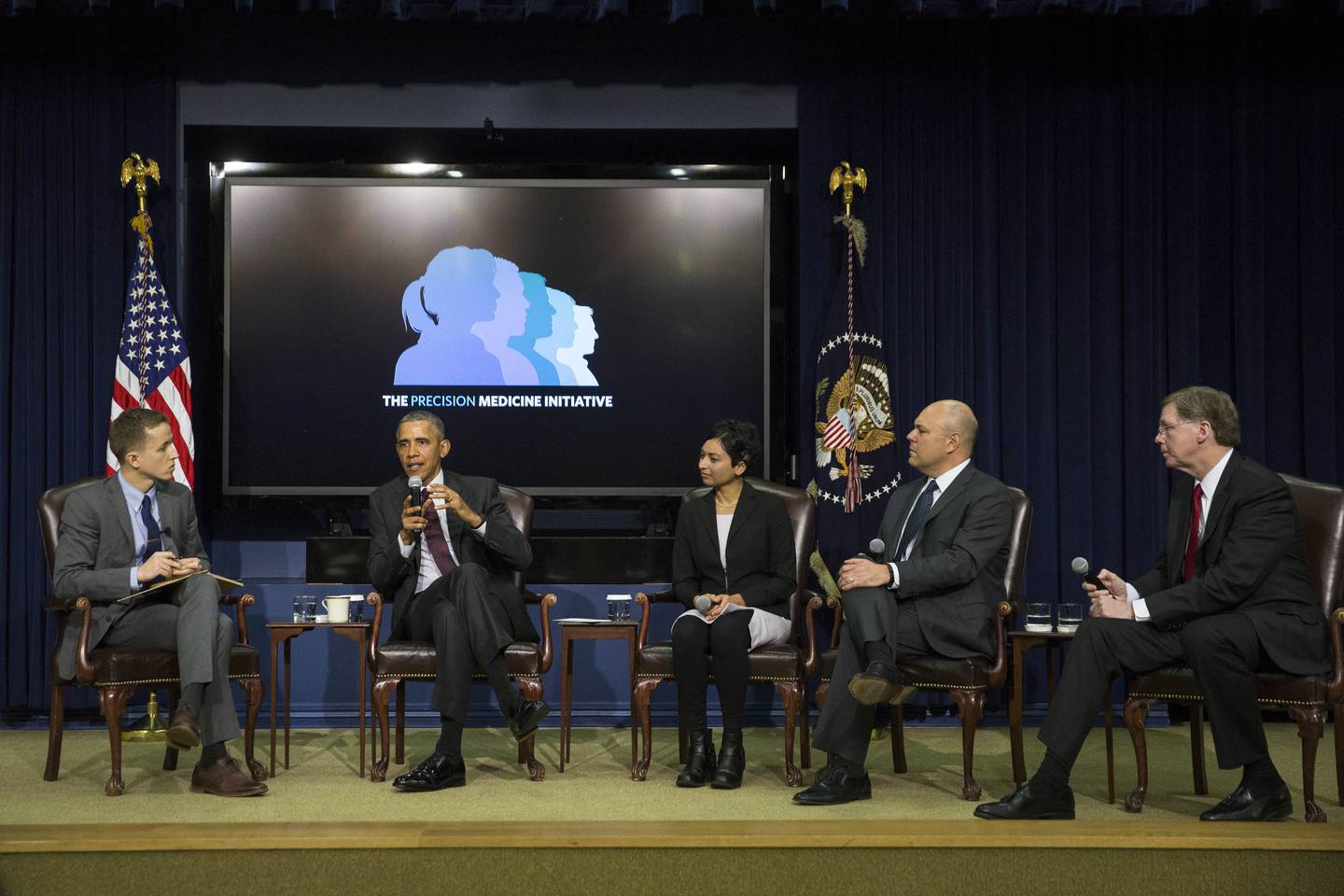 President Obama and panel members discuss Precision Medicine Initiative.
Photo Credit: Drew Angerer/Getty Images
In his State of the Union address this year, Obama called for $215 million in funding for the initiative, including $70 million toward a cancer research "moon shot" — an effort spearheaded by Vice President Joe Biden to cure cancer within a decade.
Experts believe advances in care based on a patient's condition, DNA makeup, environment and overall health could lead to more effective treatments for diseases, including cancer.
Navy veteran Jeanette Mezquita is both program participant and a patient whose genetic tests during uterine cancer treatment revealed she has Lynch syndrome, an inherited disorder that increases her risk for developing colon cancer.
Armed with this knowledge, her doctors can now monitor her closely for any sign of a tumor growing in her intestines.
"I wish everyone, in military and the civilian sector, could have genetic testing available because it can prevent diseases. The doctors can do preventive measures, in my case, like colonoscopies and endoscopies. I am blessed," she said.
The VA has signed a partnership agreement with the Defense Department to begin enrolling active-duty personnel into the program starting this spring. VA officials said the effort will help them surpass the half million participant goal by June and the million member by 2020.
Veterans and military personnel make excellent donors for such scientific research because they have detailed medical records to accompany their samples, with some records dating back 40 years, according to officials.
The medical records, along with answers to questionnaires completed by donors on their lifestyle choices and environmental exposures, including combat experience, provide valuable context to researchers, according to Gaziano.
The Million Veteran Program already has 1.8 million vials of blood components from veterans, including red blood cells, white blood cells and plasma.
Identities of donors are kept secret from researchers and samples are stored in a secure database and labeled with codes, rather than a veterans' names, with no identifying information attached to the data accessed by researchers.
Army veteran and VA Secretary Bob McDonald became the 441,196th donor to the program earlier this year. He said Thursday that as a veteran, making the donation was his way to pay tribute to veterans who have gone before or will serve in the future.
He added that he has no qualms about having his tissue, along with personal information, in the VA's hands.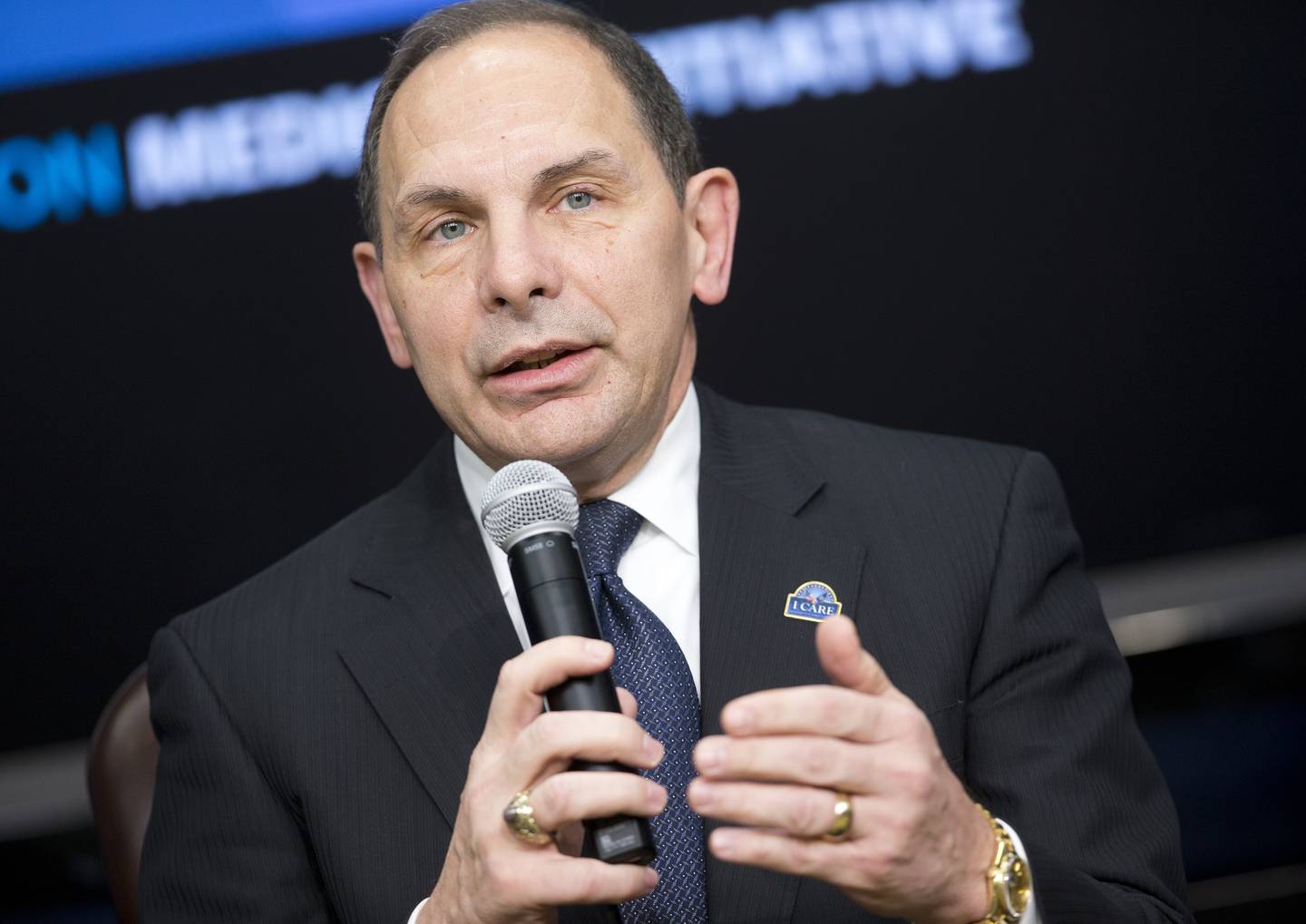 Veterans Affairs Secretary Bob McDonald
Photo Credit: Pablo Martinez Monsivais/AP
"I've been through this, looked at the way we protect the data, we protect the biological specimens and I have no concerns about privacy. I think we do a strong job," McDonald said.
Veterans interested in participating can walk into a VA clinic or hospital that is designated as a Million Veteran Program collection site. The donation takes about 20 minutes.
Gaziano said he is confident that the project will get 1 million participants because, like McDonald, veterans want to continue to serve the greater good.
"If there is a gene for service to others, we will find it in our veterans," Gaziano said.
Patricia Kime covers military and veterans health care and medicine for Military Times. She can be reached at pkime@militarytimes.com
Patricia Kime is a senior writer covering military and veterans health care, medicine and personnel issues.
Share: