BRYAN, Texas — The last American World War I veteran, Frank Buckles, died in 2011 at the age of 110. With Buckles' generation now gone, it's up to their children, nieces, nephews, grandchildren and great-grandchildren to help historians make sure the stories of the Great War don't fade forever.
The Eagle reports that's why historians with Texas A&M University, Brazos County museums, city governments and military organizations have come together to form the Brazos County World War I Centennial Committee.
This group hopes to collect photographs, records, images of artifacts and stories of locally connected World War I vets while the surviving progeny still retain these memories of their ancestors.
RELATED
The Brazos County World War I Centennial Committee was started in 2017, and the nonprofit organization functions as a collaborative effort between 15 entities. Members include Wreaths Across America, the cities of Bryan and College Station, the Cushing Memorial Library, American Legion Earl Graham Post 159 and more. Leaders from these groups were inspired by the federal and state-level efforts to preserve World War I history.
We wanted to do the same thing locally," said committee chair John Blair. "We wanted to raise awareness of World War I, since this is the 100th anniversary of the end of the war."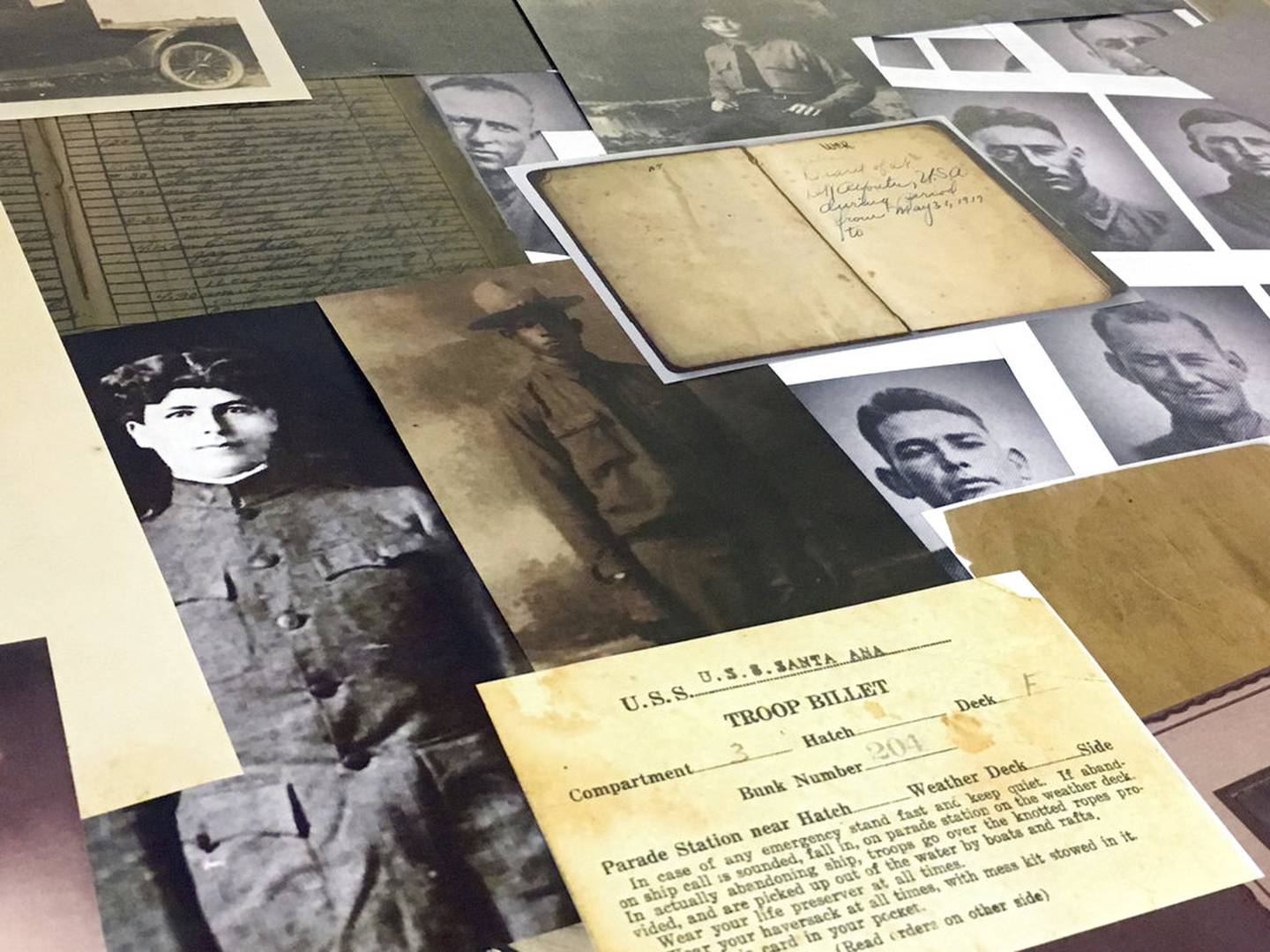 The committee already has arranged several exhibits for public viewing. One exhibit, "Living Legacy," is on display at the Carnegie Library of Brazos Valley History in Downtown Bryan, composed of contributions from the families of World War I veterans. There also is a small exhibit at the Museum of the American G.I. called "Women of Resilience," which focuses on the women of the war. Two more exhibits are featured at the Brazos County Administration Building in Bryan. One focuses on the military installation that was based out of College Station, "Camp Aggie." The second, titled "From Brazos County to Belleau Wood," recognizes Aggie and Brazos County service members.
These exhibits, the committee hopes, will grow in size and quality as more family and friends of deceased veterans reach out with new history to add. Blair said that the exhibits at this point are exclusively image-only, though the images included can represent all manner of artifacts. Blair and associate Greg Bailey, Texas A&M archivist and Clements curator at the Cushing Library, are willing to assist in photographing physical objects and then scanning documents or photographs. If a donor requests a final home or resting place for his or her document, photo or object, Bailey noted he will accept the items separate from this project for consideration in Cushing's archives. But the World War I committee in particular is not looking to keep those items, both men stressed — just to immortalize them through images.
"There are three groups whom we are actively seeking any information (about)," Blair said. "The first group is any faculty, staff or former students of Texas A&M who fought in World War I — any information about those individuals. Also we're looking for anyone born, raised or who resided in Brazos County prior to the war and who served in it. ... (For) the third group we want to ensure that all the World War I vets buried in this county are identified. We are also interested in their stories. It's really those three groups. For anyone tied to those three groups who has information, (whether) photos or memorabilia, we're not asking them to give it to us, but we just want them to share those things with us."
Blair noted that, to his knowledge, the committee has a record of all the World War I vets from this area, but he and Bailey will welcome all comers, remaining open-minded to any unrecognized names popping up. Right now the committee has more than 200 images for its collection, all scans and pictures of old photographs, letters and other artifacts. Much of what they have is very Aggie-specific, Blair said. Committee members also have a strong desire to reach out to Brazos County as a whole. The men mentioned that their collection already features a few images of soldiers from rural Brazos County area communities such as Kurten and Stone City.
The organization also is planning an upcoming exhibit called "Americans All," which will focus on Czech, German, Polish and Sicilian immigrants who came to the county and fought in World War I. Blair and Bailey additionally are considering an informational tie-in to the Spanish influenza outbreak at that time.
Anyone who would like to share a story, document or artifact of a Brazos County World War I veteran can email brazoscountyww1@gmail.com .
"There are family collections where (the descendants) never know what happened to them," Blair said. "But, if we collect those things now, we will never have to repeat that."
Share: