Veterans Affairs officials will review whether three more types of cancer should be added to the list of conditions presumed to be caused by exposure to toxic smoke from military burn pits and poor air quality throughout combat zones in the recent wars, potentially paving the way for thousands more veterans to receive expedited disability benefits.
On Tuesday, department leaders announced they are conducting new scientific studies to determine whether acute leukemias, chronic leukemias, and multiple myeloma outside of the head and neck in veterans are likely connected to military service in Iraq, Afghanistan and much of Southwest Asia. Troops there breathed in a combination of dust, pollution and smoke from giant military waste fires, all of which may have led to the formation of the diseases.
The move is part of the administration's ongoing focus on toxic exposure issues, which ramped up one year ago following the passage of the Promise to Address Comprehensive Toxics Act (better known as the PACT Act).
That legislation mandated presumptive benefit status for 12 types of cancer and 12 other respiratory illnesses linked to burn pit exposure in the Gulf War, the War in Afghanistan and the War in Iraq, as well as the same status for conditions like hypertension among Vietnam veterans and radiation-related illnesses for veterans who served in the 1960s and early 1970s.
RELATED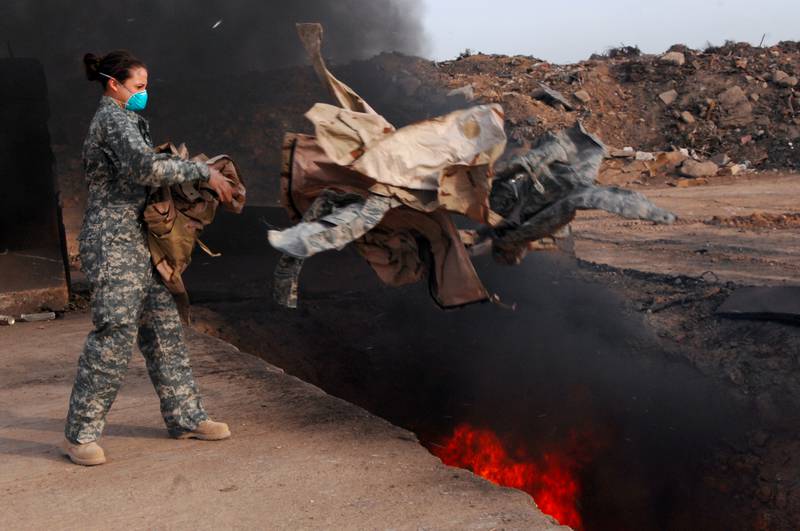 The measure also codified new processes for considering and establishing other presumptive conditions, designed to cut down on the wait veterans face in having various ailments recognized.
That's significant, because presumptive status can speed up the process of receiving disability benefits by months or years. If a health condition is presumed to be linked to military service, veterans do not have to go through lengthy medical reviews and paperwork to prove they contracted the illness from their time in the ranks, eliminating long processing timelines and frustration.
Since Aug. 10 — when the PACT Act was signed into law — VA has paid out more than $1.6 billion in related benefits to veterans and their survivors. At least 700,000 individuals have applied for benefits through the law, and thousands of those cases are still awaiting final decisions.
In a statement, VA Secretary Denis McDonough said the new review into the additional cancers is the next logical step for his department in the effort to better recognize the lingering wounds of war.
"We won't rest until we understand whether there's a connection between these deadly conditions and the service of our nation's heroes," he said.
RELATED
The three new conditions were selected because existing scientific data and reports from veterans service organizations have already pointed to a connection between the cancers and military service.
Cancers of the head and neck are already considered presumptive under the PACT Act, so the new review will not include them. Areas considered under the new review include the entire Southwest Asia theater of operations, as well as Somalia, Djibouti, Egypt, Jordan, Lebanon, Syria, Yemen, and Uzbekistan.
VA officials did not say how long the review will take but promised that they will "review many additional conditions moving forward." Veterans suffering from acute leukemia, chronic leukemia, or multiple myeloma are encouraged to apply for benefits even before the review is completed, to speed up their processing time if the conditions are approved.
More information on all of the burn pit illnesses covered so far under the PACT Act are available on VA's web site.
Leo covers Congress, Veterans Affairs and the White House for Military Times. He has covered Washington, D.C. since 2004, focusing on military personnel and veterans policies. His work has earned numerous honors, including a 2009 Polk award, a 2010 National Headliner Award, the IAVA Leadership in Journalism award and the VFW News Media award.
Share: