MOSCOW — A senior Russian general on Tuesday accused the U.S.-led coalition fighting the Islamic State of targeting Syria's infrastructure — including a key dam — in territory held by the Sunni extremist group.


Col. Gen. Sergei Rudskoi of the military's General Staff said the coalition was trying to "completely destroy critical infrastructure in Syria and complicate post-war reconstruction as much as possible."


A U.S.-backed Syrian opposition force has insisted it is taking care to preserve vital infrastructure as it steps up military operations in northern Syria ahead of a push on Raqqa, the de facto capital of the ISIS group's self-styled caliphate.


Rudskoi further claimed that coalition jets had destroyed four bridges over the Euphrates River in Syria and hit the Tabqa dam to the west of Raqqa.


The collapse of the dam would cause an "ecological catastrophe" and lead to "numerous" civilian deaths, he said.


On Monday, the U.S.-led coalition reiterated that it is taking every precaution to ensure the integrity of the dam. "To our knowledge, the dam has not been structurally damaged," it said on its Twitter account.


A spillway north of the structure is under control of the U.S.-backed and Kurdish-led opposition group known as the Syrian Democratic Forces, and can be used to relieve pressure behind the dam, the coalition told The Associated Press in an email on Sunday.


Engineers who used to work at the site have expressed doubt that the spillway could accommodate the water flow but said it will still take at least a month for the lake to reach critical levels if the gates are not opened. IS has warned that the dam's main gates are out of service, causing water levels to rise.


Pressure on ISIS has intensified in recent months as the group has suffered a series of battlefield reverses in both Syria and neighboring Iraq.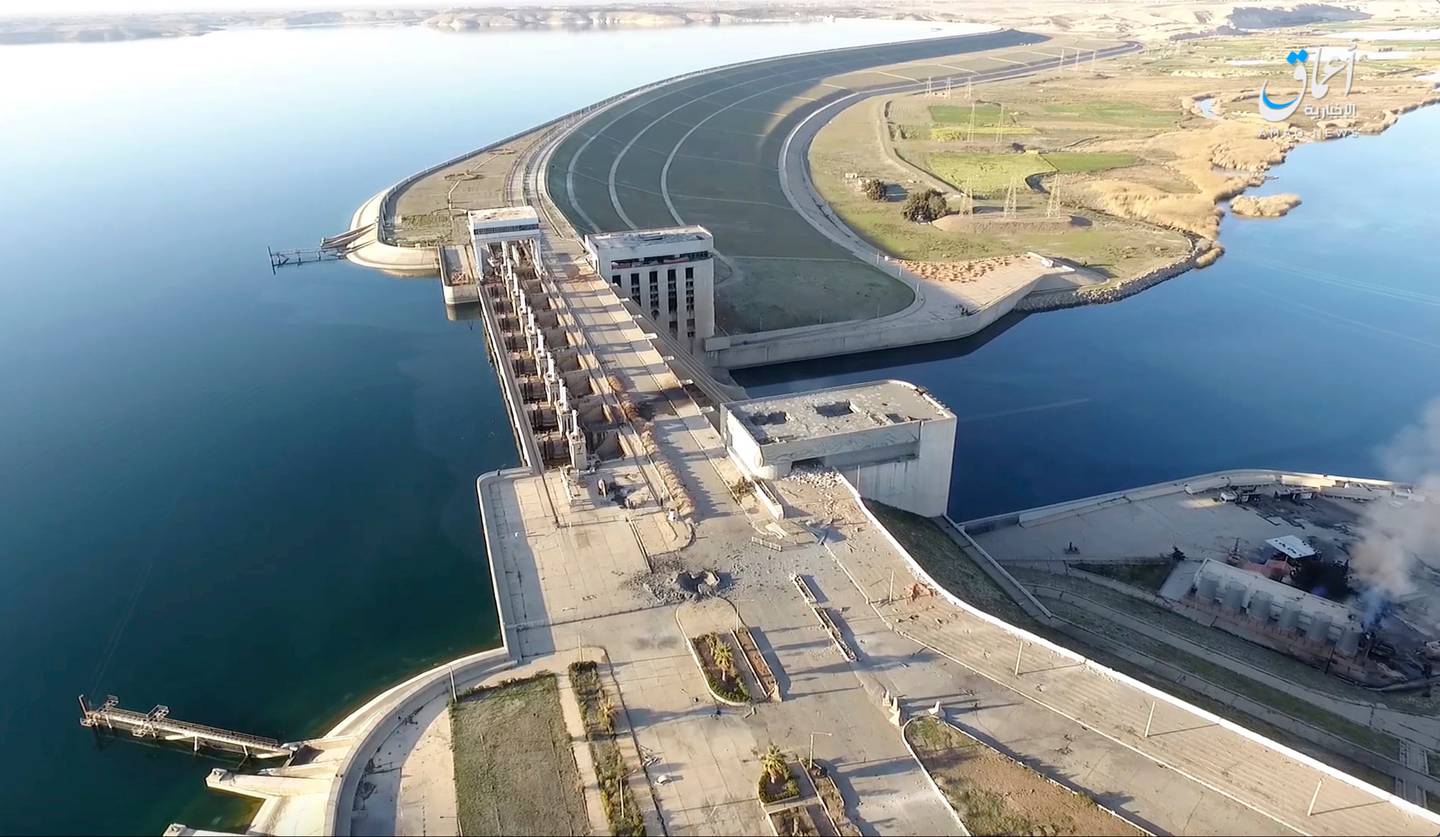 This still image taken from drone footage posted online Monday, March. 27, 2017 by the Aamaq News Agency, a media arm of the Islamic State group, shows the Tabqa Dam, in Raqqa, Syria.
Photo Credit: Aamaq News Agency via AP
With SDF forces to the north and west of Raqqa, a push on the city is shaping up to be the next major battle. Last week, U.S. aircraft ferried hundreds of SDF fighters, as well as American artillery and military advisers, behind ISIS lines.


President Bashar Assad's government has objected to U.S. involvement, saying that American forces are not authorized to be on Syrian soil. For its part, Moscow prefers seeing Syrian government forces leading the assault on Raqqa.


Activist groups said Monday the city itself has been without electricity and municipal water for three to five days.


The Britain-based Syrian Observatory for Human Rights said the cuts are due to the fighting around Tabqa Dam, 40 kilometers (25 miles) west of Raqqa.


Rudskoi said Tuesday that Syrian government forces, with Russian military assistance, are making progress against ISIS. Russia has been Assad's main backer and has played a key role in turning the tide of war in his favor.


Syrian forces now control of territory up to 16 kilometers (13 miles) around the historic town of Palmyra, Rudskoi said, adding that they recently seized control of high ground held by ISIS along a highway connecting Palmyra and the capital, Damascus.


Syrian troops fully recaptured Palmyra earlier this month after a push that saw ISIS defenses crumble and their fighters flee in the face of artillery fire and intense Russia-backed airstrikes. The Syrian government had seized the town from Islamic State militants last March, only to lose it again 10 months later.


Separately on Tuesday, reports emerged that an agreement has been reached for the surrender and evacuation of four besieged areas in Syria.


The Britain-based Syrian Observatory for Human Rights said the agreement stipulates the evacuation of the rebel-held Damascus suburbs of Madaya and Zabadani, besieged by government forces and Lebanese Hezbollah fighters for the past two years, in return for the evacuation of the northwestern villages of Foua and Kfarya, which have been besieged by insurgents since early 2015.


Some 60,000 people live in the four besieged areas, according to the U.N.


Muhammad Darwish, a doctor from Madaya, confirmed an agreement to evacuate rebels had been struck and that it would likely be implemented a week from now. He said the evacuation was voluntary, and that civilians could stay.


The Washington-based Siege Watch monitoring group said in a series of Tweets that the deal, which would result in massive forced population transfers, was mediated by Iran and signed in Qatar.


Such deals have become common in Syria, where rebels surrender following years of siege and bombardment, and are allowed safe passage to opposition-held areas further north in return.
The Syrian government has rejected allegations that such deals amount to the forced displacement of civilians.


Associated Press Writer Philip Issa in Beirut contributed to this report.
Share: