Pope Francis on Thursday implored Congress to embrace peace through diplomatic outreach, stop the pervasive and deadly worldwide arms trade and find ways to "end the many armed conflicts throughout the world."
In the first address by the head of the Roman Catholic Church to America's legislators, the pontiff also warned of the evil role that religious extremism can play in the persecution of the powerless, demanding constant vigilance between religious freedoms and responsibilities.
"Our world is increasingly a place of violent conflict, hatred and brutal atrocities, committed even in the name of God and religion," he told lawmakers. "We know that no religion is immune from forms of individual delusion or ideological extremism.
"This means that we must be especially attentive to every type of fundamentalism, whether religious or of any other kind. A delicate balance is required to combat violence perpetrated in the name of religion, an ideology or an economic system, while also safeguarding religious freedom, intellectual freedom and individual freedoms."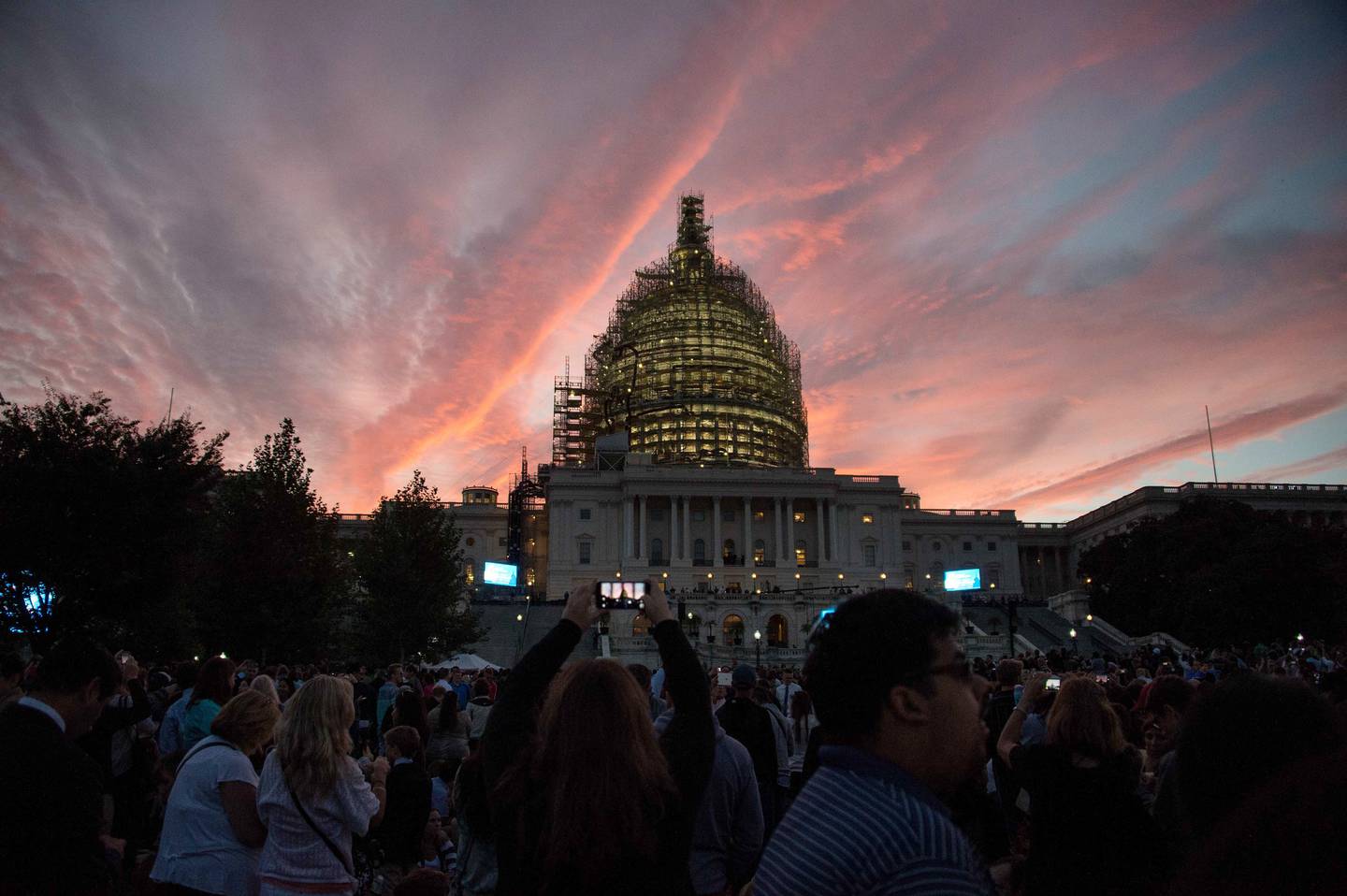 People gathered before dawn outside the U.S. Capitol to watch Pope Francis' speech to Congress on a big screen and hoping to see him on the Capitol's balcony.
Photo Credit: NICHOLAS KAMM/AFP/Getty Images
His comments came amid furious fanfare for his six-day tour of Philadelphia, New York and Washington, D.C. All of his speeches are expected to focus on the key pillars of Catholic beliefs, including respect for life and outreach to the needy.
The pontiff also has focused on immigration and climate change in his stops in Washington, and emphasized peace over war in remarks at the White House and Capitol. That included harsh words seemingly directed at the multibillion-dollar U.S. defense industry.
"Why are deadly weapons being sold to those who plan to inflict untold suffering on individuals and society?" the pope asked. "Sadly, the answer, as we all know, is simply for money, money that is drenched in blood, often innocent blood. In the face of this shameful and culpable silence, it is our duty to confront the problem and to stop the arms trade."
The comments drew strong applause from members of both political parties, many of whom are longtime supporters of the defense industry.
Most of the pontiff's speech was crafted not to reprimand America but to implore its leaders to live up to the country's founding ideals. He said America "continues to be, for many, a land of dreams ... dreams which awaken what is deepest and truest in the life of a people."
Living up to that ideal means bringing order and calmness to conflicts that make overreaction or revenge tempting, he said.
"To imitate the hatred and violence of tyrants and murderers is the best way to take their place," the pope said. "Our response must be instead one of hope, healing and justice. We are asked to summon the courage and the intelligence to resolve today's many geopolitical and economic crises."
He also said that religion must serve as "a voice of fraternity and love, which tries to bring out the best in each person and in each society."
Even before he spoke, the pope's presence drew a warm welcome from the politically divided Congress. More than a third of elected lawmakers in Congress identify as Catholic, well above the 20 percent of the American population who identify as Catholic. rate of around 20 percent.
Share: