"Jihadi John" and other British-born jihadists, including "Jihadi John, have their sights set have had their crosshairs set on recent Victoria Cross recipient Lance Cpl. Joshua Leakey, dubbing him a "top prize" if captured for the Islamic State group.
British officials are on high alert to protect Leakey and his family from the extremists, and even increased security last week at his award presentation ceremony, according to the U.K. newspaper Daily Star.
The 27-year-old British Army paratrooper received the Victoria Cross for braving enemy fire to tend to Marine Capt. Brandon Bocian, a U.S. infantry officer, who was wounded in an hourlong firefight in Helmand province on Aug. 22, 2013. The man known in the Western media as "Jihadi John" is wanted in connection to with the beheadings of several hostages, including Americans James Foley, Steven Sotloff and Peter Abdul-Rahman Kassig, who took the name Abdul-Rahman. Friends and family identified "Jihadi John" to Tthe Washington Post and other news organizations Feb. 26 as Mohammed Emwazi, 26, who grew up in west London.
Aside from growing threats stateside and overseas, this isn't the first time militants have threatened service members.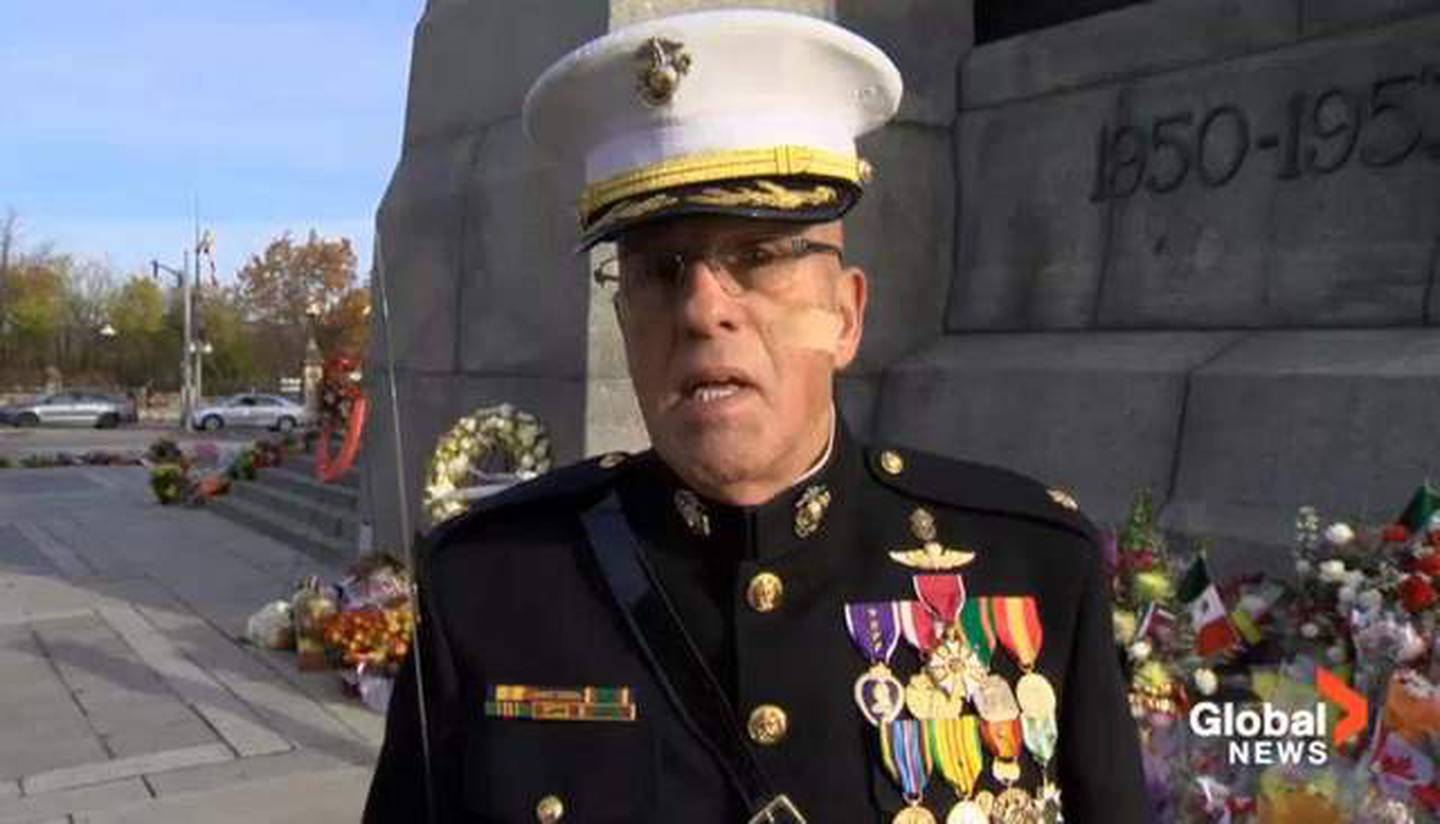 Retired Marine Maj. 'Fox' Sinke said he received at least two phone calls from people who screamed at him in Arabic and then hung up after he stood guard at a Canadian war monument following an attack Oct. 22.
Photo Credit: Screenshot
Sinke said that even after he changed his home phone number, he received another threatening phone call, but was unsure if it was related to the previous threats.
"I seriously doubt they're going to come take me out on my farm," Sinke, a dual Canadian-American citizen, told Military Times Thursday. "If they do, I'll be cleaning them up with the garden hose."
"The one repeated phrase, which I've heard before in Arabic, was, 'We will kill you,' " Sinke reiterated.
Sinke feels its his duty to stand guard at the war memorial, where on Oct. 22 Cpl. Nathan Cirillo, a Canadian service member, was shot and killed by Michael Zehaf-Bibeau. Bibeau, who had "connections" to jihadists in Canada, began a rampage that ended with a shootout inside the Canadian House of Parliament's Centre Block building.
"I made up my mind that every Oct. 22 you can bet that I'll be in my dress blues, with my sword, at the war memorial," Sinke said of his new annual tradition.
He told local media in the fall that he came to pay tribute to fallen comrade in arms and now wants to show that Canadians will not be intimidated.His message for the terrorists: "Hey, you're looking for a target, here's a new one for you. Give it your best shot, we'll see how it works out for you.' "
Share: