World War I's Hundred Days Offensive and the Battle of Belleau Wood. World War II's Battle of Midway and D-Day.
These and many other diverse clashes in those two separate conflicts bookended an era that marked the ascension of the U.S. into a global military powerhouse.
The photographic record of those conflicts, however, is overwhelmingly monochromatic. Black-and-white photos can carry considerable power, but older images also can reflect new depth and immediacy — and trigger new emotions — when a full color palette is applied.
In a few weeks, Europe will mark the 70th anniversary of Victory in Europe Day, much like Marines have been paying homage to the Battle of Okinawa since April 1. As such anniversaries approach, it feels like an appropriate time to take a new look at some decades-old images of those wars.
The following photographs, colorized courtesy of artists and hobbyists such as Doug Banks, Royston Leonard, Lori Lang, Benjamin Thomas and Paul Reynolds, capture in vivid detail U.S. service members on the battlefield. Personal mementos family members and troops themselves from all over the world have contributed to the evolution of photograph colorization.
Their photos are also featured among the hundreds of colored photos on the WW1 Colourised Photos and WW2 Colourised Photos Facebook pages.
View these U.S. service members, volunteers, and armaments in some of the largest conflicts in history.
Editor's note: Photos and photo captions are courtesy of artists' Facebook pages, but may be edited for brevity. Photos featured are from Defense Department and military service pages, National Archives, Library of Congress, newspapers or donated by third parties. Permissions granted by all artists.
Sgt Louis S.Wallace, from Meadville, Miss., prepares two of the many thousands of turkeys on a M1937 Field Range that have arrived from the states.
Photo Credit: Colorized by Paul Reynolds
Private Roy Humphrey of Toledo, Ohio is being given blood plasma by Pfc. Harvey White of Minneapolis, Minnesota after being wounded by shrapnel on August 9, 1943, in Sicily.
Photo Credit: Colorized by Lori Lang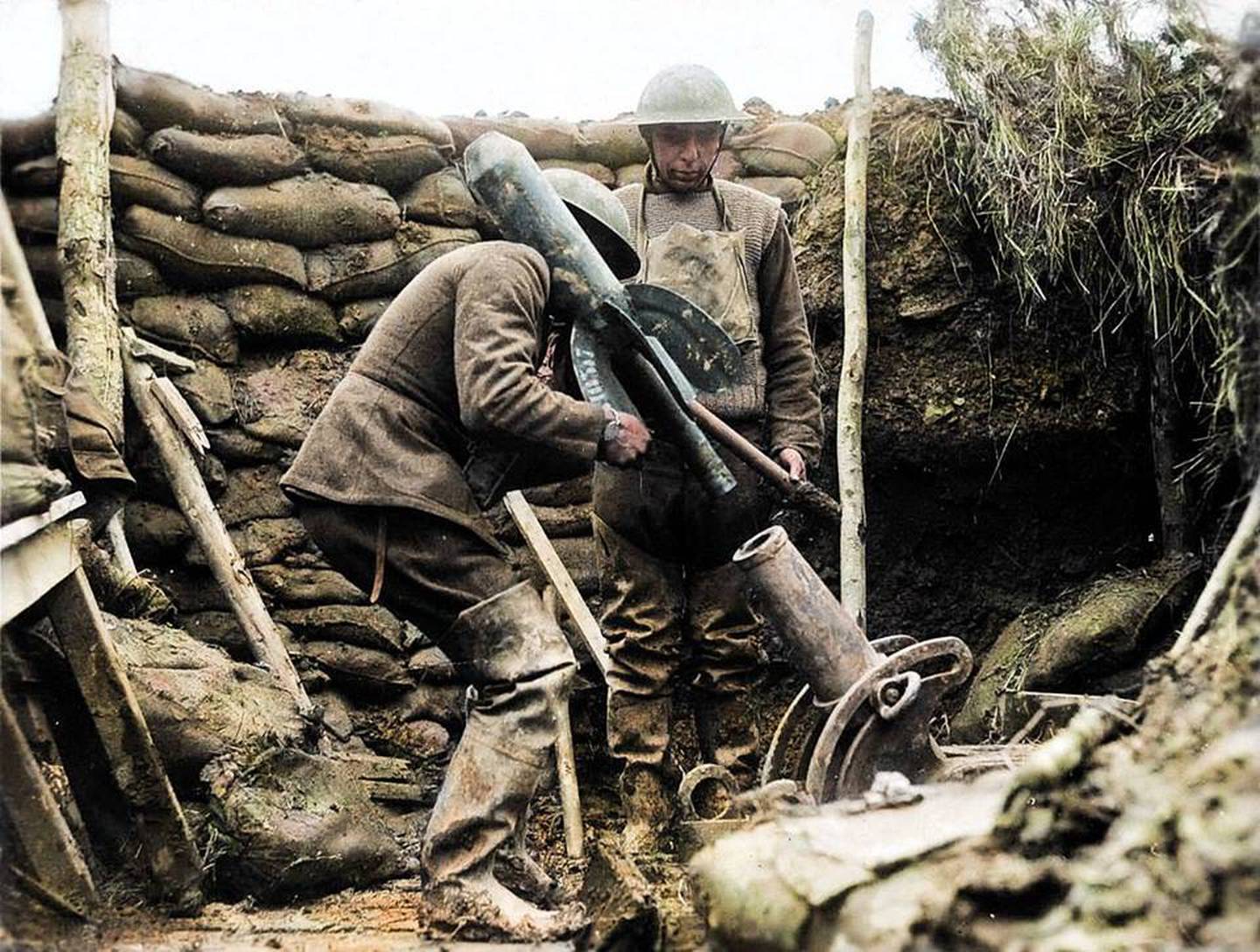 US soldiers, members of Maryland's 117th Trench Mortar Battery, 67th Artillery Brigade, 42nd. Division operating a 58mm French trench mortar. This gun and crew kept up a continuous fire throughout the raid of March 4, 1918 in Badonviller, Muerthe et Modselle, France.
Photo Credit: Colorized by Royston Leonard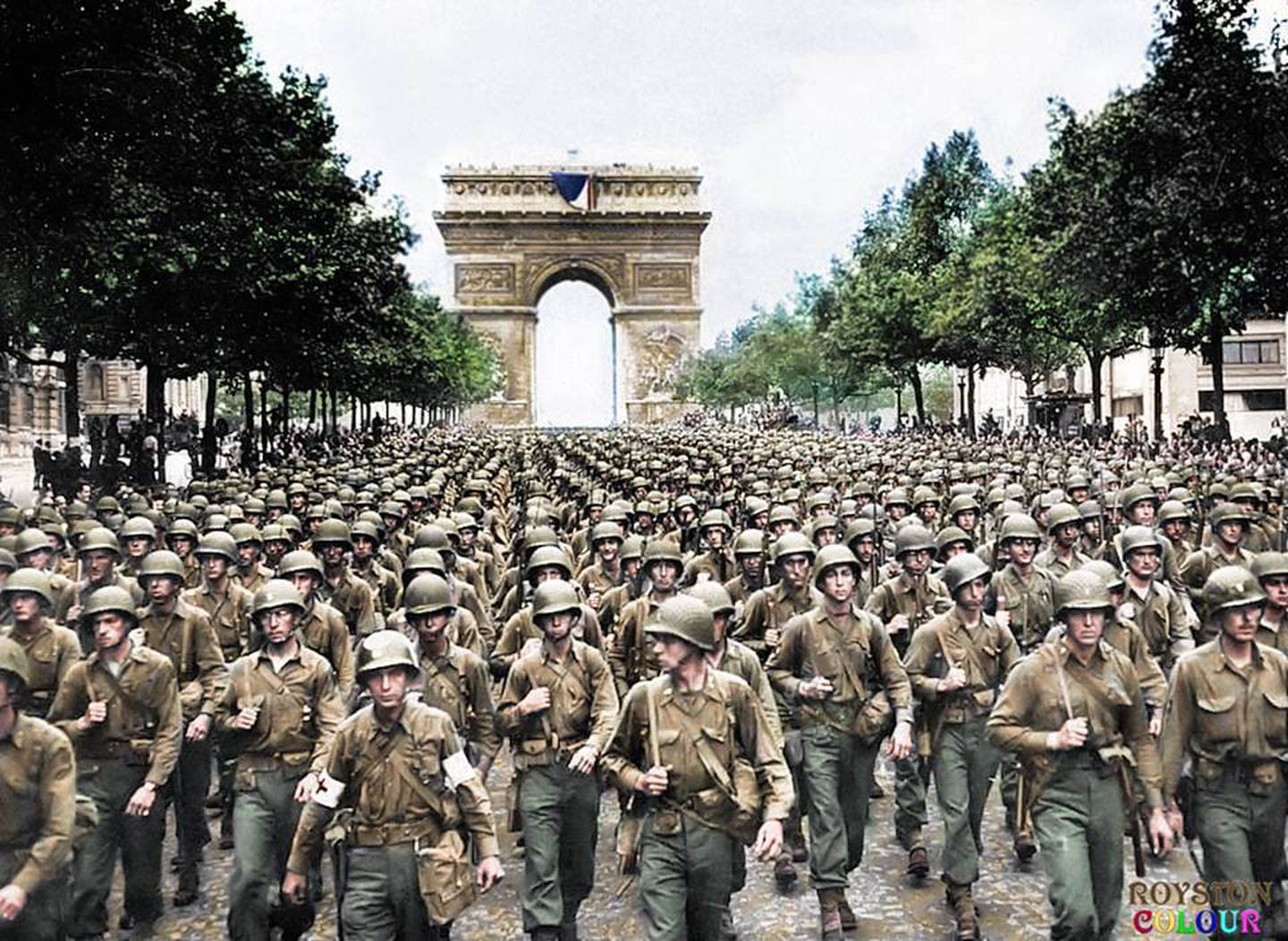 U.S. soldiers of Pennsylvania's 28th Infantry Division march along the Champs-Élysées , the Arc de Triomphe in the background, on Aug. 29, 1944, four days after the liberation of Paris.
Photo Credit: Colorized by Royston Leonard
Soldiers of the 369th (formerly known as the 15th New York National Guard Regiment) who won the Croix de Guerre for gallantry in action, 1919. Seen here returning to the New York Port of Embarkation and were demobilized on February 28, 1919 at Camp Upton at Yaphank, New York, and returned to the New York Army National Guard.
Photo Credit: Colorized by Doug Banks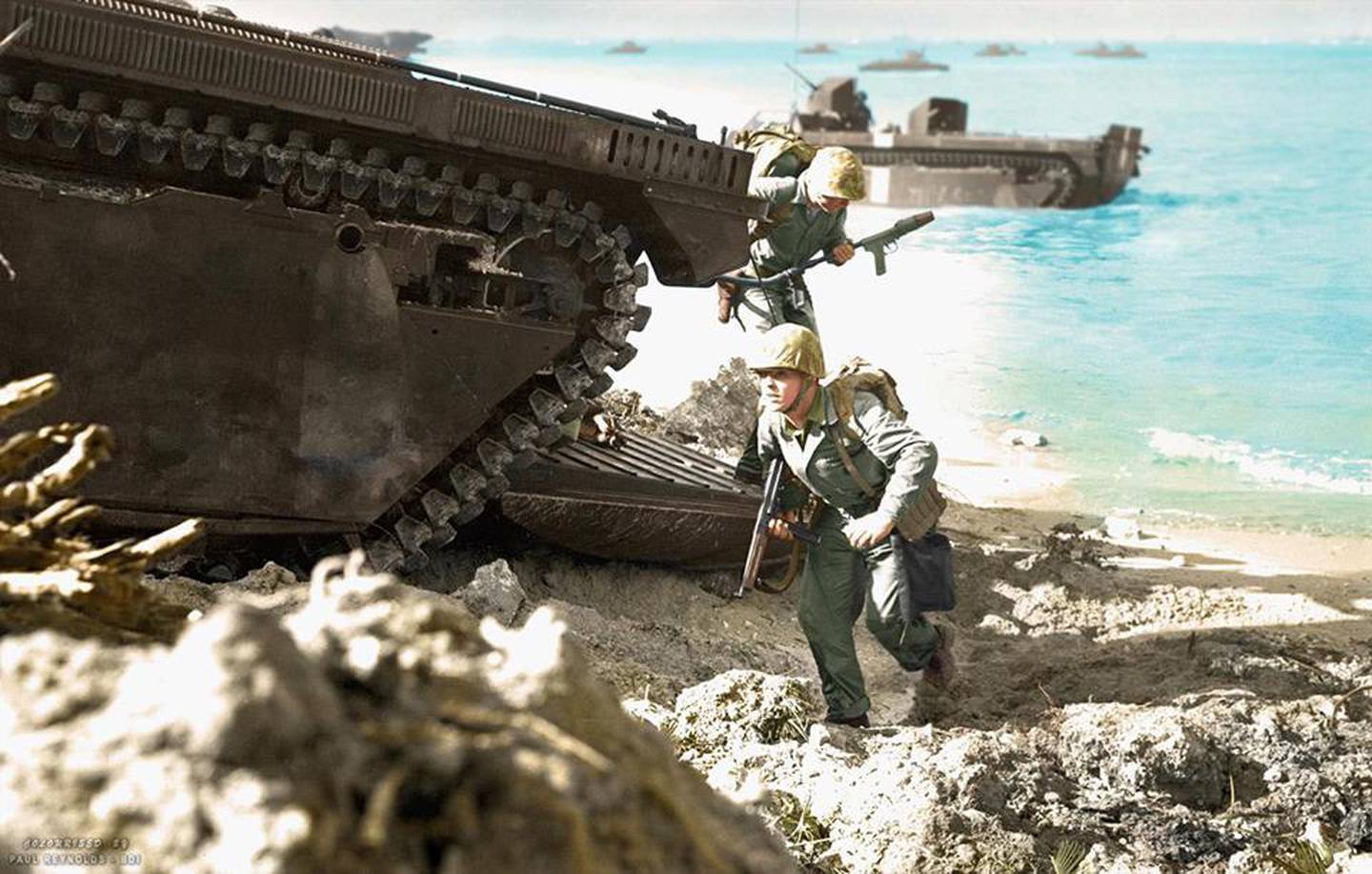 Battle of Okinawa: US Marines of the 2nd Battalion, 22nd Regiment, land at Green Beach One, Okinawa in the Ryukyu Islands during WWII.
Photo Credit: Colorized by Paul Reynolds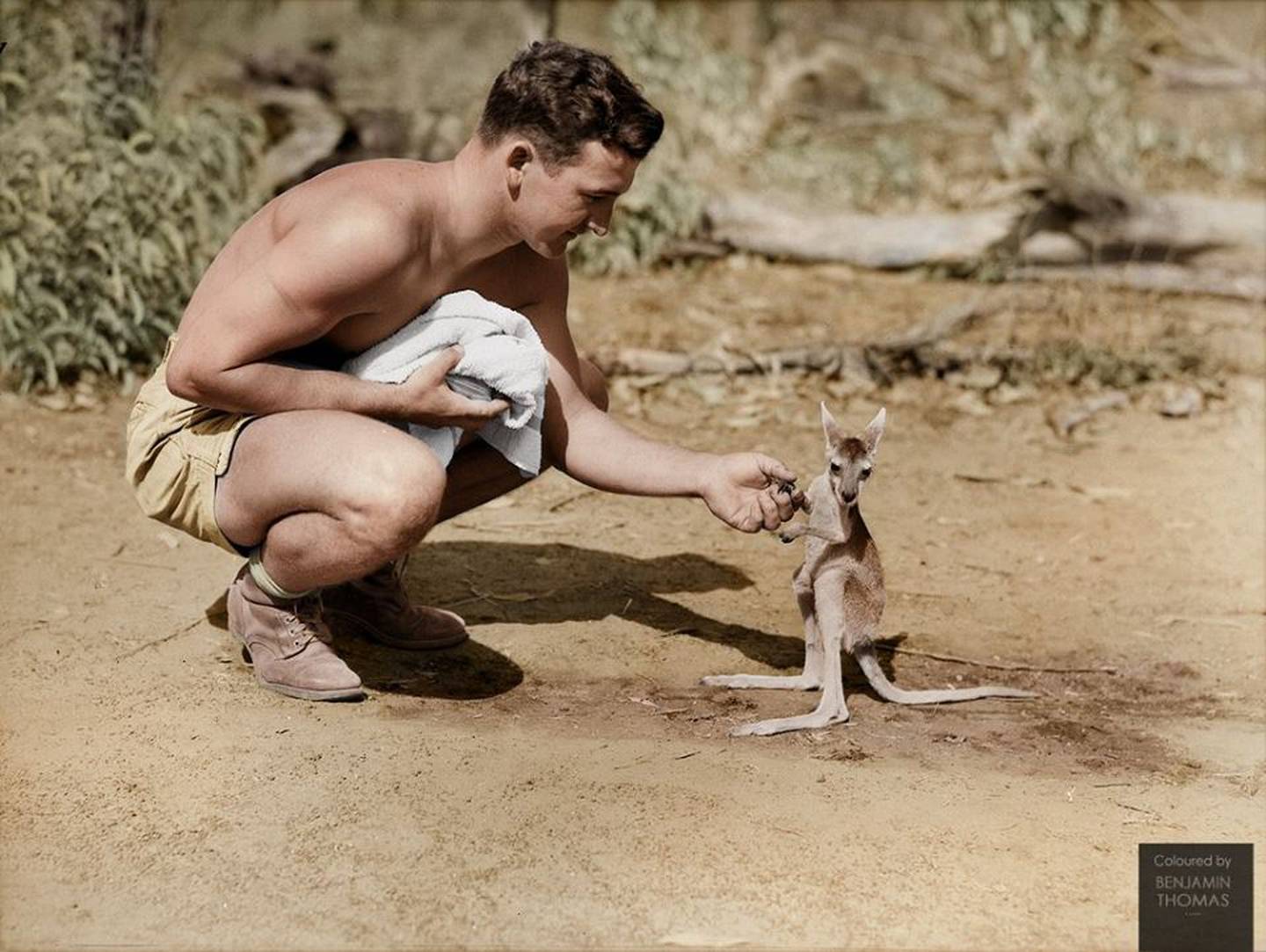 An American soldier at an advanced Allied base, probably in Northern Australia, with his pet kangaroo, September 10, 1942.
Photo Credit: Colorized by Ben Thomas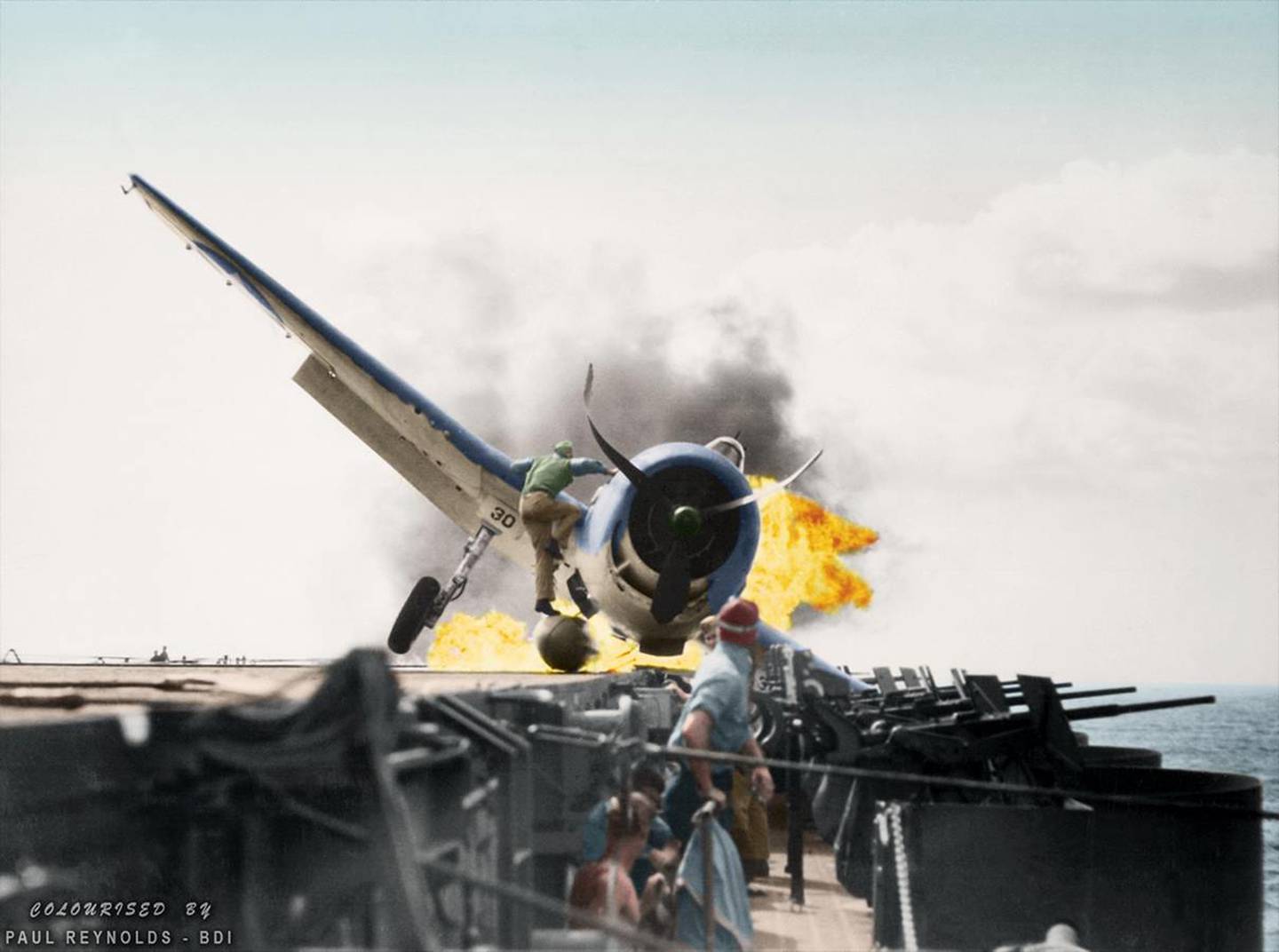 Lieutenant (later Lieutenant Commander) Walter Lewis Chewning of Cynwyd, Pennsylvania, (February 19, 1914 - February 4, 1990) steps on the burning fuel tank of an F6F-3 Hellcat flown by Ensign (later Lieutenant) Byron Milton Johnson of Potter, Nebraska (May 19, 1920 - February 20, 2005) to effect a successful rescue of the pilot on November 10, 1943.
Photo Credit: Colorized by Paul Reynolds
5th Engineer Special Brigade, rescuing men whose landing craft had been attacked and sunk on Omaha Beach.
Photo Credit: Colorized by Lori Lang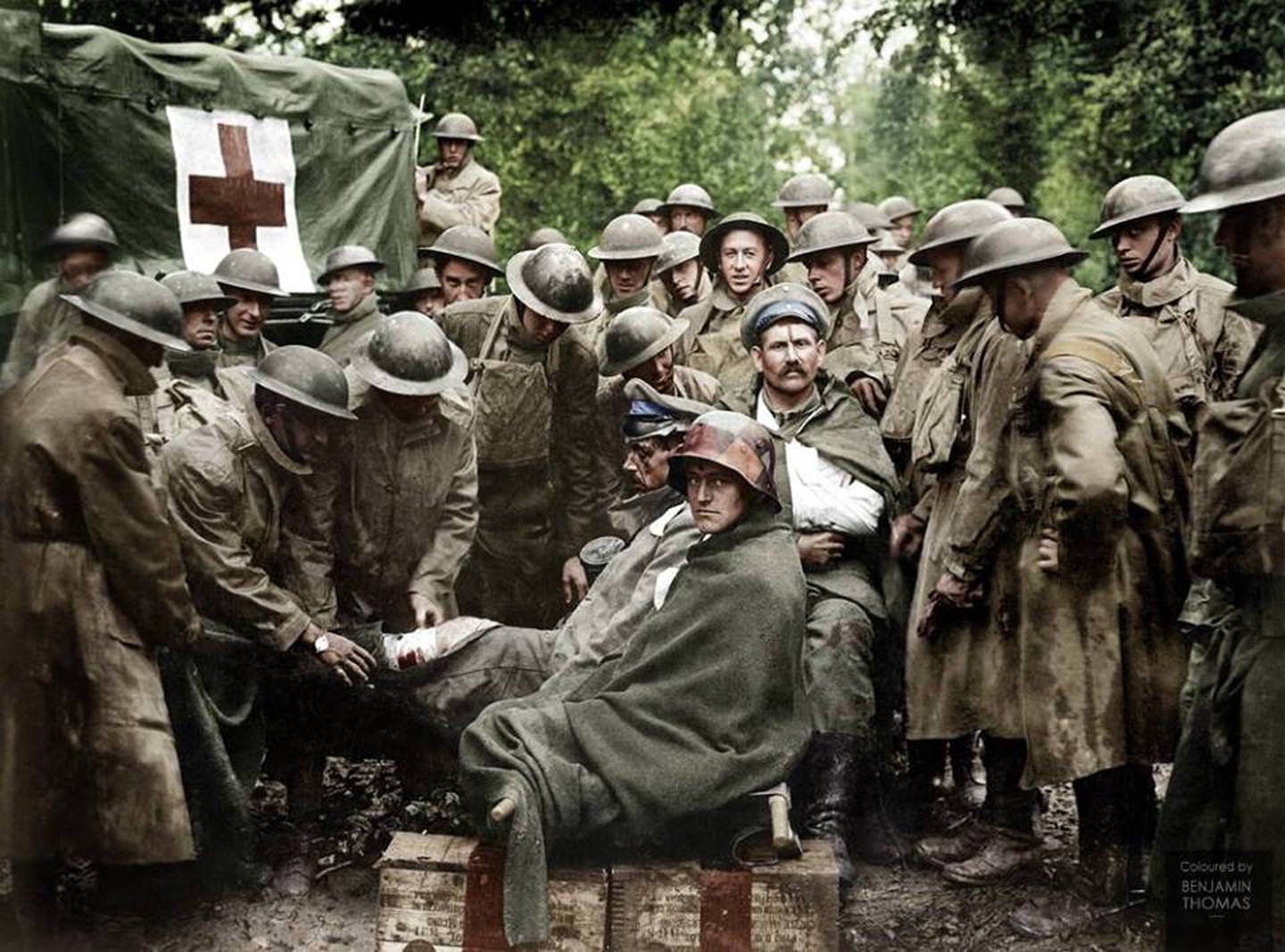 American medics of the 103rd and 104th Ambulance Companies give medical attention to wounded German prisoners. These prisoners were taken from second line trenches during the opening attack of the Battle of Saint Mihiel on September 12, 1918.
Photo Credit: Colorized by Ben Thomas
Share: