When Michael Jones, a Silicon Valley wizard who invented the technology underlying Google Earth, visited an aircraft carrier, he was stunned that the Navy still needs a crew of more than 5,000 sailors to run the ship.
"I could write a program that lands that plane on the deck. I can build a robot who can attach that hose to that fuel tank. I could get a lot of those people out of there. In the very near future, half of the jobs people have right now won't exist," Jones recently told a room packed with military experts.
He was among a cadre of tech experts who joined in a first-of-its-kind "war game" focused on military personnel issues. The two-day event held in late June in the Washington suburb of Tyson's Corner, Virginia, brought a team of Silicon Valley pioneers and computer-science experts together with current and former Pentagon officials and military experts from think tanks across Washington.
The rare brainstorming session, sponsored by the Defense Department, was designed to tackle some of the military's most vexing long-term challenges in building a force for the 21st century and recruiting and retaining the talent it will need in the years ahead.
The event was the latest sign of soul searching inside the Pentagon's personnel directorate, sparked in part by the advent of cyber warfare and widespread concerns that building an effective cyber force will require skills, management styles and institutional structures that are rare in today's military.
That anxiety is fueling a broader push inside DoD to modernize the entire military personnel system. The newly appointed undersecretary for personnel and readiness, Brad Carson, has vowed to seek "revolutionary change" in the way the military manages its people.
Carson wants to modernize the Pentagon's antiquated, paper-based personnel system and its promotion rules that prioritize seniority and stability over performance and innovation. He has promised to draw up a slate of reforms by August that will include far-reaching policy changes and proposed laws for Capitol Hill to consider.
Carson spoke to the war game's nearly 100 participants and urged them to "pursue disruptive innovations."
"Don't settle for incremental reforms that are politically feasible," he implored.
He said he is troubled that nobody at the Pentagon can say whether the military is keeping or losing its best and brightest service members.
"I think we have a real problem today," Carson told Military Times in an interview at the event. "We don't know who the most talented officers and enlisted personnel are. We don't track them over time. We don't make any special effort to retain them. And we don't ensure that for every job in the military or on the civilian side, that we understand what talents are necessary for success."
And Carson said it's time to change the military's promotion practices that are based on time-in-grade requirements. "We should move into a talent-based system with competency-based benchmarks," he said.
'Moneyball' for the military
Conforming to the military's traditional war game format, the participants were presented with a hypothetical crisis: In 2025, the economy is booming and military morale has tanked. Most young Americans have no interest in military service and the Pentagon's tight budgets offers little room for cash incentives. The military's advanced technology and growing cyber threats mean the Defense Department needs top talent, but can't find it.
Military Times was granted access to the war game event on the condition of allowing most of the participants to remain anonymous, which organizers said would encourage more candid discussion.
Nearly all of the experts participating agreed that the military needs a top-notch, high-tech system for managing its personnel, a sweeping upgrade to the current patchwork that organizes the recruitment, development and job assignments for the force of more than 2 million active and reserve service members.
"We need to start almost doing 'Moneyball' for individual recruiting," said one participant, referring to the book and movie about baseball general manager Billy Beane and his pioneering use of data and statistics in professional sports.
That would involve a detailed analysis of individuals' skills and a process for matching them to job assignments and teams of colleagues to optimize their performance.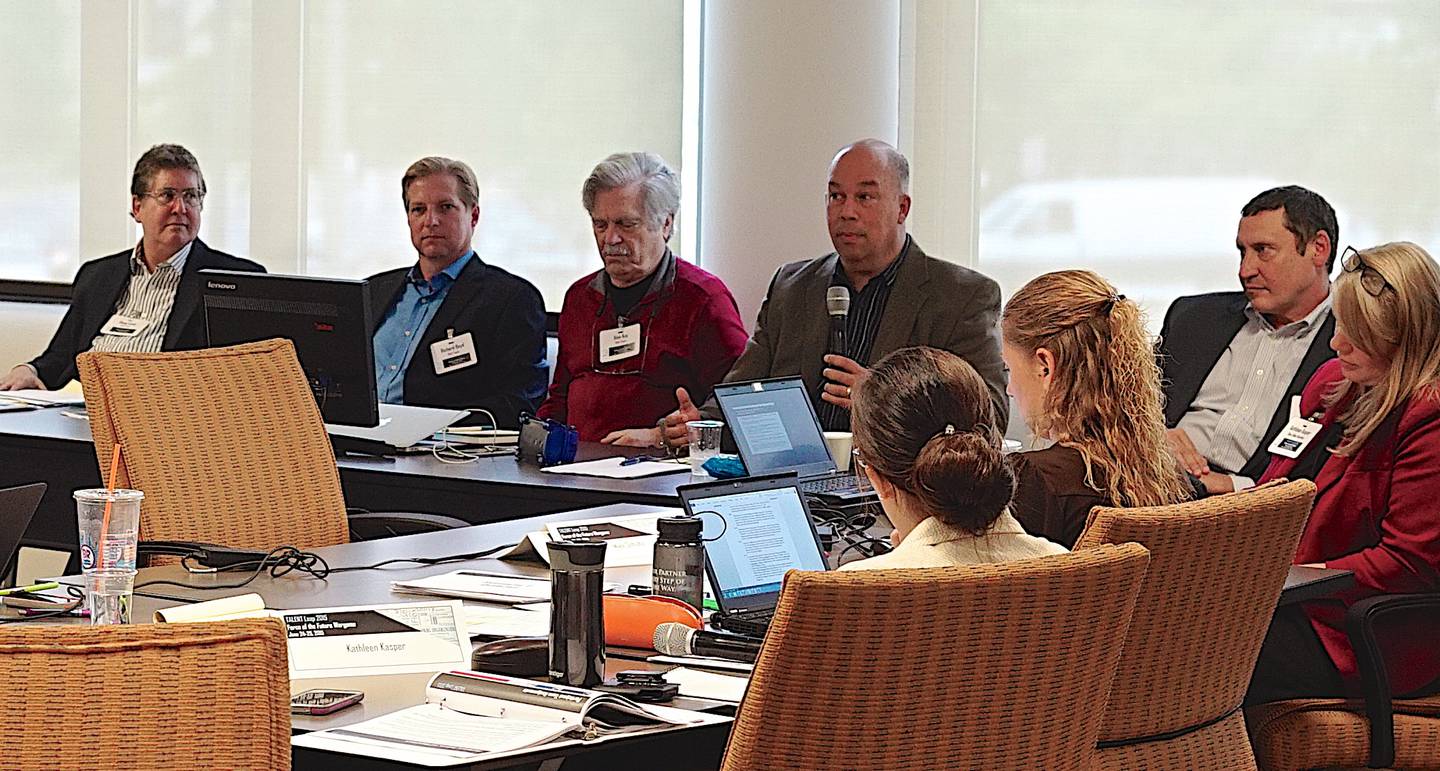 During the Pentagon-sponsored "war game" exercise focused on future personnel challenges, the "red team" panel of Silicon Valley tech experts shared their views with a dozens of military professionals in Tysons Corner, Va.
Photo Credit: Courtesy
But some of the technology professionals were surprised to hear one former DoD official say: "We don't use technology at all in terms of our internal selection and job assignments." Rather, job assignments often are driven by the available openings during the brief time when individual troops are scheduled to change duty stations.
Those intimately familiar with the limitations of today's personnel management system had more modest goals.
"We don't have a good inventory of the talents that we do have and the talents that we need. Just an understanding of what we have would be an unbelievable advancement forward," said one manpower expert.
Experts talked about hypothetical databases that track individuals' skills, strengths, interests and educational backgrounds. The professional networking site LinkedIn might be a model for a decentralized, "crowd-sourced" personnel management system where individuals post their own information. Unit commanders and individual troops could have direct contact about job openings without much oversight from personnel command bureaucracies.
"We could have Amazon-like suggestions, like, 'People who were interested in this job were also interested in these other jobs,' " one person suggested.
The military could use sophisticated personality tests to better match individuals to jobs. Using new technology, those tests might come in the form of an online video game that individuals play while underlying software tracks and analyzes their gaming decisions and playing style to formulate profiles for recruiters or a personnel management system.
An optimal system might include data from performance evaluations, school transcripts, health records and other information.
But that could raise privacy concerns.
"Can we really collect all of this data? How do we get past the fact that we will know a lot more about people than we used to? Is that going to make some people uncomfortable?" one participant said.
The war game was organized by retired Air Force pilot Frank DiGiovanni, director of the Pentagon's Force Readiness and Training office. He encouraged the Silicon Valley experts to share specific technologies and software that DoD should consider.
"I need to know what's out there, or what's about to be out there," DiGiovanni told the group at the start of the two-day event.
"Ten years ago, there was no iPhone. We're looking 10 years into the future. What is going to be that disruptive piece of technology that is going to move us forward? We're going to try to develop a road map."
The 'elephant in the room'
The technology experts attending the war game repeatedly raised questions and concerns about imminent automation of many military tasks.
"The question is not how will you use technology to fill the current jobs, it's how technology is going to change those jobs," Silicon Valley's Jones said.
That will require a more highly educated and skilled force.
"The elephant in the room is that anything that can be automated will be automated," said Richard Boyd, an innovator in gaming and simulation who is one of Hollywood's top virtual set designers.
"How do we prepare for a military that has 20 percent the human beings that it has today? But it's going to have three to five times the reach and strike capacity," Boyd said. "How do we recruit, retain the people who we're going to invest with these God-like powers?"
Fundamental questions
Among the most prominent voices at the war game event was Alan Kay, a 75-year-old pioneering computer scientist credited with helping to invent modern computer programming and the once-revolutionary idea of having overlapping windows on a screen, known as a "graphical user interface."
Kay was assigned to the group's "red team," which in traditional war games plays the role of the enemy. At this event, the red team offered outside views.
Kay encouraged the group to consider the military's three basic roles of "actually making war," "acting like police" and "the peace corps function," which he called "the ultimate solution."
"If we don't actually think about what a military should be for in the future, this [event] is just supporting something that is all too much like the Maginot Line, which is like trying defend against the previous war rather than thinking about what the actual situation is going to be in the future," Kay said.
But some of the more traditional military thinkers cautioned against taking innovation too far.
"The last thing a Marine colonel wants is a private who is going to innovate when he gets an order," said one officer. "The colonel wants to know that the order is going to be carried out in a certain way. People need to be interchangeable. Because what if somebody gets killed?"
Another senior officer said: "If every general treats every private as an idiot who just needs to be command-and-controlled, we will never make our recruitment and retention goals."
"The problem," a military manpower expert said, "is that there are simultaneously six, seven, eight, nine militaries that we are trying to feed."
Many of the tech experts repeatedly pointed to the example of how DoD was central to the invention of the Internet. In the 1960s, the Pentagon-funded office known as the U.S. Advanced Research Projects Agency doled out millions of dollars in research grants that resulted in the foundation of the technology that underlies today's Internet.
Much of that money flowed to Stanford University, in the Northern California region now known as Silicon Valley. And many of those computer scientists went on to create the modern software and information technology industry.
"You can go empower an entire industry. How powerful is that?" one participant said. "The bigger question is, how do we empower the nation to do more? How do we build a system that gets the best out of its people? What's the fundamental assumption here? How do we build a safe and secure place for humanity to prosper?"
Andrew Tilghman is the executive editor for Military Times. He is a former Military Times Pentagon reporter and served as a Middle East correspondent for the Stars and Stripes. Before covering the military, he worked as a reporter for the Houston Chronicle in Texas, the Albany Times Union in New York and The Associated Press in Milwaukee.
Share: