Female Marines are already lining up to join one of the Corps' most elite communities just weeks after the military lifted its decades-long ban barring women from serving in combat roles. Marine Raiders are set to lead the way as the Corps moves to integrate women into previously closed combat roles.
So far, at least three female Marines have contacted Marine Corps Special Operations Command recruiters to see if they have what it takes to become a Raider, according to MARSOC officials. But the decade-old Marine spec ops command To date, only three women have contacted MARSOC recruiters to determine eligibility, but the community is now accepting applications from all communities across the force, said MARSOC spokesman Capt. Barry Morris, a MARSOC spokesman told Marine Corps Times. 
And as long as women can meet the standards, they can earn the title of Marine Raider, he said. MARSOC spokesman 
"MARSOC remains committed to sustaining and improving our combat effectiveness through the systematic application of our standards," Morris he said. "With clearly articulated and codified standards, MARSOC will enhance its ability to screen and select the best and most fully qualified Marines to become critical skills operators and special operations officers, increasing the overall combat readiness of our force."
Morris said the next MARSOC The earliest women could screen and apply, however, is for the next assessment and selection process is scheduled for August, so that is the earliest women will be screened. to convene in Aug. 2016, Morris said.
If they meet qualifications, Marines applying to become Raiders must first undergo the rigorous initial three-week preparatory and orientation course, where candidates are indoctrinated in the world of critical skills operators.
If successful, they then undergo a three-week assessment and selection course, which stretches physical and mental endurance to the max through ruck marches, land navigation, swimming and mental aptitude tests.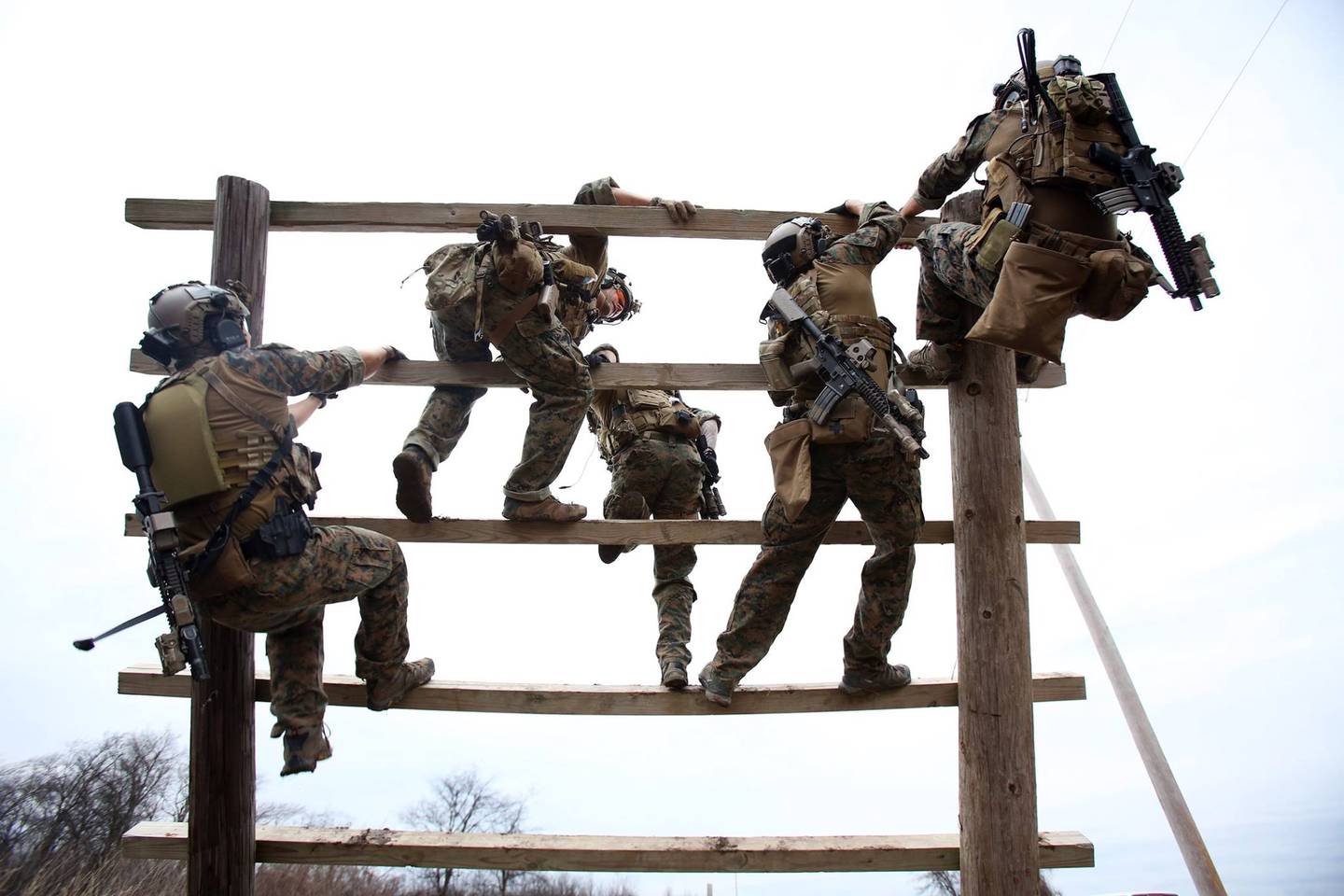 Marine Raider hopefuls complete MARSOC's assessment and selection process. The first female Marine is slated to attend the training in August.
Photo Credit: Marine Corps
Candidates who make it through these phases will receive orders to attend the next available nine-month Individual Training Course, where they well hone their skills to become full-fledged special operators.
The news that MARSOC received its first female applicants, which was first reported by Military.com, follows a 2015 review of MARSOC training standards. The Marine Corps' special operation command established clear gender-neutral standards for critical skills operators ahead of the Jan. 4 deadline to open ground combat jobs to women, and several female Marines have already requested to enter the assessment and selection process, MARSOC commander Maj. Gen. Joseph Osterman told Military.com.Maj. Gen. Joseph Osterman, MARSOC's commander, told Marine Corps Times in February 2015 that the review was meant to ensure the command had "a good objective set of gender-neutral standards." "No matter the gender, all critical skills operators will receive the same level of training," Morris said.
MARSOC solicited began laying the groundwork for gender integration last year, soliciting input from the federal Office of Personnel Management to ensure objective standards were in place ahead of the January deadline.
The Marine Corps created gender-neutral standards for 29 other military occupational specialties in October, about two months before Defense Secretary Ash Carter announced that all military jobs would open to women in 2016. Gender-neutral standards for Marine Corps infantry, however, have only recently been developed.
Any Marine interested in pursuing a path in special operations is are encouraged to contact MARSOC recruiting to see if he or she has what it takes.
Matthew L. Schehl covers training and education, recruiting, West Coast Marines, MARSOC, and operations in Europe, Africa and the Middle East for Marine Corps Times. He can be reached at mschehl@marinecorpstimes.com. 
Share: