WASHINGTON — Scores of photos showing American military personnel naked and having sex appear to be for sale in an online criminal marketplace run out of Russia, Military Times has learned.



It's a startling development in the ongoing scandal that has shaken the Pentagon and infuriated Congress, raising serious questions about the extent to which these photos — purportedly numbering in the thousands — could be exploited by foreign governments, or other entities seeking to influence or undermine the United States. Many military personnel hold security clearances that afford them access to classified or otherwise secretive information. The existence of compromising material —

known in Russian as "kompromat"

 — could make them vulnerable to blackmail, now or in the future. 

 
The Naval Criminal Investigative Service, which is leading a militarywide inquiry into the nude photo scandal exposed last month, would not address questions seeking clarity on the extent to which agents may be investigating possible involvement by Russia or other foreign organizations. Officials also declined to acknowledge whether NCIS is investigating the exploitation of these images for financial gain.

The explicit photos appear to be for sale on AlphaBay, a secretive "deep web" trading post popular with hackers looking to profit from identity theft, child pornography and the sale of weapons and drugs. The site has been linked to the Russian mafia, and is suspected of operating with tacit approval from the Russian government and its intelligence agencies.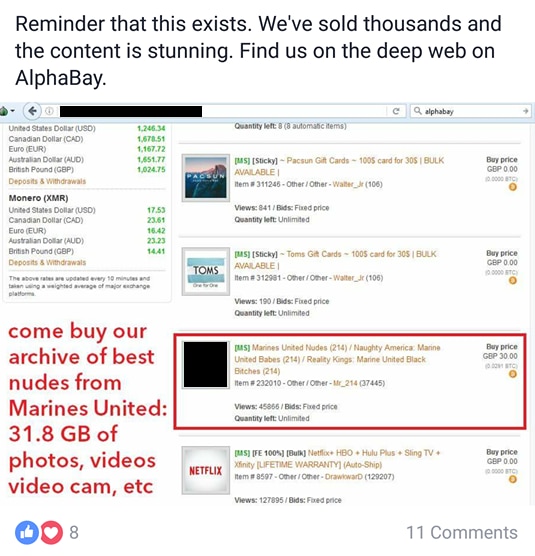 A screen grab from the Facebook group Marines United (214) reveals how administrators solicited customers for the database of nude photos, directing would-be voyeurs to the "deep web" marketplace known as AlphaBay.

Photo Credit: via Facebook and courtesy of John Albert


The U.S. has targeted such enterprises for years. A spokesman for NCIS, Ed Buice, would not directly address whether any non-military federal agencies are investigating the matter also.

Instead, he provided Military Times with a written statement: "The NCIS-led task force made up of armed services investigative entities is following up on allegations of criminal activity associated with explicit photos being taken and/or posted on websites without permission."


That's been true since late January. Facing intense pressure from Capitol Hill, military investigators are focused on determining whether laws were broken, or military regulations violated, by those who published the photos or made threatening or misogynistic statements about women depicted in them. So-called "revenge porn" is illegal in many states, and it's certainly a breach of the good order and discipline required of military personnel.
But these new developments raise different concerns, and emerge as tension between Washington and Moscow have reached a new high since the Cold War ended. The world powers are on opposite sides of ongoing conflicts in Syria and Ukraine. Meanwhile, the U.S. government is conducting a broad inquiry into Russian involvement in last year's presidential election, having expelled nearly three dozen alleged spieslate last year, on top of separate claims there was inappropriate contact between the Kremlin and aides to then-President-elect Donald Trump.
Now, a group whose origin and motives are not entirely clear is exploiting Facebook as the gateway for potential customers to access a database that contains the compromising photos originally collected and exchanged among American military personnel and veterans — including the Marines United community on Facebook. With 30,000 members at the time it was exposed, Marines United has become synonymous with what's now known to be a much larger photo-sharing scandalinvolving all military services. The images are mostly of military women, though some also contain men.
The new Facebook group, called Marines United (214), has about 7,000 members and no clear affiliation with the U.S. Marine-run group that set off the initial scandal. Rather, it appears to have originated as an international community for sexual fetishists, established months or possibly years ago. That group was hijacked and renamed to capitalize on the brand recognition of Marines United.


A screen grab from the Marines United (214) Facebook group.
Photo Credit: via Facebook and courtesy of John Albert
The Marines United (214) Facebook page is a conduit between the widely accessible internet and the AlphaBay site in the deep web. That term is used to describe domains that aren't cataloged by search engines and, thus, not easily found.
At least three of the Facebook group's 10 administrators have visible Russian connections, though it is difficult to discern much about them because their profiles, while intricate, appear to be fabricated. (That's common on social media, Buice wrote in his statement.) One claims to live in Khabarovsk, a Siberian city on Russia's southeast border with China. Another lists a hometown in California, but comments left on his Facebook profile are written in Russian. That admin and a third each shared posts within Marines United (214) directing members to AlphaBay.
There, one can pay for access to "our archive of best nudes from Marines United," the admins advised.
Military Times has been unable to make contact with any of the group's administrators.
"It sounds like they focus on stirring up trouble, then taking over groups, pages, websites and then making them relate to current affairs," said John Albert, a 30-year-old Marine Corps veteran who has independently investigated the groups sharing these photos with the goal of having them shut down.
Albert discovered Marines United (214) this week, infiltrated the group and, aided by other sources on the inside, has steadily leaked screenshots and other details to Military Times. He's also written about his effortson a blog operated by a fellow Marine veteran.
"Right now," Albert added, "the flavor is Marines United. So this 'group' took over a page, changed the name and became a collection point for Marines United members and fans. It's like war profiteering. I don't know what the upside is for them — maybe just the money from selling the photos."
Multiple U.S. officials familiar with the military's investigation have acknowledged they were unaware the photos had been made available for purchase. No one has disputed the apparent ties to Russian entities. Buice, the NCIS spokesman, indicated earlier this week that just the sale of these photos does not necessarily indicate a crime has been committed.
"Although it would be impossible to foresee every set of circumstances," he said, "it is unlikely that creating a subscription-based website for explicit photos would be illegal, unless the explicit photos were obtained surreptitiously."
However, the potential for blackmail is a legitimate national security threat, said James Forest, a criminology professor at the University of Massachusetts Lowell. He's also a senior fellow at the U.S. Joint Special Operations University.
Military personnel made vulnerable to exploitation can be liabilities, he indicated, because their
decision-making could become compromised. 

"More important," Forest said, "if the Russians or another foreign country is able to do something like this, to tap into databases containing information on military personnel, capture it and use it for an advantage, they can do that for other types of sensitive information as well.

"It highlights the critical importance of cyber security on all levels," he said, "Those responsible for this database of pictures, there may have been a glee factor. But they need to consider the implications for national security." 

That reality is not entirely lost on those who joined Marines United (214). According to several screenshots provided by Albert, some military personnel expecting to find a military-only community openly questioned the presence of so many foreign nationals.

"We're allies," one replied. 

Andrew deGrandpre is Military Times' senior editor and Pentagon bureau chief. On Twitter: @adegrandpre.
Share: