The deadly battle of Nasiriyah reared its ugly head on March 23, 2003, when the Marines of 2nd Assault Amphibious Battalion were ambushed as they advanced to secure the Saddam Canal Bridge, the northernmost bridge in the Iraqi city.
The elaborate attack of small arms and indirect fire claimed the lives of 18 Marines that day, a number that could have been significantly higher had it not been for the bravery and instinctive actions of their corpsman, then-23-year-old Seaman Apprentice Luis Fonseca.
"As we came up and over the bridge, we ran right into an ambush," he said in a 2008 Department of Defense release. "They threw all they had at us — small arms fire, heavy machine gun fire, rocket propelled grenades, mortars and artillery rounds."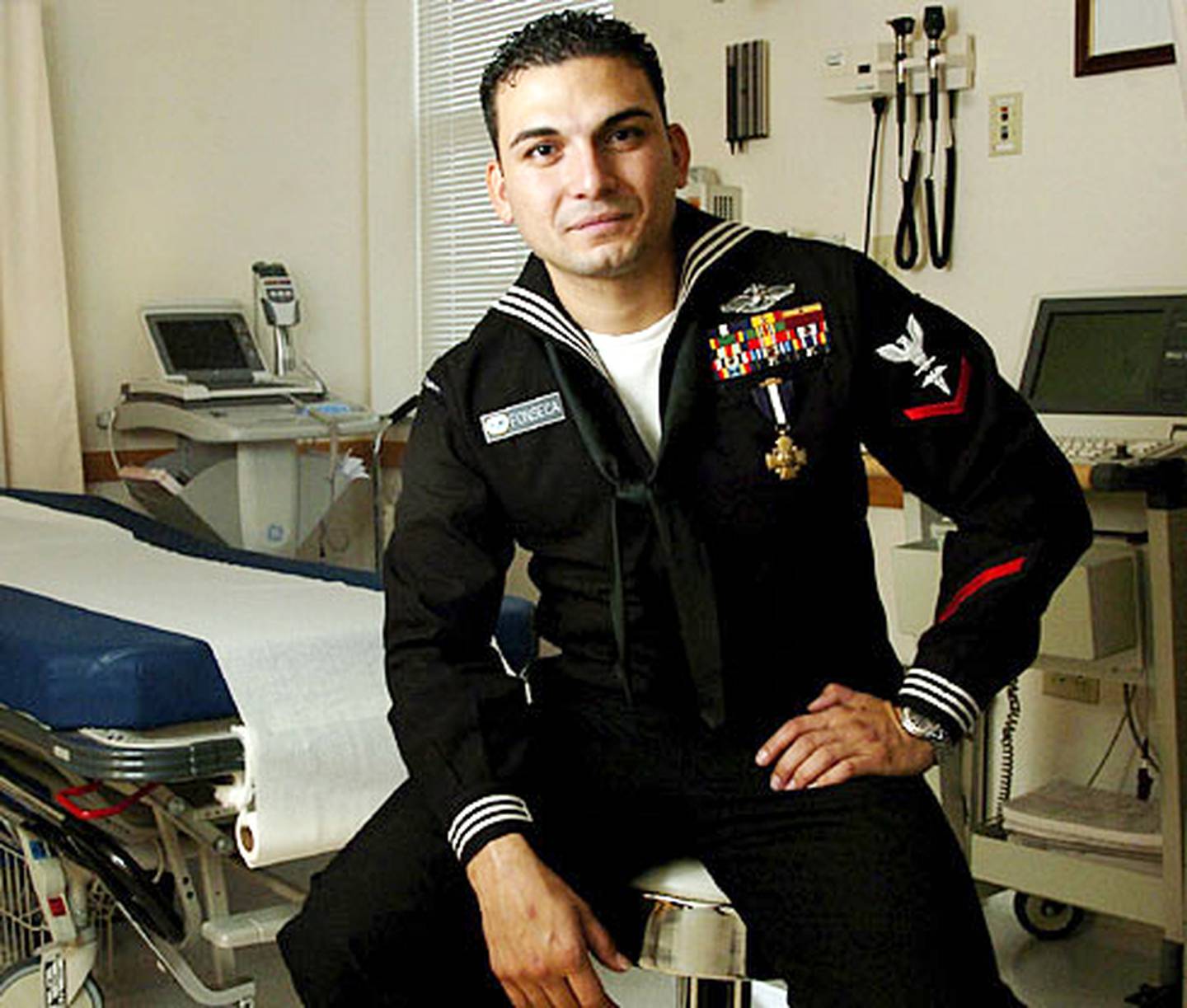 With all hell breaking loose, an amphibious assault vehicle to Fonseca's front was struck by a rocket propelled grenade, inflicting five casualties.
Seeing the vehicle beginning to catch fire, the platoon sergeant, then-Gunnery Sgt. David Myers, called for Fonseca, and the young corpsman on his first deployment sprung into action, grabbing his medical bag and sprinting through a wall of small arms fire on his way to the disabled vehicle.
When he arrived, he saw all five Marines were grievously wounded. Fonseca got to work immediately.
"I noticed I had two patients with partial lower-leg amputations, one with flash burns to his eyes, and all had shrapnel wounds," the corpsman said. "I applied tourniquets on the two Marines with the partial leg amputations and instructed the other Marines around to apply battle dressings on the others that were wounded."
Fonseca then coordinated the removal of the wounded Marines from the kill zone to a vehicle where the enemy ambush was less concentrated. After administering morphine to the two with the most urgent medical needs, he received a call that another vehicle had been hit.
Because the convoy had broken up at the outset of the firefight, the disabled vehicle he was looking for wasn't where it was supposed to be. Exposed and unsure where it was, Fonseca ran through more fire to get back to his vehicle.
Just as he arrived, four direct hits blasted the amtrak, creating havoc and dust-filled confusion.
"Two of them were on our right side," he said. "One was on our center top hatch. All three were ... 122 mm mortar rounds. The fourth and final round that disabled the truck was a recoilless rifle round that blew up our transmission."
All wounded Marines from Fonseca's vehicle, except one, were quickly transferred out of the kill zone at the direction of the corpsman.
"I picked up the last Marine … and carried him to a ditch," Fonseca said. "The Marine and I sat in the ditch for about 30 minutes before I could get another vehicle to pick us up and drive us out of there."
Once that Marine was picked up, Fonseca rejoined his platoon in the fight, a brutal clash that would wind up lasting over six hours.
On top of the 18 killed, "fifteen others were wounded and left the battlefield, and about 10 others [who] were wounded … stayed," Fonseca said.
The corpsman treated and coordinated the evacuation of nearly a dozen Marines that day. For his bravery, he was awarded the Navy Cross, the service's second highest award for valor.
"The Navy Cross means to me honor, sacrifice and loyalty," Fonseca said. "Honor because it is my honor to wear the Navy Cross for my brothers that gave their lives in that fight. So, it's my honor to wear their Navy Cross that honors them. A lot of men sacrificed that day. Unfortunately, some families and friends had to sacrifice their loved ones."
When the fighting finally slowed, Gunnery Sgt. Myers, who once told Fonseca, "I'm only going to tell you this once. I don't like corpsman. Stay out of my way," approached the exhausted 23-year-old "doc."
"He came up to me and gave me a big hug," Fonseca said. "With pride in his voice, he said 'Doc, you did one hell of a job. Oorah Marine!' He became one of my biggest mentors."
Fonseca would go on to complete additional deployments and see combat with the Marines in both Iraq and Afghanistan, but that day in March 2003 is what showed him the true meaning of being a combat medic.
"The job of a corpsman is to go through hell and back for your Marines," Fonseca said in a release. "My brothers needed me, so I was going to be there for them. As long as I was alive, I would keep working, even if it meant my life. I wish I could have done more."
RELATED
For more, read Fonseca's full award citation.
J.D. Simkins is a writer and editor for Military Times, and a USMC veteran.
Share: