The members of 3rd Battalion, 5th Marines were making their push north on the march to Baghdad in March 2003 when their convoy came under an intense and coordinated ambush by Iraqi soldiers under Saddam Hussein.
Machine gun fire, rocket-propelled grenades and mortars, pouring out from behind a berm on the side of the road in a dry irrigation channel, battered then-1st Lt. Brian Chontosh and his anti-armor platoon, a baptism by fire for their first heavy taste of combat.
After a corpsman in an adjacent Humvee was killed by an RPG, and with coalition tanks to the front blocking the Marines' path out of the kill zone, Chontosh was forced to make a split-second decision.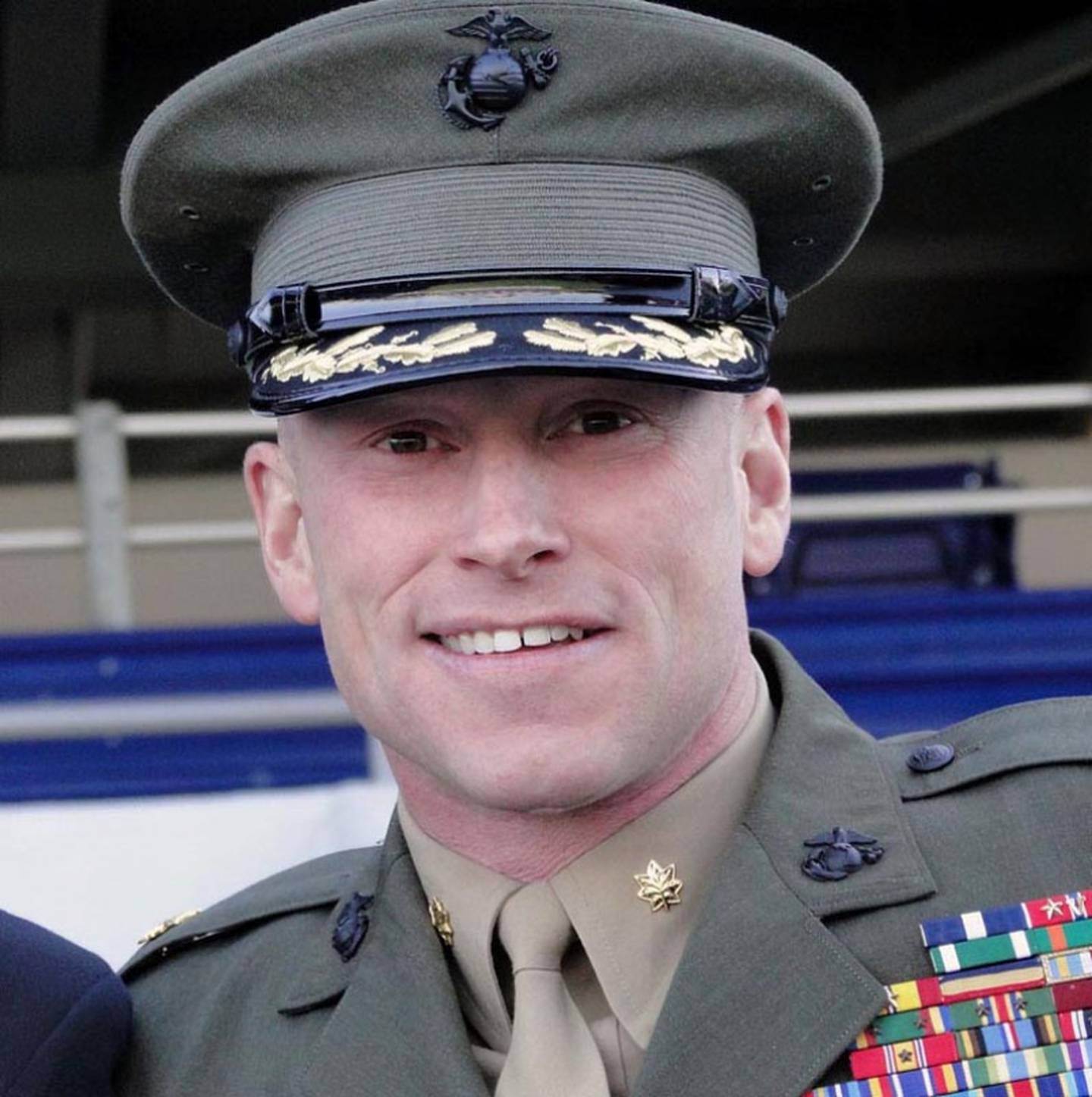 The 29-year-old lieutenant ordered his driver to steer the vehicle directly toward the enemy, allowing his gunner, Cpl. Thomas Franklin, to kill the entrenched machine gunner as the driver steered the vehicle into the berm that was serving as enemy cover.
"Franklin freaking poured it on," recalled then-Cpl. Armand McCormick in an interview with Stars and Stripes. "He pretty much crushed those bunkers. He's right out there in the open, he's just pelting people."
Wasting no time, Chontosh and his Marines jumped from the vehicle and charged into the enemy trench, killing or wounding Iraqi soldiers in their path in close-quarter combat.
When his M16A2 jammed, Chontosh handed the rifle to then-Lance Cpl. Robert Kerman, who traded the lieutenant his own before continuing the assault.
"It's a shallow irrigation ditch, so we're going along, trying to find cover, shooting, and Kerman's just smooth," Chontosh told Stripes. "He stops, he's shooting once, he's shooting twice. ... I'm just pulling the trigger."
Chontosh quickly ran out of ammunition on the M16 and switched to his sidearm, which he also exhausted in a matter of seconds. He then picked up an AK-47 from a dead enemy combatant — then a second AK-47 — and continued shooting.
The Marines soon came across an RPG, which none of them knew how to use. McCormick told his lieutenant that he better figure out the new weapon in a hurry, and Chontosh gave it a shot, resulting in "a ball of fire going down the trench," McCormick told Stripes.
Despite the chaos of close-quarter combat, the Marines had to take a moment to laugh at the spectacle of their lieutenant firing the confusing RPG.
After clearing over 200 yards of trenchline, the Marines began heading back to the convoy. While on the move, they encountered an enemy soldier who had been playing dead during the furious charge and was now attempting to ready a grenade.
Chontosh, now completely out of ammunition, realized the place where they were standing was where his M16 initially jammed. Finding a couple unused rounds on the ground, he loaded one into his rifle and killed the enemy.
The lieutenant's assault resulted in more than 20 killed enemy combatants and several wounded. Franklin maintained his barrage from the mounted .50 caliber machine gun the entire time — Chontosh believed he shot over 1,500 rounds.
Franklin was awarded the Navy and Marine Corps Commendation Medal with "V" device, McCormick and Kerman each received Silver Stars and Chontosh was awarded the Navy Cross, second only to the Medal of Honor.
"They saved my life, multiple times that day, during the ambush," Chontosh said of his Marines. "That's all them. If it wasn't for them, I would be the lieutenant who would be reported as ... a case of what not to do."
Chontosh was promoted to captain by the time he led the "Darkhorse" Marines through the second battle of Fallujah, known as Operation Phantom Fury, a battle that took a massive toll on the young officer.
"From the moment we went in ... the contact, up-close and personal, the fatigue, the stress, being that close and surrounded by the grotesque of combat. It was just ... bad. Every single day," he told Stripes. "When I look back at it, they were probably the most horrific days of my life."
Chontosh would earn two Bronze Stars during Operation Phantom Fury. And he eventually retired as a major after 20 years in the Marine Corps.
No matter his near-mythical reputation among his Marines, Chontosh insisted, during his conversation with Stripes, that he was "just an average dude doing exactly what anyone else that cared, that loved his people, or had a sense of what they were supposed to be doing ... I was just doing exactly what any of those individuals would do,"
RELATED
J.D. Simkins is a writer and editor for Military Times, and a USMC veteran.
Share: