This article was published on Feb. 13, 2016.
Donald Rumsfeld doesn't do legacies.
"My attitude is: You get up every morning and you do your best, and if you spend your time wondering, 'gee, I wonder what people are gonna think about me in 20 years,' you're focused on the wrong thing," the former defense secretary told Military Times during a recent interview. "You ought to be focused on trying to doing the right thing for the country."
"I don't have any idea what my legacy'll be," he added. "Probably the best that you can … do is, on my gravestone, put down: 'He served and he tried.'"
Yet after his latest venture — the co-invention of a gaming app called "Churchill Solitaire," which was created with military veterans in mind — a more appropriate epitaph might read: "He served and he designed."
Sir Winston Leonard Spencer-Churchill was the prime minster of the United Kingdom during World War II (and then again from 1951 to 1955). The 1953 recipient of the Nobel Prize in Literature, the former soldier was arguably best known for his talent as a public speaker.
Churchill Solitaire, the 83-year-old Rumsfeld's debut adventure in app-creation, premiered in January. The game is a joint venture with Alexandria, Virginia-based digital, literary and creative firm Javelin, whose past projects include everything from political PR to news website redesigns, and Churchill Heritage Limited, which oversees anything to do with the legend's name and likeness.
A KNOWN UNKNOWN
No matter how good of a game Churchill Solitaire might be, the question remains as to how where it is destined to fit within the greater context of Rumsfeld's storyremains.
This present-past conflict was made especially evident when Stephen Colbert presented Rumsfeld with a personal theory of "unknown unknowns" during a television appearance intended to promote the app — not to talk about Iraq.
During the interview, Colbert called out Rumsfeld's theory of "known unknowns," "known knowns" and "unknown unknowns," making the case for a fourth brand of intelligence factors in strategic decision making -- "unknown knowns," which he defined as "the things that we know, and then we choose not to know them, or not let other people know that we know [them]." Citing analysis that was based on intelligence previously believed to be true but now proven false, Colbert alleged that Americans were presented with a "partial picture" of the situation in Iraq, thereby constituting an unknown known.
Washington-based political PR expert Nino Saviano called Churchill Solitaire a chance "to associated the Rumsfeld name with something cool and uncontroversial" while also accessing reaching out to new audiences."
"There is probably a little of honest-to-goodness passion in the project, but it's no doubt mainly an attempt by Rumsfeld at rebranding," Saviano said in an email to Military Times, noting that apps didn't exist when the Iraq War first began.
THE APP GIVES BACK
Javelin President Keith Urbahn, who served as Rumsfeld's chief of staff from May 2007 until December 2011 (source: https://www.linkedin.com/in/keith-urbahn-18792135) , said a huge part of the Churchill Solitaire project is giving part of the app's profits from the game to Rumsfeld Foundation partner organizations that help vets and military families. Current partners include (but are not limited to) The Fisher House Foundation,The Navy SEAL Foundation, The Mission Continues and The Gary Sinise Foundation. A You can see the full list is here.
"Having served Donald Rumsfeld as chief of staff and having helped set up his foundation a number of years ago, a big part of it — a big part of who he is — is ensuring and taking care of veterans and their families, particularly those that have been wounded and families of the fallen," he said.  "That always stuck with me."
And transparency is key to this process.
According to Urbahn, the Rumsfeld Foundation rates veterans organizations on an annual basis, taking factors such as "which ones have the lowest overhead" and "which ones are fulfilling the greatest need" into account to ensure that its funds are "going to the best causes."
And Rumsfeld said that the foundation is committed to keeping these aid recipients diverse and accountable. When he sees red flags like excessive advertising or suspicious board departures, he said, he takes a closer look.
"Most organizations go through a life cycle," Rumsfeld explained. "They may be good at one point, and then they have leadership that gets heavy administrative expenses and the like and they don't do so well. I like to try and keep current on it."
According to the app's website, proceeds from the game also go towards keeping "the legacy and heritage" of the game's namesake alive.
THE MILITARY CONNECTION
Rumsfeld may have a single degree of separation from Winston Churchill, but you need not have rubbed shoulders with his acquaintances to experience the game's historical novelty.
As soon as the user launches the app, they are met with an intro video composed of black-and-white World War II-era video footage with Churchill's iconic voice echoing over it. This cultural immersion in military history extends into proper game play by virtue of the app's design, which positions players as British military cadets and awards progress with increasing military and/or political rank.
A screenshot from the app.
Photo Credit: Courtesy of WSC Solitaire LLC
"We wanted to infuse the game with a sense of history — that respect for service and that respect for what he accomplishes … as a military officer in the British Army," Urbahn said. "We created a ranking system that sort of takes you through the ranks that are in the British Army and then sort of traces Winston Churchill's career."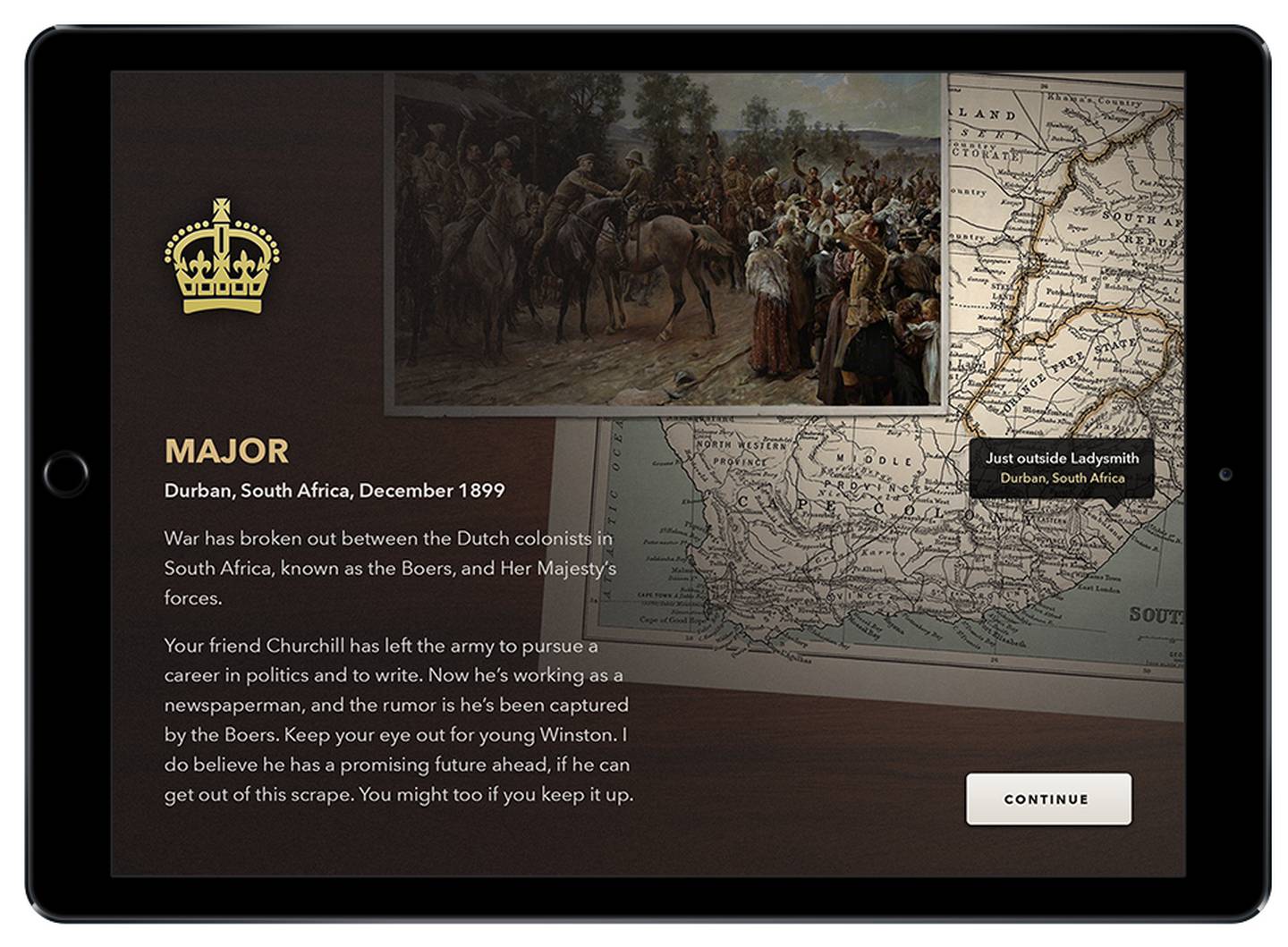 A screenshot from the game.
Photo Credit: Courtesy of WSC Solitaire LLC
And if you (literally) play your cards right, you, too, can become prime minister.
Urbahn, who was an intelligence officer in the a former Navy Reserve intel officer, said Churchill Solitaire "is geared for anyone with an appreciation for history." However, he said, he sees it having a special relevance for those who've served in uniform, since they possess "a particular appreciation" for Churchill's values of "service and sacrifice" and the way he lead England through a tumultuous period of history.
"If it weren't for Churchill, there's a good chance that all of us would be speaking German," Urbahn said. "Those who serve understand, better than anyone, you know, the fight to freedom. And certainly Churchill did, and certainly Rumsfeld does, and you know, I hope that comes through in the app."
HOW IT STARTED
Rumsfeld said his interest in the game was first piqued when he served as a U.S. ambassador to NATO in Belgium from 1973-1974.
"The dean of the North Atlantic Council was a Belgian ambassador who had learned this game from Winston Churchill," he said. in a phone interview with Military Times.
Years later, he said, he wrote a memo to Urbahn, then his chief-of-staff, and current Javelin President Keith Urbahn about the game, saying that it could be a good fit for computers.
"Here we are a decade later, and it actually now exists and it's being downloaded by hundreds of thousands of people and it's not gonna be lost to the ages," Rumsfeld said.
According to Urbahn, the app was downloaded over 350,000 times in two weeks.
Urbahn said he fell in love with Churchill Solitaire at first sight while working for Rumsfield about eight years ago.
"We were flying — I don't remember where — but he pulled out this cute little deck of cards and started playing this game," he said told Military Times. "I asked him what it was, and he explained the history of it, the origin of it and the rules, and I fell in love with it and just played it all the time."
He said the app was borne out of a desire to simplify the process of getting the game started.
A screenshot from the app.
Photo Credit: Courtesy of WSC Solitaire LLC
"The hard part was just setting up the deck — setting up the game — and making sure you did it the right way, so it occurred to me a few years ago, 'hey, we could just turn it into an app and make that part easier and make it available to millions of people,'" Urbahn explained. "So that's what we did."
HOW TO PLAY
On its surface, the game is simple enough: It's solitaire — only, rather than the traditional version you may have played in your parlor as a kid, it's an app build-out of a version that World War II political hero Winston Churchill used to play. Rumsfeld said the Churchill variety is characterized by twists such as its use of two card decks and the existence of a so-called "Devil's Six" card-row. These factors, combined with a system of scoring that rewards quicker play, help make the game a true challenge for even the most strategic of minds.
, according to the app's website
Share: