The military pay raise is shrinking.
The military housing stipend is shrinking.
The military commissary benefit is under fire.
And now Congress may start charging active-duty families for medical care.
If lawmakers follow through with the least generous pay-and-benefits proposals under consideration as part of the federal government's 2017 budget process on Capitol Hill, next year 2017 could be one of the toughest in recent memory for military families' finances in recent memory. Even advocates accustomed to the political fights over service members' military quality-of-life issues say they're surprised at just how much lawmakers seem to be targeting military benefits pulling from troops' wallets with their recent plans. And they worry it won't hit troops' it's draining not just service members' wallets alone, but their morale too.
It's a stunning turnaround for those who provided troops and their families with generous incentives throughout much of the post-9/11 era. Since 2013, when Washington first fought to curtail defense spending, annual pay raises have averaged just 1.1 percent. Retention bonuses — worth tens of thousands of dollars during the height of the Iraq and Afghanistan wars — have dropped off as combat deployments slowed and the services were forced to reprioritize their funding.
Last year, Congress passed sweeping retirement reform legislation, the first significant move to dial back the military's long-term personnel costs. There are new rules requiring military families to pay more out of pocket for their housing, which can have varying impacts depending on local rental markets.
Now lawmakers are zeroing in on health care. A new enrollment fee for military health care, approved by the House and awaiting action in the Senate, would require this week was particularly egregious. For the first time, starting in 2018, new troops could be forced to pay for an annual fee to access to the military medical system starting in 2018 for their families. Troops already serving would be grandfathered in, but would see higher co-pays.  
Grocery discounts could start to dry up. Even the new GI Bill, perhaps the most extravagant benefit afforded to military personnel today, is being reviewed with an eye toward limiting what the government previously agreed to pay for some military spouses and kids to attend college.
All of it is necessary, officials say, to help offset unsustainable costs. Yet as service members' wages lag behind those in the private sector, what's known as the military-civilian "pay gap," several small cuts add up can add up quickly. And that that too comes at a cost.  
"There's so much that needs to be done to make the military health care system work for families before we talk about charging them for that care," said Joyce Wessel Raezer, executive director of the National Military Family Association.
"The Defense Department keeps saying they'll protect readiness by asking families to pay for it, and thinking that families will suck it up and take one for the team," said Joyce Wessel Raezer, executive director of the National Military Family Association. "It's a spiral that's going to end up hurting families and hurting the military."
Today, military and civilian pay is about on par. In the 1990s, the pay gap topped 13 percent, said Steve Strobridge, government relations director for the Military Officers Association of America, said the squeeze on troops' benefits isn't unprecedented. That era saw a host of changes on par with those being debated now. HIn the 1990s, he noted, advocates watched as the military-civilian pay gap topped 13 percent, housing was shifted off-base. Pand personnel programs were slashed.
"It's part of the long-term cycle, especially when [military members'] sacrifices fall out of the news," he said. "But that doesn't make it easy for the folks who have to live through it."
Here's a look at the paycheck pinches troops are facing in the near future:
Smaller pay raises
MFor the last three years, military pay raises have fallen below private sector rates for the last three years. If the Senate and the White House get their way, 2017 will follow that pattern. The Obama administration officials have proposed a 1.6 percent bump pay raise for troops next year, half a percentage point  below the anticipated rise aise in private sector wages. Senate lawmakers have already advanced an annual budget bill that matches that plan, calling the figure disappointingly low but still enough to ensure all troops will see their pay go up.
But House lawmakers have advanced two separate plans calling for a 2.1 percent boost in military pay next year — "a full raise," in their words — that costs $330 million more but in their eyes better compensates service members, they say. House leaders have pushed, unsuccessfully, for bigger etter pay raises in each of the last three years. And and big-picture funding concerns in by the Senate for their entire fiscal 2017 budget plan make it unlikely success to happen again this year appear unlikely.  
If that's the case, 2017 will be the seventh consecutive year in which of military pay raises fall below 2 percent. For Army specialists E-4 with three years service, a 1.6 percent pay raise amounts to equals about $36 more a month in spending money. At 2.1 percent, they would receive The extra 0.5 percent boost would add another $11 to that.
That's not much, but Raezer noted for many junior troops, every dollar counts. That During House debate, lawmakers that money could cover a few lunches or a pharmacy co-pay — small but consequential items, especially that have serious consequences if someone a service member can't afford them.
And a fourth year of lower pay raises also means the pay a re-opening of the civilian/military wage gap reopens. If they 1.6 percent rate becomes law, as expected, the gap will be a little more than 3 percent, according to MOAA's estimates. That means the Army specialist — any service member in the those E-4 pay grade — s will earn make around $800 less in annual salary than her their comparable civilian counterparts.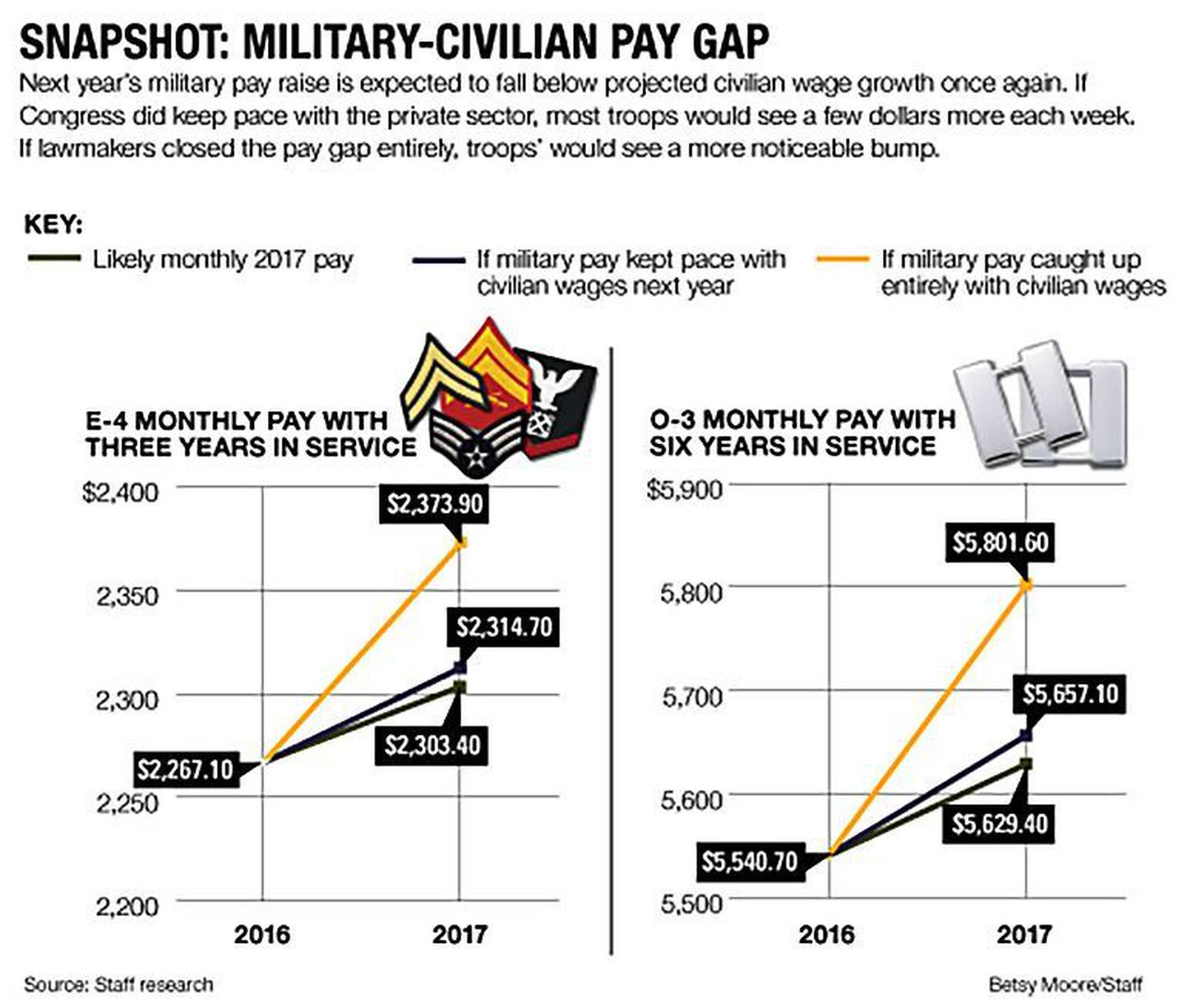 [[[WILL ADD E-4, O-3 COMPARISON CHART HERE]]]
Smaller housing stipends
The fate of next year's military pay raise is still in doubt. But troops' housing stipends are already guaranteed to get trimmed. Last year, Congress approved a reduction in the annual basic housing allowance increase for over the next three years, lowering from 100 to 95 percent the amount of rent costs this stipend covers from 100 percent to 95 percent.
"That's extremely frustrating," Raezer said. "Here's a benefit that works well, that helped the department deal with the lack of adequate housing for families, and now they're dismantling that."
No family's housing stipend will see a decrease next year, but the trims mean that troops will be paying a larger share of their rent costs for years to come.
For a married n E-4 with children dependents, living in the community outside Fort Bragg in North Carolina, the BAH changes will mean picking up about $35 a month in housing costs. For the same service member living outside Camp Pendleton in California, the out-of-pocket cost it rises to about $67 a month.  
In separate veterans legislation, lawmakers have toyed with the idea of cutting the housing stipend for individuals using the post-9/11 GI Bill. A House plan would cut in half the stipend for dependents using the education benefit. A Senate plan would cap increases in every GI Bill recipient's housing payouts, similar to the active-duty housing trims.
Both the shrinking pay raise and shrinking housing benefit come as the military is shifting to a new 401(k)-style retirement system, one where troops are being encouraged to save more money to help pay for their retirement. But Raezer said that's going to be a tough sell if troops are being "nickled and dimed" in other areas of their finances.
Smaller commissary benefit
Congress is moving away from the decades-old system of selling groceries at cost, with no profit. And that could mean a higher food bill for military families. Lawmakers have included major reform provisions in their pending defense policy bills that would allow commissaries to establish a "variable pricing program." Officials would be able to set prices "in response to market conditions and customer demand," according to the House plan.
According to the Defense Commissary Agency's calculations, the average overall commissary savings is 30 percent, based on a comparison of thousands of items. A 5-percent surcharge is used to pay for construction and renovation of stores. So a military family who shops on base pays, on average, $70 for groceries that would cost $100 at a market in town. [[[CAN WE SAY THAT? IS THE MATH CORRECT?//A.deG.]]]
The new plan would allow the commissary agency to increase some prices to help pay for operating costs, currently at $1.4 billion, that commissary budget is the target of defense officials. The Defense Department has said it aims officials have acknowledged it's not an option to get that taxpayer budget down to zero, but a goal is to save $512 million in annual taxpayer dollars by fiscal 2021, according to DoD documents. For military families, this raises an important question: Will that savings be realized by eating into the discounts now afforded to military families? [[[FAIR FOR US TO SAY?//A.deG.]]] -- yes, definitely fair to say that -- KJ
"It's a radical change in the commissary's mission," said Eileen Huck, deputy director of government relations for the National Military Family Association. "The role has never been to generate revenue. It's been to provide a benefit, and this would fundamentally change the mission.
"Lawmakers and defense officials have talked about the importance of the savings, but we don't know how the new plan will play out, how it will affect the benefit," she said. "Our fear is that it will lead to increased prices."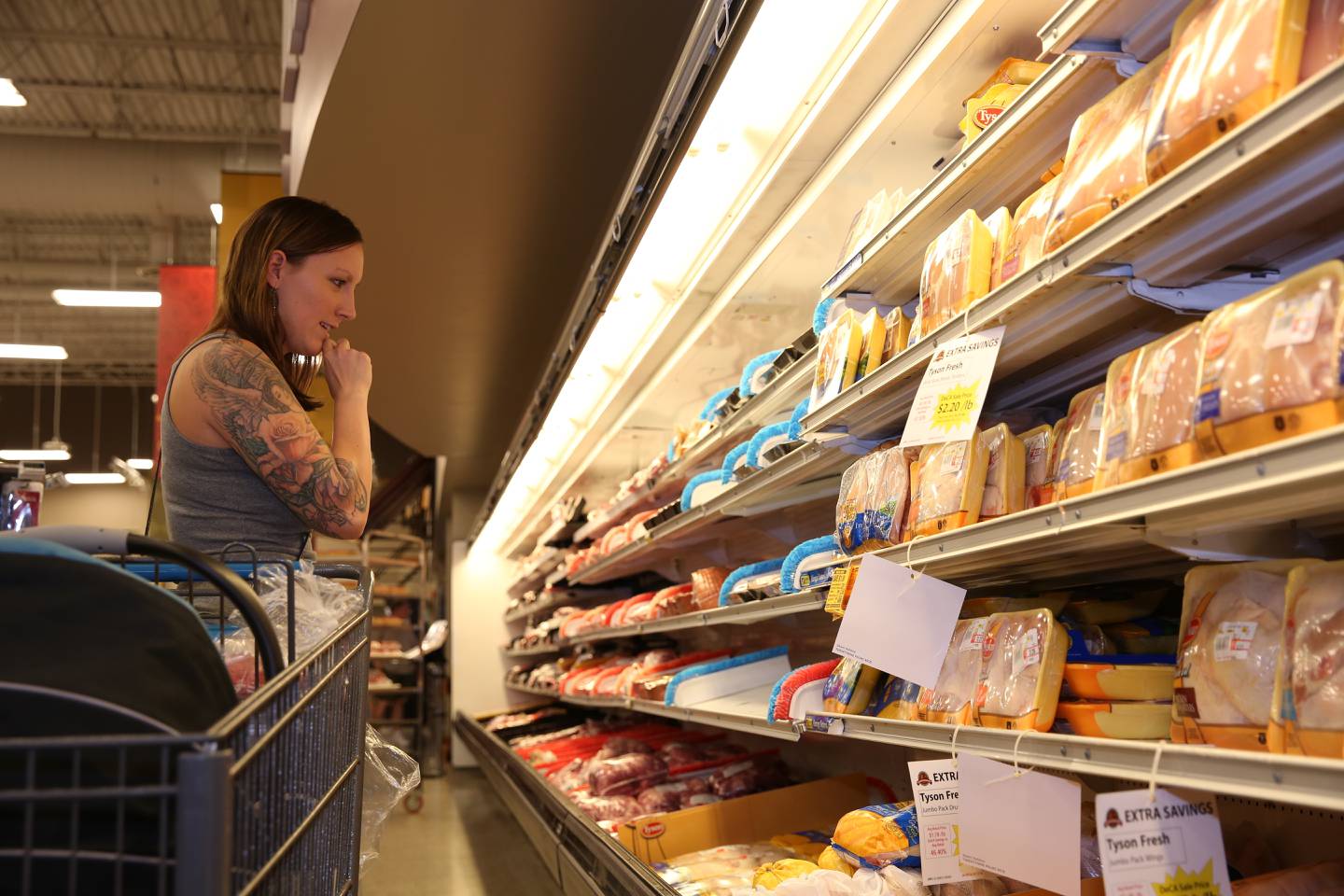 Marcie Garcia, tour participant, chooses the health food during a Cooking Matters Tour at the commissary, Oct. 9, 2014.
Photo Credit: Pfc. Julio McGraw/Marine Corps
Defense officials are required to develop a new their own current savings baseline before implementing variable pricing. F and future savings will be measured against that baseline. Advocates are concerned about how that baseline will be determined.  Lawmakers want have included language with safeguards to protect the commissary benefit, including such as quarterly reports, and the ability to infuse taxpayer dollars if there are problems.
That's And that's separate from a Senate plan push to privatize the commissary system. Senators want to test this concept at at least one commissary — but have proposed a privatization pilot program at no more than five — commissaries on major military bases. , something Huck said this raises even more uncertainty.
"We're concerned that once you bring in a business or entity to run commissaries, they may raise prices, and that would reduce the benefit for military families," she said, calling all these ideas "uncharted territory when it comes to commissaries."
Paying for health care
Both the House and the Senate are planning major overhauls to the military health system, alterations that could radically change hospital hours, patient access to doctors and troops' quality of care. But it also could cost troops more, and for the first time require active-duty families to pay a yearly charge for their medical care.
Under the House bill, everyone now serving or retired would continue to pay the current fee structure. That means no enrollment fee for the families of active-duty troops to get military medical care.
However, starting in 2018, anyone who enlists or receives a commission would start paying annual fees for family access to medical care. Current targets currently put the price cost at $180 for an individual spouse or dependent and $360 for a family using the new Tricare Prime plan, or $300 for an individual and $600 for a family for a new Tricare Preferred plan.
The Senate would not charge active-duty personnel any annual enrollment fees for Tricare, but service members and families who use private care could still feel a pinch. The proposal calls for raising co-payments for private care and increasing the catastrophic cap for active-duty families to $1,500, up from $1,000.
Pharmacy copayments also would increase for these family members if they don't pick up their prescriptions at a military pharmacy or get them by mail, under the Senate plan.
Flu Shot
Photo Credit: Michael Orrell/AP
Staff members on both the House and Senate side said the goal is to persuade the military health system to increase access and improve quality in return for allowing the Defense Department to raise fees.
Strobridge said he believes the proposal to charge new active-duty families for health care will not survive the legislative process but the proposed and increased fees for working aged retirees likely will become law, given they appear in both versions.
Higher health care costs for personnel and retirees likely won't hurt recruiting, since most join the armed forces for reasons other than employment benefits, he said. But they could hurt future retention.
"It's not unprecedented for Congress to look at almost anything, whether it's the pay-raise caps, the housing allowance cuts, the commissary proposals," he said. "They changed retirement and now they are looking at changing health care and a whole host of things. I'm not sure this is the end of it."
Why now?
In part, this squeeze on military benefits is connected to long-held Pentagon worries about personnel costs eating into the overall defense budget. Another reason is the wars in Iraq and Afghanistan are fading from national consciousness.
Troops' advocates say the main culprit is sequestration, and spending caps that Congress approved five years ago in an effort to rein in government spending.
"It turns out that setting arbitrary budget caps for 10 years may not make sense when you get to year five," said Ray Kelley, director of the Veterans of Foreign Wars' National Legislative Service. "And when you need immediate defense spending relief, you can't get that from cancelling long-term contracts. You get it from scaling back pay and benefits."
Lawmakers have couched many of their proposed benefits trims by noting that they're following recommendations from military leaders themselves, and that many of the congressional ideas don't cut as deeply as some of the Pentagon proposals. Without absolving military leadership, advocates note that many of those decisions are being forced by Congress' spending caps, which lawmakers have repeatedly decried and repeatedly failed to resolve.
"So, instead they toy with this benefit and that benefit to make [the budget] work just for now," Kelley said.
"Congress aren't the ones being pressed by sequestration. You've already asked so much of so few for so long, and now you're asking them to take less and pay a little more. That's going to make people walk away."
Leo Shane III covers Congress, Veterans Affairs and the White House for Military Times. He can be reached at lshane@militarytimes.com.
Patricia Kime covers military and veterans health care and medicine for Military Times. She can be reached at pkime@militarytimes.com.
Karen Jowers covers military families, quality of life and consumer issues for Military Times. She can be reached at kjowers@militarytimes.com.
Karen has covered military families, quality of life and consumer issues for Military Times for more than 30 years, and is co-author of a chapter on media coverage of military families in the book "A Battle Plan for Supporting Military Families." She previously worked for newspapers in Guam, Norfolk, Jacksonville, Fla., and Athens, Ga.
Leo covers Congress, Veterans Affairs and the White House for Military Times. He has covered Washington, D.C. since 2004, focusing on military personnel and veterans policies. His work has earned numerous honors, including a 2009 Polk award, a 2010 National Headliner Award, the IAVA Leadership in Journalism award and the VFW News Media award.
Patricia Kime is a senior writer covering military and veterans health care, medicine and personnel issues.
Share: