The Veterans Affairs Department will put new rules in place next month to ensure that veterans and visitors to VA facilities can bring their service dogs to appointments.
The regulation — in the works since 2012 when Congress ordered the VA to expand access for assistance animals — will let any service dog enter a VA facility as long as it is under a handler's control and is trained to perform tasks or work for a person with a disability, whether it be physical, psychiatric or intellectual.
Previously, VA facilities adhered to a policy that guaranteed access only for seeing-eye dogs, although facility managers had the option to allow other assistance dogs such as those who provide mobility services or medical alerts.
But that policy created disparities in the system, with veterans allowed to visit some facilities with their dogs but not others.
The new policy, which takes effect Sept. 16, is similar to the access provisions set for private businesses in the Americans With Disabilities Act.
Under that law, businesses, state and local governments and nonprofits must grant access to all service dogs. Establishments are allowed to ask only if the animal is needed for a disability, and if so, what task the animal has been trained to perform.
At VA facilities, visitors with service dogs can be asked the same questions. They can't be asked whether they have a disability or be required to provide proof that the animal has been trained as a service dog.
Veterans will need to furnish their dogs' vaccinations and health records, however, if they are admitted to a residential facility and will be accompanied by their dog.
The new rule stipulates that dogs will not be allowed to accompany veterans admitted as acute inpatients or for inpatient mental health treatment unless the dog is part of a documented treatment plan.
When VA released a version of the proposed rule last November, it received nearly 100 public comments, including concerns over the potential abuse of the privilege by pet owners disguising their dogs as assistance animals, the ruling's exclusion of "emotional support dogs" (pets) from VA facilities, cleanliness and safety.
Several objected that the new rule excluded other animals — like miniature horses.
VA said it simply could not amend the rule to allow miniature horses on its properties.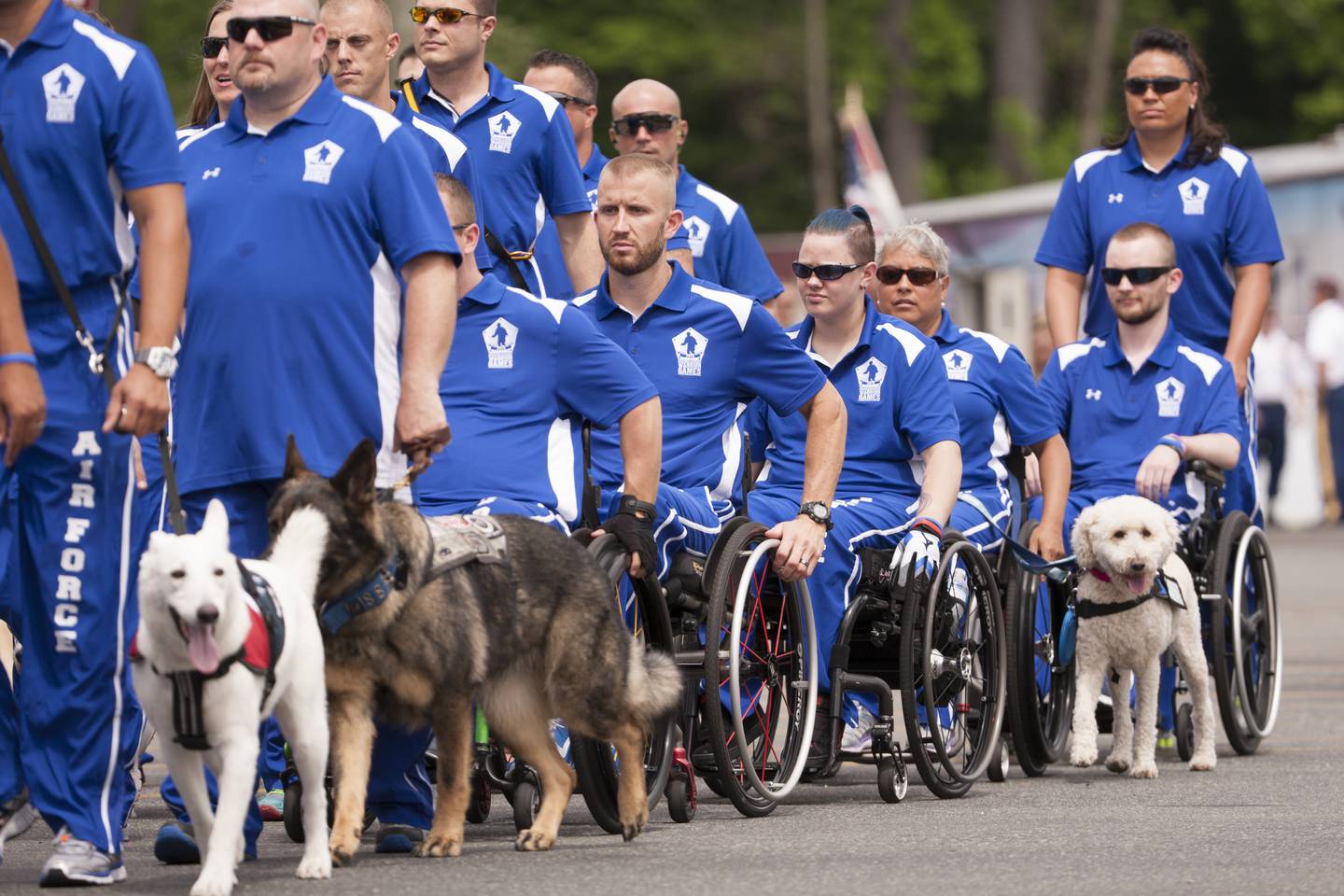 The Air Force team and members' service dogs march into the opening ceremony for the 2015 Warrior Games in June at National Museum of the Marine Corps in Triangle, Va.
Photo Credit: Mike Morones/Staff
"VA believes the presence of a miniature horse poses legitimate safety concerns, both to people on VA property and the miniature horse. ... Assessment factors include the larger size as well as their reduced predictability in behaving in accordance with typical standards of public access. Additional factors ... include elimination of horse waste, a heightened flee response of a miniature horse, the smooth flooring common to VA properties, and the likely disruptive attention a horse would receive. We therefore do not make any changes based on these comments," noted VA officials in the final rule published in the Federal Register on Monday.
VA facility managers reserve the right to remove a dog from their grounds if it exhibits behavior or signs that are a threat to others, is untrained or improperly housebroken, according to the new rule.
For veterans advocates who have worked for years to change the previous restrictive policy, the new regulations are welcome news.
Christina Roof, former national acting legislative director for AMVETS, began working to change the VA policy more than four years ago after a quadriplegic veteran was turned away for an appointment at a VA facility because he had brought along his service dog to help open doors and retrieve items.
The new rule, Roof said, clarifies the policy for all veterans, employees and visitors to VA.
"All the work that was done by the veterans service organizations, the House and the Senate, the other nonprofits and Paws With a Cause ... I'm so happy I got to be a part of removing a hurdle to care for our veterans," Roof said.
She said, however, that VA must now work to ensure its employees understand the new regulations.
"My fear is that it will go into place and no one outside the (Washington) Beltway will be sure about how to enforce it. I have concerns that when it is pushed out, veterans will still face barriers to care or embarrassment when they are turned away," Roof said.
The rule affects only access to VA facilities and does not change VA regulations governing coverage of service dogs for veteran patients.
Under benefit rules, the VA pays for veterinary care and equipment for guide dogs and service dogs through its Prosthetic and Sensory Aids division.
Patricia Kime is a senior writer covering military and veterans health care, medicine and personnel issues.
Share: