Editor's note: If you're part of a student veterans club and didn't make it to Student Veterans of America's recent 'NatCon' National Conference at Disney World, here's what happened, courtesy of a student veteran. We know a lot of campus clubs don't automatically have the money to send student vets to a conference, so start considering how to raise the funds now. A year could be cutting it close. We learned in one session that you might look to your college's alumni association for a partnership.
Student Veterans of America convened more than 1,500 student veterans, supporters and other stakeholders from across the country at its eighth annual "NatCon" National Conference, held at Disney's Coronado Springs Resort in Florida. Attendance was up from 1,200 in 2015. Here are some key pieces of news if you didn't make it to Orlando:
1. SVA solidifies leadership pre-conference. After a formal search led by executive search firm Korn Ferry, SVA named Jared Lyon its president and chief executive officer. Lyon was SVA's Student Veteran of the Year in 2011 and had served as executive vice president for operations for much of 2015, stepping in as acting president and CEO in the fall.
SVA also recently added James Schmeling as executive vice president for strategic engagement in December, bringing significant experience in the veterans higher education nexus to the leadership team. Schmeling previously co-founded the Institute for Veterans and Military Families at Syracuse University in 2011.
2. Convening the dialog. School administrators, student veteran chapter leaders and members, government representatives, nonprofits and companies converged in panels, town halls, information booths and frequent hallway conversations. At the chapter level, attendees ranged from one or two chapter leaders to larger chapters that combined fundraising and school support to bring 15 to 20 student veterans. SVA reports that it is growing at a rate of approximately 15 chapters a month, now with more than 1,300 student veteran chapters nationwide.
3. Standing-room-only panels. SVA delivered a substantial lineup of panel sessions on Friday and Saturday. Sessions ranged from "Leading Practices in Student Veteran Focused Programming" to "Women Veterans: Engaging Leadership and Influencing Change" and "Admission Accomplished! Transitioning to Highly Selective Universities," with several panels conducted more than once in a round-robin format. Many sessions saw standing-room-only crowds in packed rooms designed for 100.
Secretary of Veterans Affairs Robert McDonald, left, talks to Student Veterans of America president and CEO Jared Lyon during SVA's 2016 "NatCon" National Conference in Florida.
Photo Credit: Student Veterans of America
4. Bob McDonald motivates. Secretary of Veterans Affairs Robert McDonald, who also spoke at SVA's NatCon a year ago, talked about transitioning the Veterans Affairs Department from being rules-based to principle-based, at one point invoking Gandhi's example. The former CEO of Procter & Gamble and West Point graduate sat with Lyon on stage for a one-on-one conversation about authenticity, passion and leadership. When asked for his final words of advice to the assembled student veterans, McDonald noted, "Don't aim too low."
5. The SVA Campus. A significant build-out from 2015, the SVA "Campus" provided a sizable meeting area on Friday and Saturday that included a government and nonprofit area, a corporate pavilion with hiring managers, an education pavilion with colleges and universities, and a professional development pavilion where student veterans scrubbed their resumes with a variety of coaches and mentors and had professional photos taken for their LinkedIn profiles. Look for SVA to continue to develop the SVA Campus model in the future.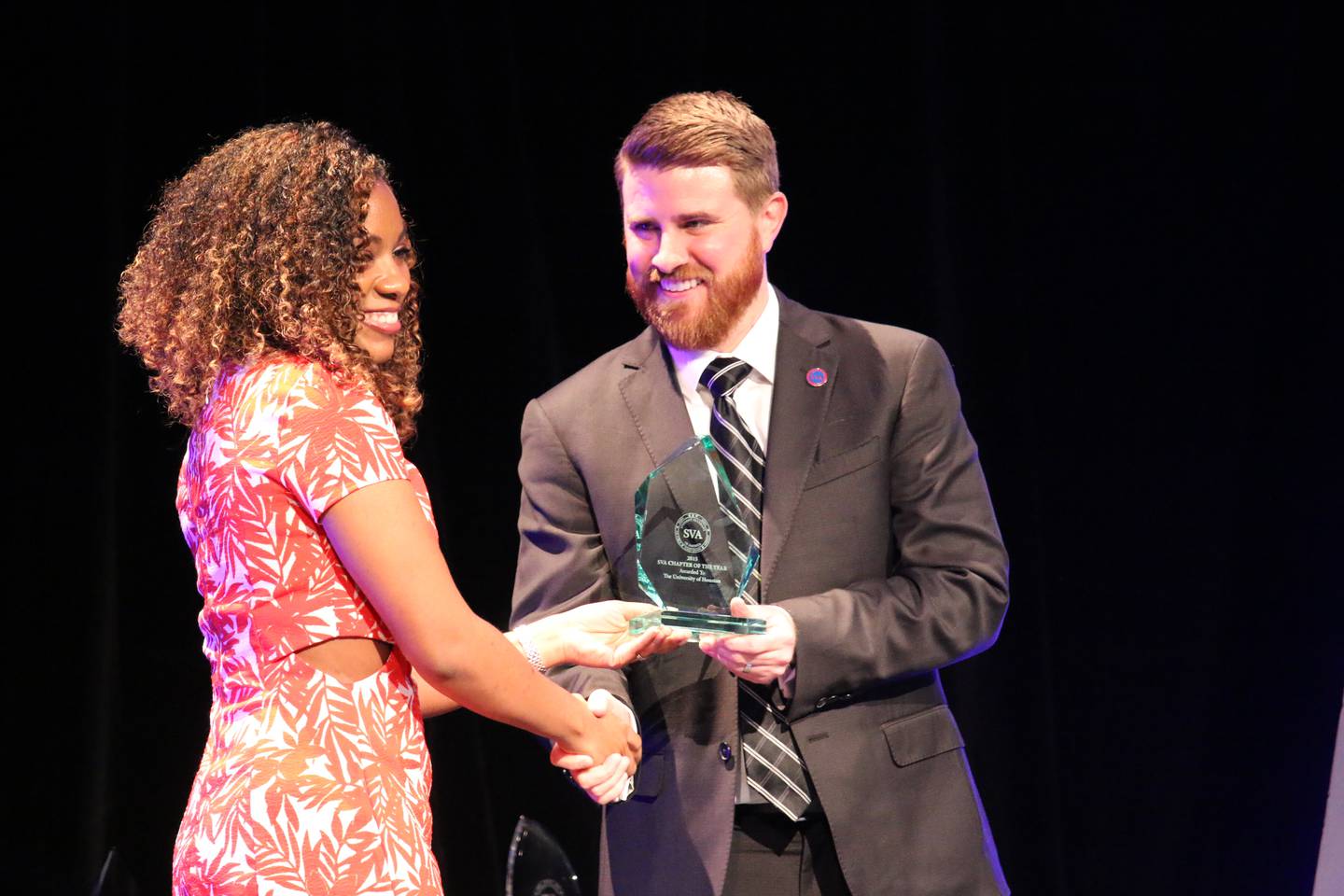 Student Veterans of America president and CEO Jared Lyon delivers the Chapter of the Year trophy to University of Houston's SVA chapter president, Navy veteran Fontaine Wilson, during SVA's 2016 'NatCon' National Conference in January.
Photo Credit: Courtesy of Student Veterans of America
6. Robust honors banquet. The Saturday night awards banquet featured a rare discussion from not one but two Medal of Honor recipients, Army veterans Ryan Pitts and Kyle White, who served in the same company in 2nd Battalion, 503rd Infantry Regiment (Airborne) in eastern Afghanistan in 2007-2008. The pair, who both completed their undergraduate degrees after leaving the Army, discussed their experiences transitioning from their units to campus culture as older, nontraditional students, and then pursuing fulfilling employment after completing their studies. In addition to Pitts and White, the Labor Department's Assistant Secretary for Veterans Education and Training Michael Michaud and Congressman Jeff Miller (R-Florida), chairman of the House Veterans Affairs Committee, also provided remarks.
SVA concluded the evening by announcing its national awards for 2015:
Student Veteran of the Year: Brian Adam Jones (Columbia University)
SVA Chapter of the Year: University of Houston
SVA Chapter Advisor of the Year: Greg Scargall, Santa Fe Community College, New Mexico
SVA Chapter Grant Business Plan Competition (supported by Bank of America): Santa Fe Community College, New Mexico. (Santa Fe Community College also ranked No. 1 in Military Times' Best for Vets: Career & Technical Colleges 2016 ranking.)
William Pearson Tolley Champion for Veterans in Higher Education (Inaugural Year): Syracuse Chancellor Kent Syverud and Syracuse University
SVA Partner of the Year: Raytheon
SVA Partner for Research Funding & Scholarships: Google
SVA Partner for Infrastructure Support: Microsoft
SVA Partner for Campus Impact: Home Depot Foundation
SVA Partner for Programs: Prudential Foundation
7. Ahead into 2016. While SVA convenes the national forum in early January each year, it runs a series of Leadership Institutes for rising chapter leaders during the year, as well as numerous other programs. SVA announced that its ninth Annual Convention will be Jan. 5-8, 2017, at Disneyland in Anaheim, Calif.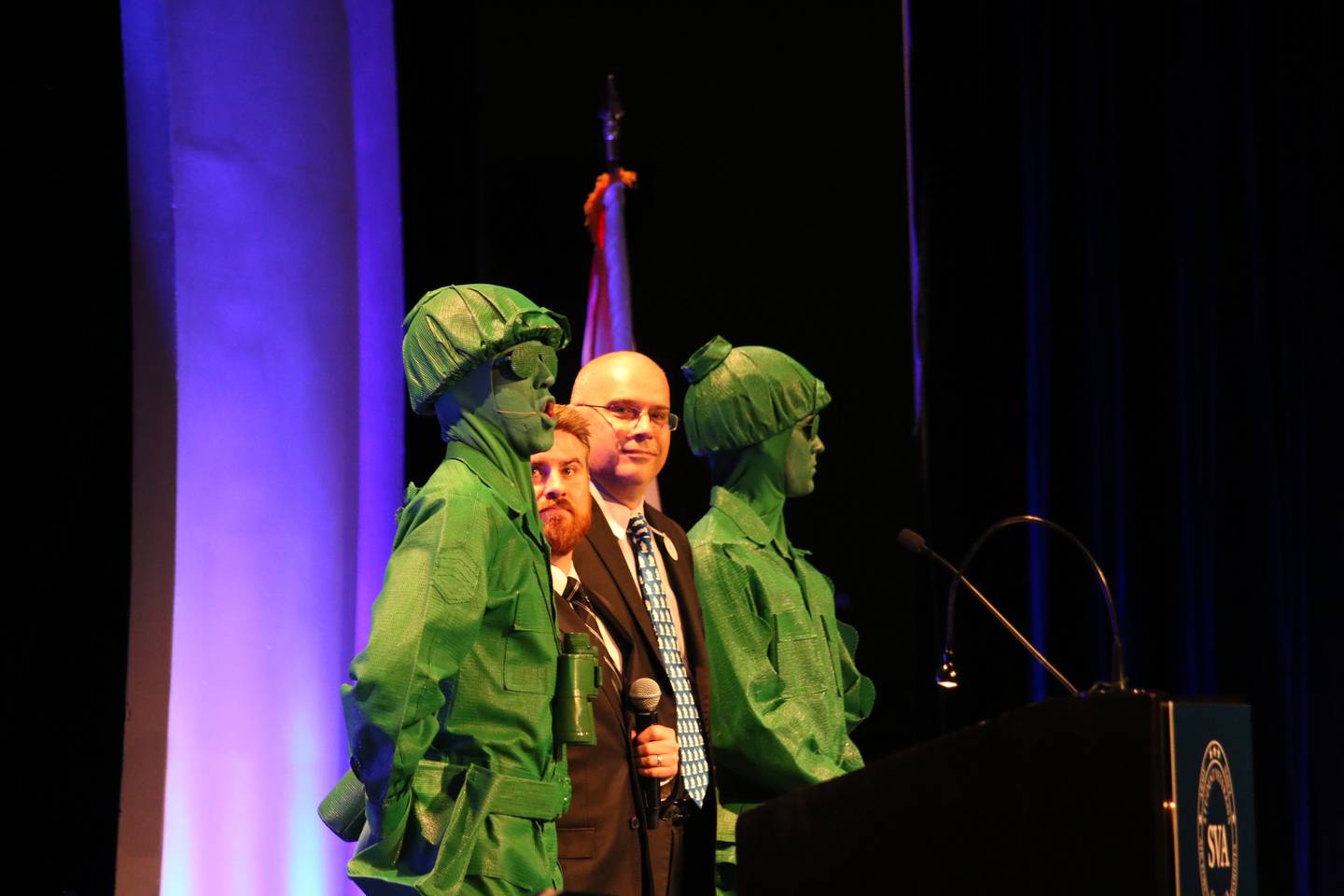 Student Veterans of America president and CEO and Navy veteran Jared Lyon, second from left, and The Walt Disney Company's Director of Veterans Initiates and Army veteran Kevin Preston announce, Disney-style, that the 2017 SVA National Conference will be at Disneyland in California.
Photo Credit: Student Veterans of America
Michael Baskin, the author, is currently a doctoral candidate at The Fletcher School at Tufts University and a fellow at the Program on Negotiation housed at Harvard Law School. He is a 2002 West Point graduate and a former U.S. Army infantry officer with service in Afghanistan and Iraq. Michael recently returned to Fletcher from the Department of Energy, where he staffed a clean energy sector commitment to the First Lady's Joining Forces Initiative from January to April 2015, worked on the Solar Ready Vets program, and started a paid summer internship program for veterans in undergraduate and graduate programs.
Share: