WASHINGTON — Rear Adm. Ronny Jackson's decision to drop out of the confirmation process for the Veterans Affairs secretary post leaves the massive bureaucracy again searching for a new permanent leader, at a time when lawmakers are anxiously eyeing a host of significant reforms.
Jackson' nomination came after the abrupt firing of VA Secretary David Shulkin last month, but had been mired in controversy from the start. Veterans groups questioned the White House physician's experience to lead the nearly $200 billion department, and senators raised concerns about allegations of drinking while on duty and abusive management practices.
In a Fox News interview following Jackson's withdrawal, President Donald Trump said he has a new nominee in mind — "someone with political experience" — but declined to offer further details. Here are a few of the possibilities that White House officials are likely considering.
RELATED
Robert Wilkie
Wilkie was named acting VA secretary following Shulkin's dismissal. He also currently serves as the Defense Department's under secretary for personnel and readiness, and has generally received positive reviews from lawmakers for his work in both roles.
Wilkie's appointment to that top VA post has been challenged by some veterans groups who say the role should have gone to VA Deputy Secretary Thomas Bowman, who like Shulkin has sparred with White House officials in recent months.
But supporters have also mentioned Wilkie, a Navy veteran and long-time Republican defense official, as a potential permanent replacement for Shulkin.
In a statement issued just hours before Jackson's departure, VA spokesman Curt Cashour said that "Under Acting Secretary Wilkie's leadership, senior VA officials are now on the same page, speaking with one voice to veterans, employees and outside stakeholders" and that the department is "now firmly aligned with President Trump and his priorities."
Jeff Miller
Miller, the former Florida Republican congressman and House Veterans' Affairs Committee chairman, was a top advisor to Trump during his 2016 presidential campaign and helped write his 10-point plan for veterans reform efforts.
He was a frequent critic of the department during his time in Congress, blasting President Barack Obama for lax accountability at VA among senior leaders. In the wake of the 2014 veterans wait time scandal (which forced former VA Secretary Eric Shinseki to resign), Miller helped craft the controversial VA Choice program, which allowed veterans who faced significant travel or waits for medical appointments to see private-sector doctors at VA expense.
Miller has been working as a lobbyist in Washington for the last year, and drew some criticism from veterans groups for his advocacy on behalf of the Cohen Veterans Network.
He is not a veteran, but would not be the first non-veteran to assume the top VA job if confirmed. Shulkin also had no previous military experience.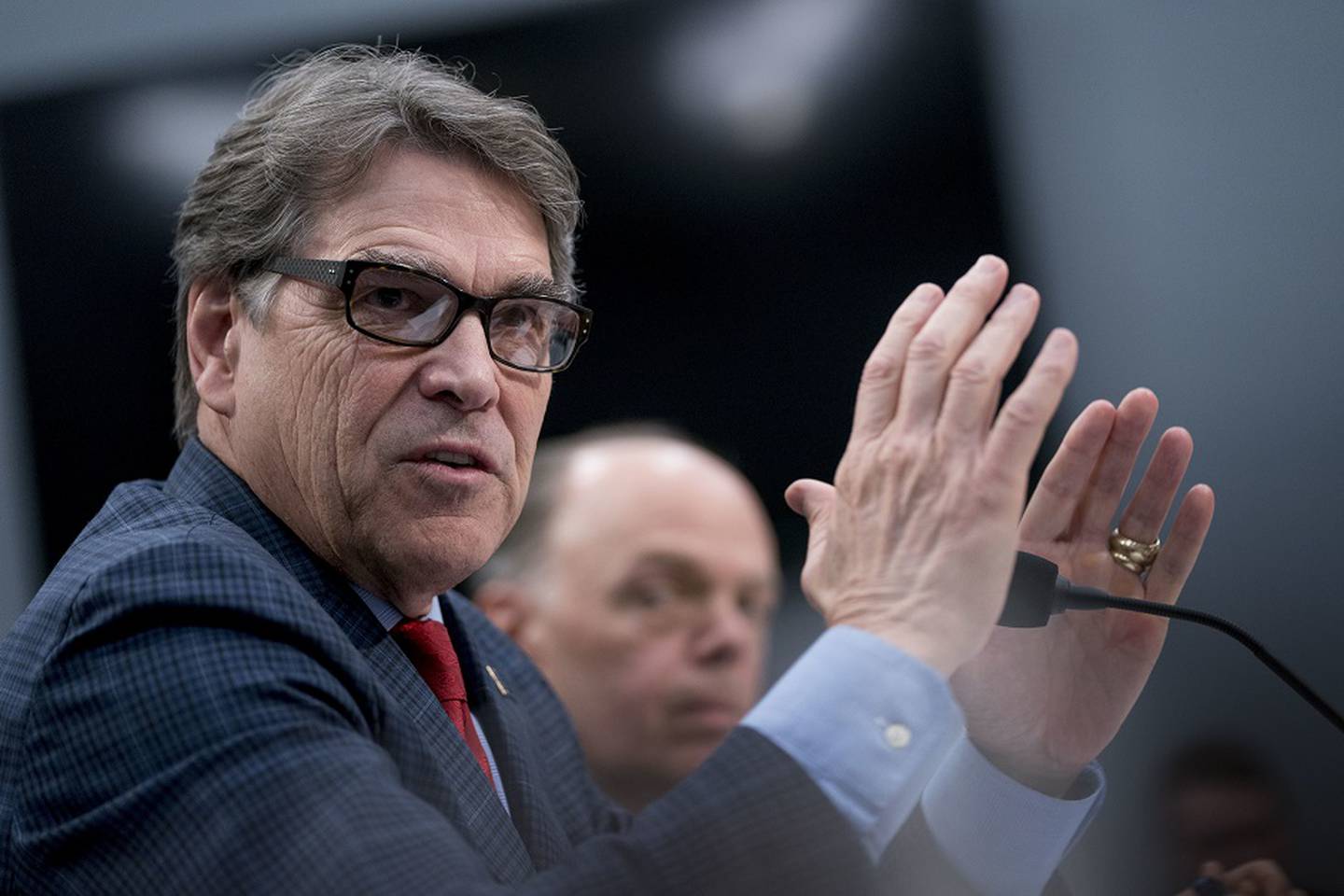 Rick Perry
Trump's energy secretary has already said publicly he is not interested in the job, after rumors arose earlier this year that he may be moved over to replace Shulkin.
But the latest nomination embarrassment for the Trump administration may prompt Perry, the former governor of Texas and an Air Force veteran, to reconsider. Perry was confirmed by the Senate last year by a vote of 62-37.
Perry has received criticism in the past for comments in favor of more private-sector care for veterans, and was attacked by Democrats for his past remarks to severely cut back government bureaucracy. But both of those stances are in line with Trump's professed policies, and Perry has enjoyed a largely controversy free tenure thus far in the administration.
Pete Hegseth
Hegseth, one of the hosts of the "Fox & Friends" television show, has been rumored to be among Trump's favored picks to lead VA since his presidency began.
But the 37-year-old Iraq War veteran is a controversial figure within the veterans community, mostly due to his past involvement with Concerned Veterans for America, an advocacy group with close ties to the conservative Koch brothers network.
Hegseth has also served as an unofficial advisor to Trump on a host of veterans issues, which led in part to some of the falling out between the president and Shulkin. Senate Democrats have already hinted at a difficult confirmation process if he is nominated for the post.
Someone you've never heard of
Jackson's nomination was a complete surprise to most in the veterans community and even individuals in the White House. Administration officials spun that as a positive sign that the candidate would be able to bring fresh views to the embattled department, and that experience with VA bureaucracy is not a necessary prerequisite for success.
Similarly, Shulkin's nomination in January 2017 came as a surprise to many in the community. Shulkin believed he was interviewing with Trump to retain his post as Under Secretary for Health when he was suddenly named as the new top department official.
That could mean that Trump's next pick will come from the same unconventional pool of candidates.
Leo covers Congress, Veterans Affairs and the White House for Military Times. He has covered Washington, D.C. since 2004, focusing on military personnel and veterans policies. His work has earned numerous honors, including a 2009 Polk award, a 2010 National Headliner Award, the IAVA Leadership in Journalism award and the VFW News Media award.
Share: