Military Times will honor its 2018 Service Members of the Year during a ceremony Wednesday on Capitol Hill.
To celebrate the program, which honors everyday heroes for their contributions on and off duty, here's a look at past winners and how they are continuing to serve.
And read about this year's exceptional winners here.
Sgt. 1st Class Joseph Fontenot, 2015 Soldier of the Year
Sgt. 1st Class Joseph Fontenot, a decorated Iraq and Afghanistan veteran, was named Soldier of the Year in 2015 for his service at the U.S. Army Drill Sergeant Academy and the countless hours he had invested in his community — volunteering at a veterans hospital, homeless children's shelter and camp for children fighting cancer.
At the time of the award, Fontenot's unit was preparing to deploy to Afghanistan. During the lead-up to that deployment, Fontenot suffered a severe injury to his right knee. After receiving extensive reconstructive surgery at West Point, he was told his career was most likely over.
But after a stint with the Warrior Transition Battalion, Fontenot has made a remarkable recovery and returned to the 101st Airborne at Fort Campbell.
"Thanks to my wife and, I don't know, a hard, stubborn head, I'm back on the line, and I'm back with my soldiers," he told Military Times.
Even while he battled his injury, Fontenot did not let grass grow under his feet. Thanks to the scholarship he received with his Soldier of the Year award, he is well on his way to receiving his bachelor's degree in criminal justice.
Fontenot's wife, who had just joined the Army when her husband won the award, is now working at the hospital at Fort Campbell. Earlier this year, the couple welcomed their first foster children — 5-year-old twin daughters who they are now in the process of adopting.
Fontenot said winning Soldier of the Year comes with "a certain amount of expectations" that the awardee will continue in the line of service. For Fontenot's part, his unit is currently working to start a volunteer program for their battery to go out and help rebuild homes. Fontenot is also working with his commander to organize opportunities for soldiers to spend time with children in the local foster care system.
Fontenot encourages this year's SMOY winners to enjoy the moment, continue the path they're on and "make sure to mentor other people below them – that way people can continue to be recognized in the future, and we can continue to branch out as the Army doing good things for other people."
Former Sgt. Steven Davidson, 2012 Soldier of the Year
Steven Davidson was named Soldier of the Year in 2012 and has since found remarkable success doing what he loves in both the public and private sectors.
At the time of his award, Davidson was pursuing an undergraduate degree from the University of North Texas and volunteering at his former high school. His recognition as Soldier of the Year helped land him a White House internship, which, upon graduation, turned into a Department of Energy appointment as adviser to the assistant secretary for fossil energy.
When the Obama administration departed, Davidson began graduate school at Johns Hopkins University and got a job with Boeing working on community investment and veteran programming. He has recently moved back to his home state of Texas and accepted a position as community manager at Cheniere Energy, a liquefied natural gas exporter.
"This is my dream company and my dream job," Davidson told Military Times. "I've been trying to get here for a while, and so I intend to make a career out of working with the people of south Texas to try and improve the world."
Although he has only been in Texas a short time, Davidson has already resumed community service, teaching rugby and mentoring local JROTC students. He said being named Soldier of the Year has only increased his motivation to try and make a difference.
"My obligation is to continue to work in the community that way, to honor not only the organization that awarded it to me, but also to the people that I believe truly deserve it," he said. "So there's been, at least in my heart, an obligation to give back more."
Davidson encourages this year's SMOY winners not to lose sight of what got them there, and to consider the award "just the beginning of your opportunity to make an improvement on the world."
Senior Airman Joseph Moreland, 2015 Airman of the Year
For Senior Airman Joseph Moreland, being named the 2015 Airman of the Year proved to be a key moment for his next steps, both personally and professionally. Moreland called the award "a confidence boost for me to continue pushing forward into being a better airman and a better person."
Not your typical communications airman, Moreland earned praise for his work as a tactical cyber systems operator while deployed in Afghanistan.
"This award gave me the confidence to pursue new opportunities," Moreland explained, "almost like a breath of fresh air."
Since then, the senior airman changed career paths to cyber warfare operator and will be finishing his bachelor's in cyber security next year thanks in part to a scholarship provided by Purdue University Global.
Personally, Moreland found that receiving the recognition "established a reputation of trust between myself and the rest of the unit," which in turn lead to younger airmen seeking out Moreland for advice about work in garrison and overseas.
"While the award potentially opened career opportunities," Moreland added, "it gave me more opportunities to connect with my teammates, which I valued more."
While based in Florida, Moreland volunteered with an animal rescue facility and coordinated a volunteer effort following flooding in the area, leading eight volunteers and saving about $50,000 in goods. He has since relocated to the 837th Cyberspace Operations Squadron at Scott Air Force Base, Illinois.
Retired Chief Master Sgt. Stephen Page, 2008 Airman of the Year
"I remember being angry initially," says 2008 Airman of the Year Stephen Page of first being told he had been nominated. "My first thought was that this is an award I give my troops, not something I should receive."
After the now-retired chief master sergeant discovered he had been nominated by his troops, he "felt a great joy" to know he had such an impact on his men. The airman was known for his compassion, visiting hundreds of wounded troops while command chief for the 12th Flying Training Wing at Randolph Air Force Base, Texas.
Since his award, Page has had a roller coaster of a journey. His wife, who had been battling cancer, passed away only 19 days after Page's retirement. Page noted, however, the Airman of the Year award was a blessing he is grateful to have shared with her.
Page returned to the Air Force to work for the Wounded Warrior program, assisting in the mission of caring for service members. Page would eventually move to Operation Finally Home, building mortgage-free homes for combat wounded veterans. Today, the SMOY recipient is a financial coach for veterans at the Consumer Financial Protection Bureau.
His advice for current and future honorees? To remain a "servant leader" in day-to-day affairs.
"Savor the moment and embrace the award," Page advises, "and afterwards, never let your head get big, but let your heart continue to grow."
Retired Chief Hospital Corpsman Maria Decena-Taylor, 2012 Sailor of the Year
Maria Decena-Taylor was named Sailor of the Year in 2012 for her exceptional devotion to her co-workers as well as her leadership and mentorship ability as the leading petty officer for the Directorate of Nursing Services at Naval Medical Center Portsmouth.
Today, Decena-Taylor, a former chief hospital corpsman, is out of the military, but still finding ways to help sailors reach their full potential.
Decena-Taylor comes from a family of Navy corpsmen. Her husband, father and sister currently serve or have served as corpsmen, with more than 85 years of combined Naval service.
Decena-Taylor retired from the Navy in 2017. Soon after, she started a career mentoring group on Facebook for sailors and prior military members. The page was initially confined to Decena-Taylor and her friends, but it quickly gained traction and now has 33,000 followers.
In March 2018, Decena-Taylor launched her own staffing and recruiting firm called Resource 1893, LLC. Her firm bids on government contracts to staff businesses with medical and professional administrative services, with a primary objective being to help veterans find jobs.
"I can help you get a job so you're not at home depressed," she told Military Times. "Or I can help people in the community be able to get their foot in the door somewhere and gain that experience."
Decena-Taylor said her business has helped countless veterans who lack a degree or who want to do something different than what they did in the military gain employment.
"I want to help other people achieve their potential," she said. "I want to be able to give people jobs and opportunities, because I think that would help make everyone around them that much better."
Cmdr. Michael Files, 2011 Sailor of the Year
It has been a whirlwind of events for 2011 Sailor of the Year Michael Files since his award.
From his marriage (in 2012), to the birth of his two daughters (Sofia, 4, and Mikaela. 2), Files has had his fair share of excitement in his personal life.
He found the time for his own education, too, completing civilian and military education programs, including the U.S. Marine Corps' Command and Staff College Blended Seminar Program.
However, the man recognized for his outstanding volunteer work hasn't lost his passion for giving back. Cmdr. Files has given his time and talent most extensively to Scouting, an organization he grew up in and was determined to remain active in.
"I found the skills in Scouting to be transferable to anywhere inside or outside the U.S.," File told Military Times, "and those skills build better citizens."
His favorite merit badge as a Scout was citizenship in the world.
Files made it a habit over the past decade to volunteer at Cub Scout packs near where he's been stationed, and earned particular praise for his work with Washington, D.C., area Scouting.
Files earned the prestigious Silver Beaver Award from Boy Scouts of America, which recognizes outstanding service for the Scouts. He also has stayed active in leadership of the Scouts, first as a Vice President of Volunteer Engagement in 2014 and currently as the Chair of National Boy Scout Committee's partnership with the African-American Alpha Phi Alpha Fraternity.
Climbing the ranks of Alpha Phi Alpha, Files saw a natural partnership of "shared values" between Scouting and the fraternity to team up and help "undeserved communities."
The sailor counseled new award recipients that after the celebration, "the real work begins." To Files, each new SMOY must "live up to the standards of the individuals that came before you."
He also made it clear what comes next for the award winners: "Now, you have to continue to do great work."
Gunnery Sgt. Dan Robert, 2017 Marine of the Year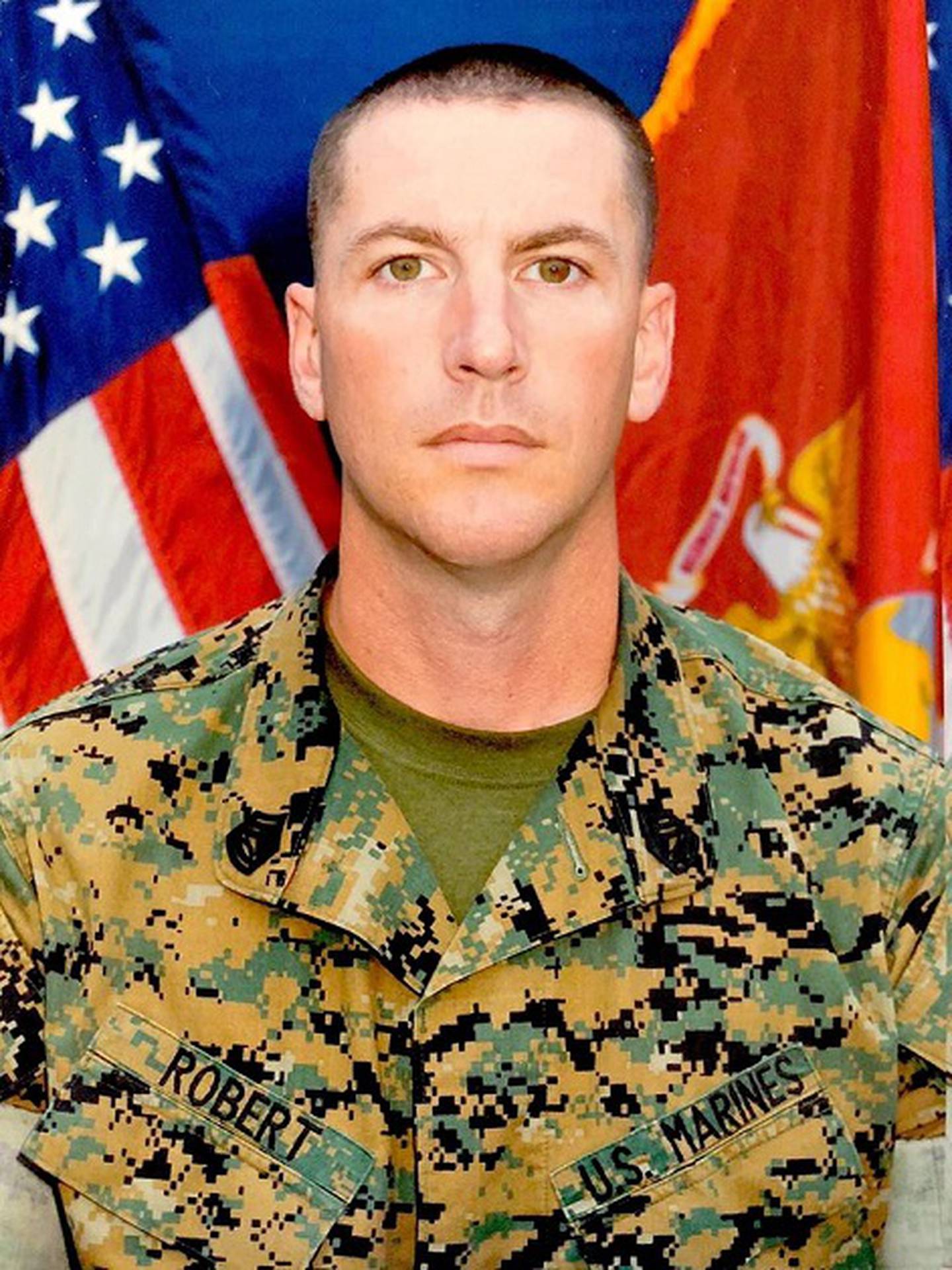 2017 Marine of the Year Gunnery Sgt. Dan Robert may have received his award just one year ago, but he has made the most of that year.
Robert earned recognition for his calm temperament during his four combat deployments and over 10 years of volunteering work with the Special Olympics.
Formerly based out of the Washington, D.C., Marine Barracks and responsible for selecting the Marines of the Silent Drill Platoon, Robert has since relocated to Camp Pendleton in California.
As a Marine combat instructor at the School of Infantry West, Robert is thrilled that his current job allows him to "teach, train, and mentor the future generations of warfighters."
Now approaching his 16th year in the Marines, Robert is the ideal teacher for future Marines. He received a Meritorious Service Medal for his time stationed in Washington, and since the Marine of the Year award, the Marine has picked up two associate degrees in Business Marketing and Business Administration.
Wishing this year's winners sincere congratulations, Roberts remains grateful for his award, is considering a foray into journalism one day, and expressed a "desire to stay close to the Marine Corps after retirement."
Former Capt. David Coté, 2011 Marine of the Year
The Summit Project, a non-profit based in Maine, honors fallen combat heroes from the state by trekking to mountaintops with stones of remembrance. For founder David Coté, the 2011 Marine of the Year, serving those who served has been a career-long theme.
Coté developed a brief to prepare junior Marines for life after they hang up their uniforms. His "Arm Yourself" presentation educates service members on career tips and life planning.
"I believe in Marines and what they can do in their life," Coté said when first interviewed before his award. "I believe it is the senior Marine's responsibility to look after a younger Marine, like a brother."
Since then, the Marine has transitioned from active duty to the Marine Corp Reserve's 25th Marines in Fort Devens, Massachusetts.
As devoted to service as ever, Coté is proud that his work with the Summit Project "has touched thousands of lives" and continues to serve as a powerful memorial.
Coté has even found some time to advance his own goals — he's now a full-time MBA student at Boston College.
A native Mainer, Coté is still excited to escape the Boston area when possible to visit his home state during weekends.
Reflecting on his award, the Marine offered a quote from Maj. Douglas Alexander Zembiec, a legendary Marine dubbed the "Lion of Fallujah": "Give something back to society. Lead from the front."
Gunnery Sgt. Brian Downing, 2016 Marine of the Year
The morning after his award ceremony in Washington, Brian Downing boarded a flight bound for Boston, on to London, on to Madrid, and finally on to Jeriz, Spain.
There, the 2016 Marine of the Year deployed to the U.S. 5th and 6th Fleet areas of operation throughout the Middle East on the USS Wasp.
However, even on the other side of the globe, his recognition followed him.
"For the first month or so after I arrived on ship," Downing remembered, "I could not avoid the chides of my peers saying 'Attention on deck ... the Marine of the Year is coming through.'"
Even though the ribbing he received for his award was all good natured, Downing was still determined to remain humble.
"Just a small cog that keeps the big machine moving" is how he sees his role in the Marine Corps, and warns others that "one of the gravest sins a Marine can commit is to ever care more about himself than about the Marines he leads."
Since his recent award, Downing has focused on living up to the expectations of both a SMOY recipient and a gunnery Sergeant.
Although not one to promote himself, Downing was overjoyed when his hometown VFW in Danvers, Massachusetts, held a reception in his honor. Teachers, friends and neighbors all gathered to celebrate the pride his award brought to the community,
"The award is less about what you did to receive it," the Marine said, "and more about what you will go on to do because of it."
Aviation Maintenance Technician 2nd Class Lee Biladeau, 2015 Coast Guardsman of the Year
Aviation Maintenance Technician 2nd Class Lee Biladeau was named Coast Guardsman of the Year in 2015 for his devotion to his fellow Coasties and the more than 1,000 hours he dedicated to coaching a small-town Washington state lacrosse club while stationed at Air Station Port Angeles.
Since winning the award, Biladeau has wrapped up his tour at Air Station Traverse City in Michigan and is preparing to relocate to Air Station Kodiak in Alaska. This time, however, Biladeau and his wife won't make the move alone. The couple welcomed their firstborn son, Rylan, 18 months ago.
Biladeau said winning Coast Guardsman of the Year has opened countless doors and changed the trajectory of his career.
"After I got the award, my name had a lot of visibility within the Coast Guard," he told Military Times. "The award gave me a lot of confidence to pursue bigger, better things, and with the idea that I can achieve better things."
Before winning the award, Biladeau had planned to become a warrant officer. After being named Coast Guardsman of the Year, however, his command advised him to pursue Officer Candidate School instead, which he is in the process of applying to now.
Biladeau already has plans to continue community service once he arrives in Kodiak. Lacrosse isn't quite as adaptable to the Alaska weather, so Biladeau plans on coaching a pee-wee hockey team instead.
Biladeau encourages this year's SMOY winners to seize every opportunity afforded by the award.
"I reflect back on my D.C. trip for the ceremony, and it was absolutely the highlight of my career," he said. "There's a lot of doors that are opened, so take advantage of every opportunity that this award gets you. It may not be immediately after you get the award, but even a year or two, three years go by and doors will still continue to open and take advantage of as many as you can."
Electrician's Mate 1st Class William Gore, 2017 Coast Guardsman of the Year
There is one word to sum up the year since William Gore's recognition as 2017 Coast Guardsman of the Year: busy.
The Electrician's Mate 1st Class is the lead electrician for the USCGC Margaret Norvell, which conducts drug and migrant interdictions from its home port in Miami, Florida.
Gore is currently studying for his MBA with Purdue University Global, and used his SMOY scholarship to attend graduate classes.
Gore also has remained active with Danilo's Cares, a charity he created with his wife to provide children in Honduras with free dental care. He somehow finds the time between his studies and his personal life, including a 2-year-old at home, to continue to serve as communications director for the non-profit.
In March, Danilo's Cares held a dental event in Honduras that treated around 350 kids. On tap for 2019, the non-profit has partnered with Central American Medical Outreach to launch a kid's backpack distribution with 13 schools in Honduras.
The Coastie has kept big goals for his service, too. Gore found that receiving the SMOY award "motivated" him, and his next step is to reach warrant officer. As an electrician, Gore has developed a reputation as a reliable and knowledgeable hand on board.
"I view winning that award as a start rather than an accomplishment, and I'm just trying to live up to it and work even harder now than I did before," Gore said.
"Enjoy the moment," Gore advised this year's SMOY winners, "but just know that really, the work has just begun."
Andrew is a student in the class of 2020 at the University of Notre Dame.
Share: