Seven service members were honored Wednesday at the 18th annual Military Times Service Members of the Year awards on Capitol Hill in Washington.
The annual awards honor service members from the Army, Air Force, Navy, Marine Corps and Coast Guard who have displayed an exceptional commitment to service, both in and out of uniform.
This year's ceremony featured two new awards in addition to the five branch-specific awards: the Military Times Reboot Camp Entrepreneur of the Year and the Military Times Veteran of the Year.
The seven service members are Sgt. 1st Class Wolfgang McLachlan, Army Times Soldier of the Year; Sgt. Brooke Sharp, Marine Corps Times Marine of the Year; Hospital Corpsman 1st Class Craig Humes, Navy Times Sailor of the Year; Capt. Julian Gluck, Air Force Times Airman of the Year; Aviation Survival Technician 2nd Class Omar Alba, Navy Times Coast Guardsman of the Year; Maj. Steve Gagner, Military Times Reboot Camp Entrepreneur of the Year; and Marine Corps veteran Robert Jones, Military Times Veteran of the Year.
RELATED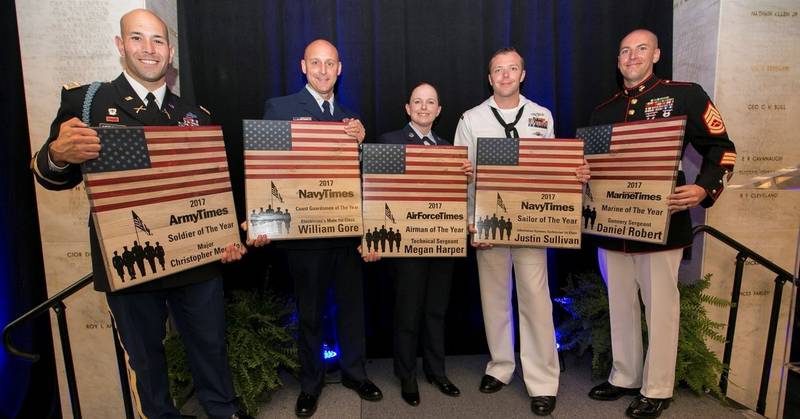 "Our service men and women give me hope for a bright future," said Sen. Joni Ernst, the keynote speaker at the event. Ernst, a retired lieutenant colonel who served in the Iowa National Guard, told the audience and the service members her four traits to live by – prudent risk, leadership, service and gratitude.
"Remember always to be grateful," she said. "Express your gratitude by paying it forward. Maintain your commitment to service and inspire those who will stand in your place in the years ahead."
The winners
McLachlan received his award from Lt. Gen. Joseph Anderson, deputy chief of staff, Army G−3/5/7.
McLachlan chose to remain in the Army after suffering a jump injury that ended his career as an airborne infantryman. He became a satellite communication systems operator-maintainer. As an NCO, he has gone above and beyond the call of duty to mentor soldiers and make them feel part of the Army family.
In addition to preparing soldiers for promotion boards and other competitive opportunities, McLachlan serves as a command sexual harassment/assault response coordinator and victim advocate. He also answers phones for a veteran suicide prevention hotline.
Sharp received her award from Marine Lt. Gen. Loretta Reynolds.
Sharp, 21, was among the first Marines to return to Helmand valley, one of the most violent provinces in Afghanistan, in the spring of 2017. During that deployment, Sharp established and linked remote outposts to help track Taliban activities and assisted in rescuing wounded Afghan fighters from the battlefield. Going far outside her original communications field, Sharp's work helped rebuild U.S. outposts that expanded the security bubble around Lashkar Gah.
Sharp said at the ceremony she hopes to use the recognition to inspire her junior Marines, especially women, and show them that even at a young age, they have tremendous capability.
Humes received the Sailor of the Year award from Vice Adm. Mary M. Jackson.
Throughout his 18 years of service, Humes has deployed around the world, including three times with the Marines. While with the Marines, he learned the importance of physical fitness, which he now teaches to new sailors and soldiers at the Navy Medicine Training and Support Center in San Antonio, Texas. In addition to going the extra mile to help soldiers improve their fitness scores, Humes also partakes in a number of service activities on his own time, including building ramps for disabled veterans and helping foreign-born refugees get a start in the U.S.
Gluck received his award from Maj. Gen. Jacqueline D. Van Ovost.
Gluck is a B−52 Stratofortress bomber pilot who has given back to several international communities where the Air Force has deployed him – from organizing donation drives for foreign workers in Qatar to volunteering his time to local high school students outside his home duty station of Barksdale Air Force Base, Louisiana.
Alba was presented the Coast Guardsman of the Year award by Vice Adm. Dan Abel.
Alba was honored for his courageous service during the aftermath of Hurricane Maria in Puerto Rico. When the rescue swimmer maxed out on his flying hours, he went off-roading in his modified Jeep to help those who were isolated.
The final two awards presented were the first of their kind.
Maj. Steve Gagner of the Vermont National Guard is the first-ever recipient of the Military Times Reboot Camp Entrepreneur of the Year award, recognizing current and former service members of all military branches who start companies and nonprofits that make a big impact – not just through the numbers on company balance sheets, but also through charitable efforts and volunteer projects.
In addition to serving as the executive officer of the Army Mountain Warfare School, Gagner co-founded 14th Star Brewing Co. with a fellow guardsman. The company donates much of its proceeds to military causes, and Gagner is working on opening a new distillery that will double as an entrepreneurship training program for transitioning vets.
The Military Times Veteran of the Year award honors an exceptional veteran who makes a difference in their community, setting an example and spreading awareness of military and veterans issues.
Marine Corps veteran Robert Jones received the award for his pervasive positivity after losing the bottom of both his legs during an IED accident in Afghanistan in 2010, as well as for his impressive athletic accomplishments and leadership role in veteran and civilian communities.
Jones has biked across America, run 31 marathons in 31 days, medaled in the Paralympics and Warrior Games and secured an invite to this year's Invictus Games.
Share: