WASHINGTON — The U.S. hopes to begin face-to-face negotiations with North Korea next month on terms for resuming on-the-ground searches in North Korea for remains of American servicemen, a senior Pentagon official said Thursday.
Kelly McKeague, director of the Defense POW-MIA Accounting Agency, said the aim is to begin searches at former battlefields next spring if agreement can be reached on areas of current dispute such as the types and amounts of compensation to North Korea for its assistance.
Remains of two American servicemen killed during the Korean War and returned by North Korea two months ago were identified by President Donald Trump on Thursday, as Army Master Sgt. Charles H. McDaniel, 32, of Vernon, Indiana, and Army Pfc. William H. Jones, 19, of Nash County, North Carolina.
RELATED
McDaniel's name had already been made public last month because his military identification tag was among the 55 boxes of remains that North Korea turned over on July 27. The tag was turned over to his sons. These are the first two service members identified from those remains.
"These HEROES are home, they may Rest In Peace, and hopefully their families can have closure," Trump tweeted.
Also Thursday, Vice President Mike Pence spoke about the remains' recovery during remarks to the Korean War Veterans Memorial Foundation, but he did not reveal the names of the two who have been identified. He presented the foundation with an American flag that was among those draped over the 55 boxes from North Korea.
He said he hoped the remains from the 55 boxes are "a vanguard of what's to come" from future recoveries of war dead in North Korea. The U.S. conducted excavations in North Korea from 1996 to 2005 but suspended them amid rising political and military tensions on the Korean Peninsula.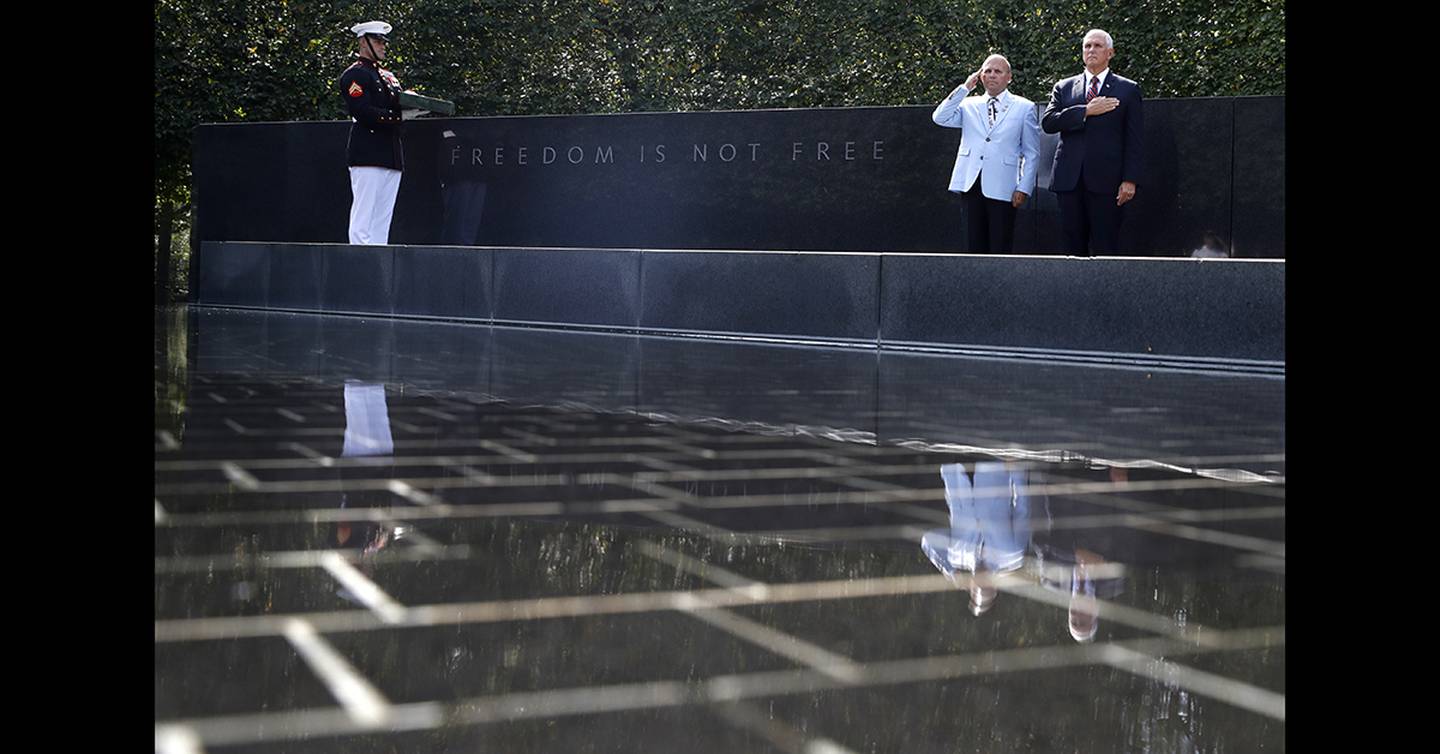 McKeague said it was unclear how many individuals are contained in the 55 boxes, but he said it could be dozens more than 55. He described the bones as a "mish-mash" that will require DNA analysis and other extensive study. The first two identifications came relatively quickly, he said, because the remains included partial skulls with teeth that could be matched to dental records, as well as clavicles matched to military X-ray records.
The remains contained in the 55 boxes had been stored by the North Korean army, probably for decades. Thousands of additional remains are believed to lie on North Korean battlefields and at former POW camps. McKeague said the Pentagon would like to send search and excavation teams into the country as early as next spring if acceptable arrangements can be negotiated in advance.
RELATED
North Korea recently submitted proposed terms for follow-on search operations, but McKeague said the offer was rejected. He described the offer as "out of sorts," which he said meant that some elements were unreasonable. He cited as an example a demand that the U.S. provide eight ambulances in addition to other vehicles, fuel, food and other items.
The U.S. is preparing a counterproposal, McKeague said, and has offered to meet with a North Korean negotiating team in a third country in late October.
Share: