Since it became clear earlier this month that the coronavirus outbreak would have major affects on the military's operations, leadership has been issuing guidance and policy left and right, on everything from telework to travel bans to financial assistance for service members caught up in a financial hardship because of the new policies.
The good news is that most pay and benefits will continue normally, what what reporting for duty looks like is changing substantially. To sort everything out, the Defense Department released a master policy and a Q&A document on Thursday as a reference.
"Commanders have broad authority to exercise sound judgment in all cases, and this guidance describes available authority and flexibility that can be applied to promote, rather than to restrict, possible solutions," according to the memo.
Its release comes after several days of questions for top leadership about whether Defense Secretary Mark Esper's earlier guidance ― giving wide latitude to commanders on the ground to dictate what kinds of restrictions they'd put on large formations or training exercises, for example ― gave enough specifics and encouraged commanders enough to reduce their troops' contact with each other wherever possible.
RELATED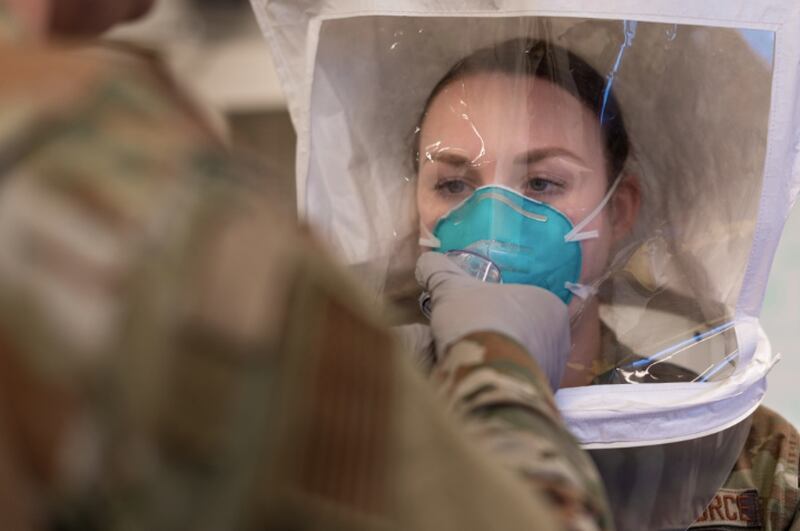 "You take prudent measures as best you can given the situation you're in," Esper said in a live town hall meeting Tuesday, broadcast from the Pentagon's briefing room. "If you can avoid putting a large number of people in small rooms, you should do it."
Those comments came a day after Esper insisted he would not implement any blanket policy on precautions like social distancing or working remotely. As of Thursday, 280 service members have tested positive, as have 98 dependents.
Here is some of the latest policy guidance:
Commanders are authorized to allow troops to work from home where possible.
As part of that, they should update telework guidance and prepare technology systems to allow troops to access necessary programs and data to keep working.
Enlisted troops who have had to postponed imminent permanent changes-of-station can start receiving an appropriate basic allowance for subsistence, if they were previously not entitled to one.
Service members who have, as is often the case, made their PCS move ahead of their families and now have their dependents stuck at their previous duty station are eligible for a family separation housing allowance.
Household goods and unaccompanied baggage shipments that have not gotten underway can be suspended or rescheduled.
A type of hardship duty pay is available for some troops who are now in self-isolation after exposure to coronavirus or a positive diagnosis.
Commanders are instructed to be as liberal as possible with approving leave for illness, including exposure or suspected exposure to coronavirus, as well as for troops who are caring for a family member who is either ill or in self-isolation due to possible exposure.
Meghann Myers is the Pentagon bureau chief at Military Times. She covers operations, policy, personnel, leadership and other issues affecting service members.
Share: