JACKSON, Miss. — A U.S. Navy destroyer damaged in a June collision that killed seven sailors is expected to arrive at a Mississippi shipyard Friday.
Ingalls Shipbuilding in Pascagoula announced the USS Fitzgerald's arrival Thursday, inviting area residents to wave flags as the ship is carried up the Pascagoula River aboard a transport ship.
Colleen O'Rourke, a spokeswoman for Naval Sea Systems Command, which is overseeing the Fitzgerald's repair, wrote in an email Thursday that the Navy will have more information once the ship arrives.
The ship's arrival comes only days after the Navy announced Tuesday that it was seeking negligent homicide charges against four officers of the Fitzgerald at the time of the collision, including the then-commanding officer, Cmdr. Bryce Benson. A hearing has not yet been held to determine whether there's enough evidence for those and other charges to go to a trial by court-martial. Other charges could include dereliction of duty and endangering a ship.
RELATED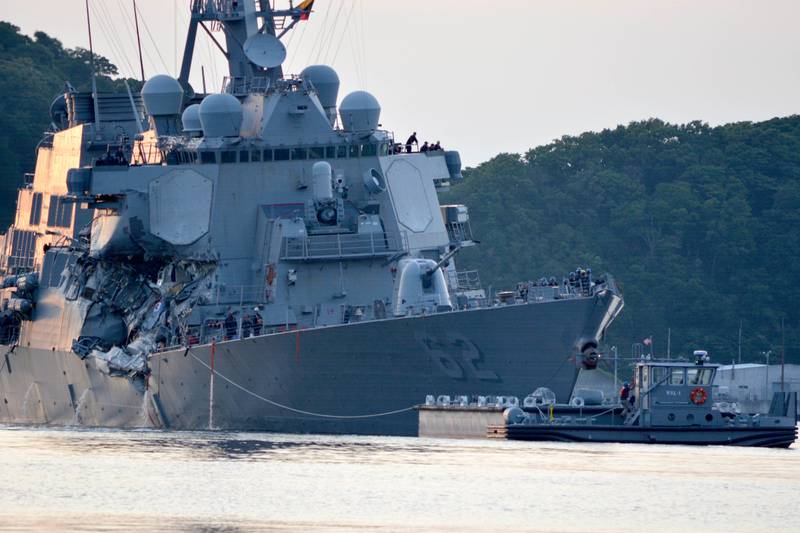 The June 17 collision with a Philippine-flagged container ship off Japan caved in parts of the Fitzgerald above and below the waterline. Water gushed into berthing compartments, killing the sailors. Its hull was punctured twice more in November as it was loaded aboard a transport ship. The transport ship sailed Dec. 9.
Ingalls, a unit of Virginia-based Huntington Ingalls Industries, was chosen by the Navy to repair the ship in August and awarded an initial $63 million contract in December.
The Navy said it chose Ingalls because it determined that it was the only shipyard that builds destroyers and also has available capacity to fix the damage. Only Ingalls and the Bath Iron Works unit of General Dynamics Corp. in Maine build American destroyers.
The Navy has said it will use the opportunity to modernize the Fitzgerald, which was built in 1995 at Bath and had been scheduled for an overhaul in the 2019 budget year. Repairs are likely to cost far more than the initial $63 million, which covers ripping out damaged areas.
RELATED
The Navy conducted a series of investigations and reviews into the collision involving the Fitzgerald and a second collision between the USS John S. McCain and an oil tanker near Singapore in August, which killed 10 U.S. sailors,
Those reviews concluded that the incidents resulted from poor judgment, bad decision-making and widespread training and leadership failures by the commanders and crew who didn't quickly recognize and respond to unfolding emergencies. The Navy also seeks charges against the commanding officer of the John S. McCain.
Share: