The Navy this month selected the first woman to serve as the senior enlisted leader of U.S. 5th Fleet's Combined Maritime Forces, the largest naval partnership globally.
Naval Forces Central Command Master Chief Celina Miller, who enlisted in the Navy in 1998, is slated to take over the role from Marine Corps Sgt. Maj. Cortez Brown in May. Brown has served in that role since August 2021.
RELATED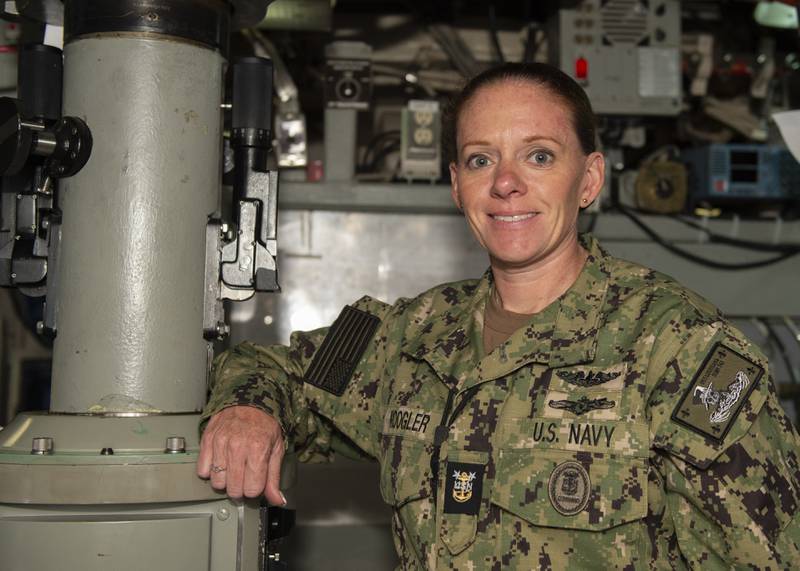 This is not Miller's first go as a command master chief.
She was the first woman to serve as the command master chief of the guided-missile destroyer Halsey. She later served as command master chief of 5th Fleet's Task Force 55, which oversees U.S. surface ships operating in the NAVCENT area of operations.
Previously, she completed tours aboard the medium auxiliary repair dry dock Shippingport, and dock landing ships Ashland and Tortuga.
She has also served as an independent yeoman at Naval Station Sigonella, Sicily; alongside the U.S. Army's 101st Airborne and 82nd Airborne Division in Afghanistan; and returned to Sigonella in 2014 as the military personnel office and command career counselor at the Navy Supply Fleet Logistics Center.
Miller completed studies at the Air Force Senior Enlisted Academy at Maxwell Air Force Base, Alabama, and the command master chief course in Newport, Rhode Island. She holds a master of science degree.
The U.S. leads Combined Maritime Forces, which was established in 2001 and is based in Bahrain. It is composed of 38 nations, and is primarily focused on counter-narcotics, counter-smuggling, suppressing piracy, and maritime security operations.
Multinational forces under CMF operate across 3.2 million square miles of international waters in the Middle East encompassing some of the world's most important shipping lanes, including the Red Sea, Gulf of Aden, Northern Arabian Sea, Gulf of Oman, Arabian Gulf and Indian Ocean.
Share: