The chairman of the House Veterans' Affairs Committee and Donald Trump's top veterans advisoer backed off his support for current Veteran Affairs Secretary Bob McDonald on Tuesday, saying the department leadership needs a full overhaul.
"I think the next secretary, whoever that is, has got to be an agent of change, somebody that will resist the call from within the department to maintain the status quo," Rep. Jeff Miller, R-Fla., said during an interview with Military Times at the Republican convention in Cleveland. "And I think, unfortunately, the status quo in many instances remains."
Miller is under consideration for an administration post — perhaps even the VA secretary's job — if Trump wins in November. He is not seeking re-election to his congressional seat this fall.
Earlier this spring, Miller and Senate Veterans' Affairs Committee Chairman Johnny Isakson, R-Ga., separately endorsed McDonald to stay on as VA secretary into the next administration, regardless which party wins, citing his progress in reforming the embattled bureaucracy.
Trump has publicly blasted McDonald for failings at the department, and mocked him during the roll out of his campaign's 10-point plan for veterans earlier this month.
On Tuesday, Miller said he would encourage Trump to speak with McDonald about his work but not push him to leave the secretary in his job.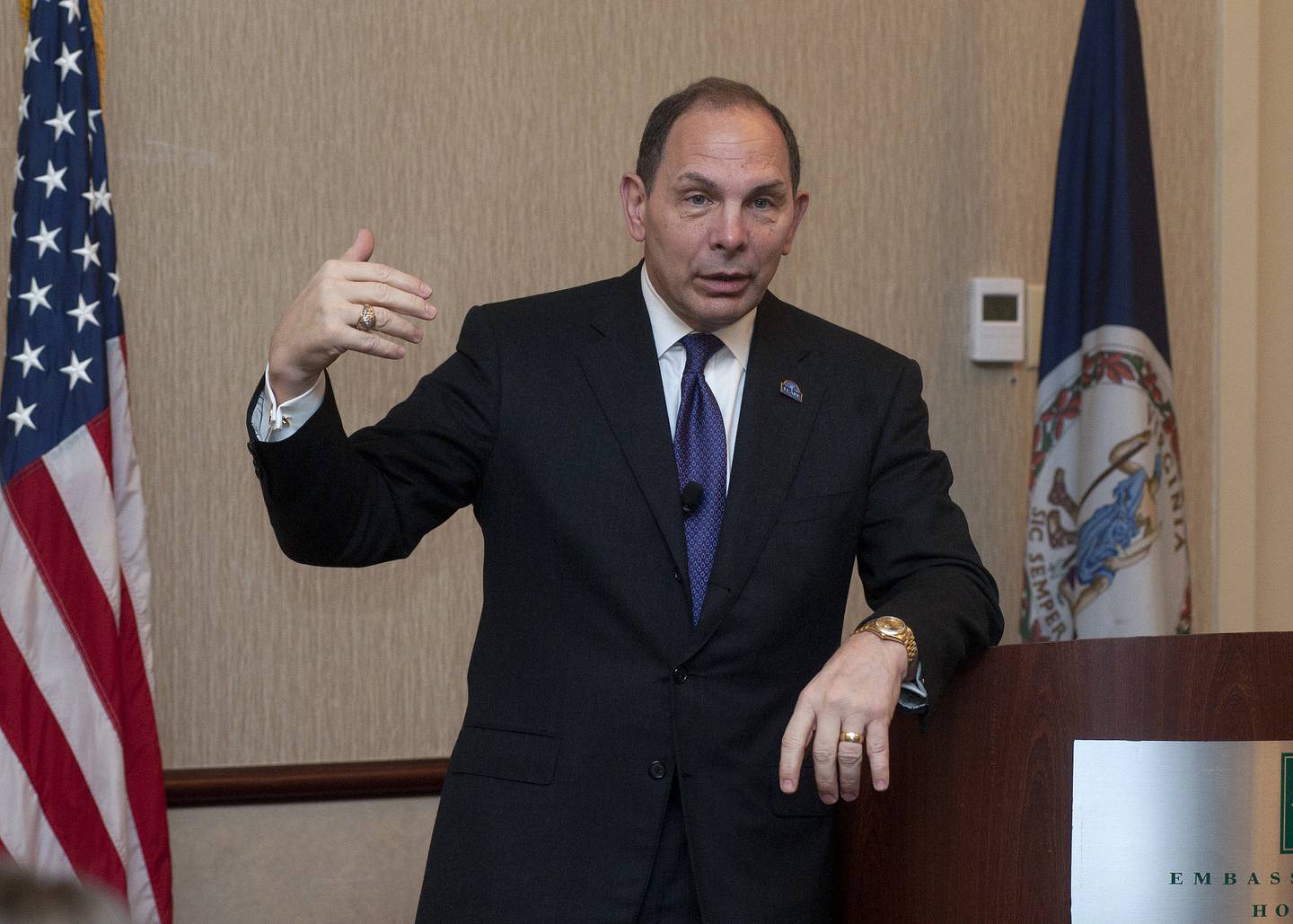 Veterans Affairs Secretary Bob McDonald spoke with the National Association of State Directors of Veterans Affairs on Feb. 22, 2016, as the group began their annual conference.
Photo Credit: Robert Turtil/Veterans Affairs
"(McDonald) has spent untold hours traveling to medical centers and facilities all over this country and has his finger on the pulse of VA," Miller said. "That doesn't necessarily mean he can get things done that need to get done.
"I don't believe the secretary would want to stay on, to be honest with you. I think it has been an eye-opening experience for him having come from the private sector, on how difficult it is to do what needs to be done."
McDonald has dismissed most questions related to the upcoming change in the White House, saying that he hopes to push through significant administrative reforms by the end of the year and would consider continuing his public service if asked.
Miller blamed lingering cultural problems at VA not on McDonald but on President Barack Obama. He said as president, Trump will bring a real commitment to improving the department.
"I said early on that one individual alone in a short period of time was not going to be able to change the department," he said. "You've got to have a president who wants to see the change, and Barack Obama does not.
"Donald Trump is committed to boldly reforming the Department of Veterans Affairs. The status quo is not acceptable. And Hillary Clinton, as Trump has named her, is the secretary of the status quo. She'll keep doing the same thing, and that's not serving veterans at all."
He also criticized Democrats for labeling an expansion of health care options for veterans outside the department as "privatization," calling it misleading and counterproductive. The issue has become a major fighting point between the two parties on the presidential campaign trail.
"It's obvious if VA wants to be providing quality care in a timely fashion to our veterans that they are going to need to look outside our current system," he said. "And that's what the Choice Act was all about two years ago."
Leo Shane III covers Congress, Veterans Affairs and the White House for Military Times. He can be reached at lshane@militarytimes.com.
Share: