VILNIUS, Lithuania — Two senior Lithuanian officials have told The Associated Press that President-elect Donald Trump is actually right that Europeans must increase military spending.
Trump stunned Washington's allies during the U.S. election campaign by suggesting that American military guarantees to NATO members could depend on whether they are paying enough on defense.
In separate interviews with The Associated Press this week, Lithuania's foreign and defense ministers said that they believed that some of Trump's language during the campaign shouldn't be taken too seriously. They also said that they are confident that he would continue a decades-long American tradition of standing by allies in Europe and the world.
"I hope and believe — and I can't imagine otherwise — that the U.S. will remain a key player in the world and also a leader of NATO," Foreign Minister Linas Linkevicius said Tuesday.
Defense Minister Juozas Olekas shared similar optimism, and said Trump is right that the U.S. shouldn't have to bear most of the cost of defending the Western alliance.
"President Donald Trump said that Europe in general should put more attention on defense and we fully agree," Olekas said Monday. "The peace and independence of our country is very important and we should put attention on that and not only waiting and relying for everything on the United States."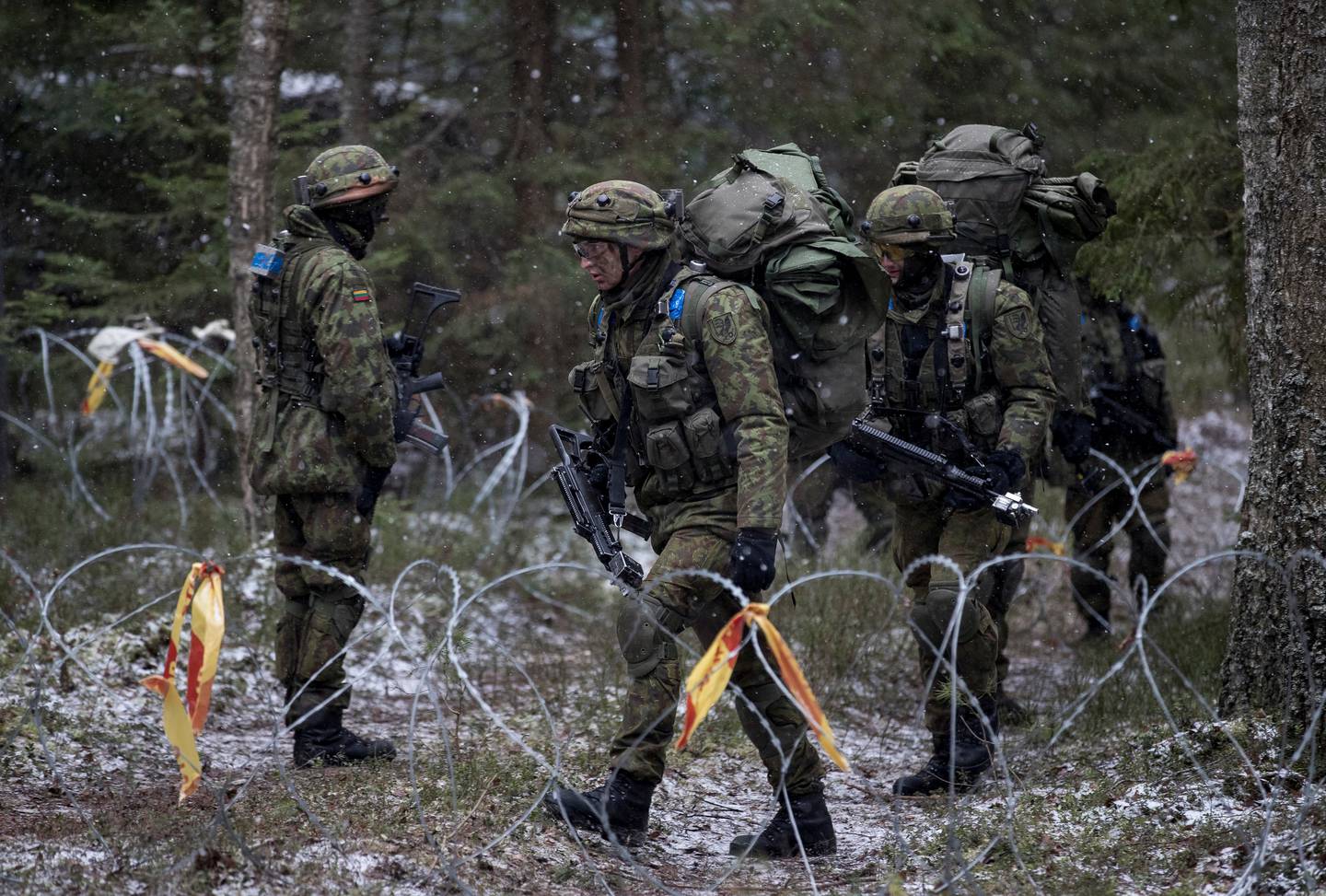 Lithuanian soldiers take part in a NATO military exercise, 'Iron Sword,' at the Rukla military base some 130 km (80 miles) west of the capital Vilnius, Lithuania, Monday, Nov. 28, 2016.
Photo Credit: /Mindaugas Kulbis/AP
Lithuania and the other Baltic states, Estonia and Latvia, are nervous about Russia's new assertiveness in the region, something that prompted Lithuania to ramp up its spending on its army already before Trump made his comments on NATO to The New York Times in July.

Lithuania, an Eastern European nation of 3 million people, vowed in 2014 to reach the NATO target of spending 2 percent of GDP by 2020. But Olekas said it would reach that target two years earlier, in 2018. This year the country is on target to spend 1.8 percent on defense.
Trump's praise of Russian President Vladimir Putin has also raised concerns across a region where Putin is feared.
Linkevicius noted that Trump made many statements during the campaign that he has already stepped away from, but that his criticism related to defense spending was "legitimate."
"Frankly it was true and Europeans must deliver more," he said.
The Baltics have been shaken by Russian military interventions in Georgia, Ukraine and Syria, and many strategic analysts feel the small Baltic states — all former Soviet republics — are the most vulnerable if Russia were to continue its expansionist policies.
NATO troops this week are conducting exercises in Lithuania and in general NATO membership has given some feeling of security to a region that has come under Russian occupation in the past.
Share: